By FreshPoint

Share this post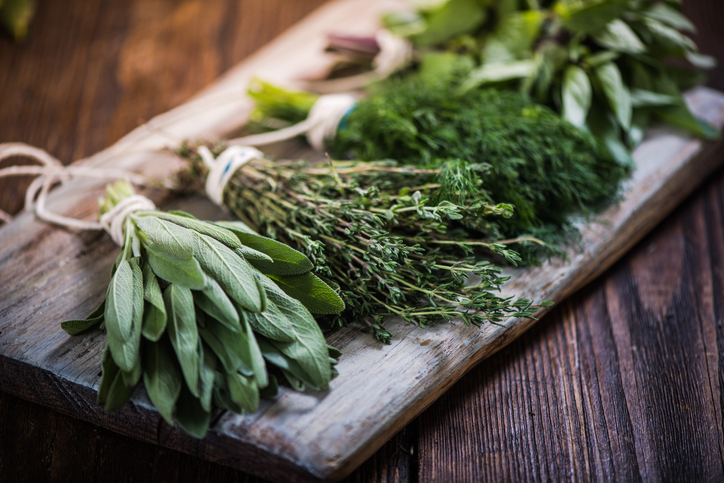 Herbs are one ingredient where a little goes a long way. They add bright, herbaceous flavor to your dishes. They can be used fresh or dried, and each form will have a different effect on your dish's outcome.
When it comes to herbs, more is not always better. It is wise to exercise caution–use too heavy of a hand, and your herb will overpower your dish with a bitter flavor.
Produce 101: Herbs & Food Cost
When you start to see your herbs in the back of the walk-in cooler getting a little straggly if you've ordered too much, get some extra food cost miles out of them and help them fulfill their destiny as the fresh flavorful ingredients they are meant to be.

Your springtime bounty can be kept for weeks or months just with the magic of olive oil and your freezer. Blend extra herbs with oil and freeze them flat in zip-top bags and then snap pieces off. Add to the pan along with your aromatics, and you've got a quick burst of fresh flavor at your fingertips. You can freeze them without oil as well, but the suspended animation quality of the freezer combined with oil helps keep away browning and freezer burn.
Using butter is another great way to extend the life of herbs, and the maître d'hotel butter mentioned here in this New York Times recipe for compound butter is classic. Sam Sifton writes, "A mixture of butter and other ingredients makes a compound butter, which can be used as a kind of insta-sauce on top of cooked meat, vegetables or fish."
Fresh Flavor at your Fingertips
To really up your food waste game, make sure to use the stems. While not as pretty as the leaves, herb stems are packed with essential oils and aroma, so you can chop them fine and use them in a dish. You can use them to infuse a sauce, and they're great in infused oils and vinegars. Using the stems will help stretch that food cost dollar out a lot longer. Some herbs stems are tender, some are woody–so make sure to chop them finely to make them palatable. Rosemary stems may be too woody to be palatable no matter how fine you chop them for example.
Produce 101: Herbs & the Difference Between Herbs and Spices
You hear the term used interchangeably, but what is the difference between herbs and spices?
Dan says, "When I was in culinary school, we defined herbs as any edible leafy green of a non-woody plant. We defined spices is the edible portion of a non-edible woody plant. These days it's changed a little bit. Herbs are still kind of similar, it's any edible leafy green we use to enhance the flavor aroma of a dish, and spices are essentially the roots, seeds, or even the bark–like cinnamon–of a plant."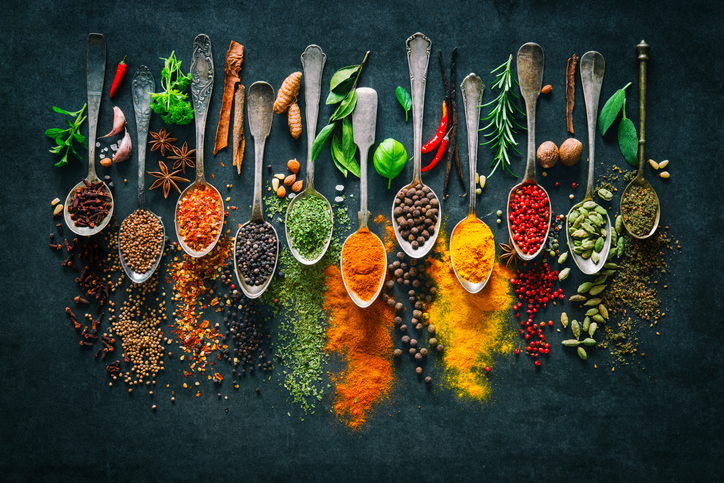 Grades of Herbs
The USDA only has a grade for one herb, and it's the common curly parsley… none of the other herbs have a USDA spec or grade.
If there is no grade, how do you know if an herb is good? Well, it's in your hands. You want your herb to be a bright, vibrant color, you want the leaves to have a lot of body. Take a leaf and crush it between the palms of your hand and smell… it should really jump out with the aromatic qualities. The longer the plant is allowed to grow, the more essential oils that develop, and in the end that's what gives your dishes that pop and that that flavor that we're looking for.
Recommended Storage
The recommended optimum storage temperature is 32° – 40°F. Keep them covered, they are susceptible to wilting when allowed to dehydrate.
With the exception of oregano and basil, we recommend you store all herbs in the coldest part of your cooler, which is usually the back or near the fan. For basil, we recommend you store them in the front of your cooler near the door, and oregano does better in the middle of your cooler. For both of these, if kept too cold, the leaves will turn dark. The temperature fluctuates from the front to the back of the cooler due to the location of the cooling unit and frequency of the door being opened. Download our PDF for more cooler storage hints to prolong the shelf life of your produce.
---
Produce 101: Herbs: Some Quick Info on Common Varieties
Dan goes over the basics of Produce 101: Herbs
Contact your Marketing Associate about adding herbs to your next order. If you are not a customer, find out how to become one today!
Article submitted by Chef Daniel Snowden. Additional contributions by Lisa Brizard.
---
Some tools you can use:
Visit freshpoint.com for our seasonal availability guides—and while you are there, check out the FreshPress, our latest market report. Place your orders online with ease at myfreshpoint.com. Did you know you can receive real-time reliable delivery alerts on the day of your delivery? Activate and subscribe at FreshPoint.com/mydelivery
Download our app and take your produce management on the go. Place orders, review flyers, watch videos…all in one spot!
Find out more details about our UBU program, and how we are shining a spotlight on food waste while making value and food safety a priority.
We buy local to strengthen regional economies, support family farms, preserve the local landscape, and to provide fresh-from-the-farm food to our customers. Local.freshpoint.com connects you to your local farmers like never before! Customize your search by zip, city, state, radius…even by crops and growing methods. Pop in your zip code and learn about our local farmers.
Socialize with us!
Did you know we are on YouTube? Head over to our page and check out our 75+ videos. Don't forget to subscribe, and also be a part of our Bell Team—hit the little bell icon to get notifications when we upload new videos.
Follow FreshPoint, Inc. on Facebook, Twitter, Instagram, and LinkedIn…and follow The Produce Hunter on Instagram as she finds the best specialty produce at the Santa Monica Farmers Market.