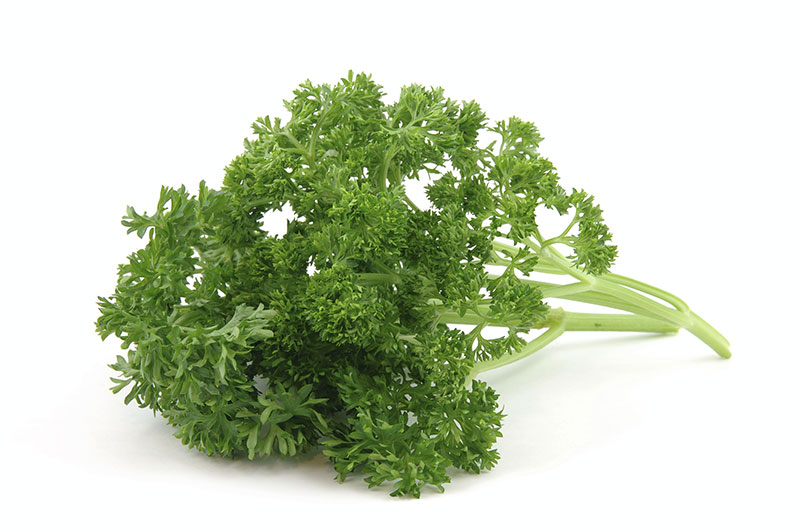 Description:
Parsley is a member of the Apiaceae family (Petroselinum crispum), and often relegated to the plate as a simple garnish, but it may be one of the most underutilized herbs. Curly parsley has a bright, herbaceous, grassy, green, chlorophyll flavor that adds a lot in the way of freshness to dishes. Parsley is used in stocks and soups, especially the stems.
Curly parsley is a mild herb and an excellent accompaniment to lighter dishes, such as fish, chicken, eggs, or vegetables. It also adds a light, fresh flavor to salads. Of course, it is the perfect garnish, and if there is one way to use it, this is a simple and excellent choice.
Curly parsley differs from Italian or flat-leaf parsley primarily by leaf shape. As the name suggests, curly parsley has crinkled, ferny, curly leaves, whereas flat-leaf parsley has flat, cilantro-looking leaves.
Not to be confused with the carrot-like parsley root (Petroselinum crispum var. tuberosum), which is entirely different, but has a similar taste.
Recommended Storage
The recommended optimum storage temperature is 32° – 40°F. Their leaves are delicate, you don't want to allow them to freeze, but keep them as cold as possible. Keep them covered, they are susceptible to wilting when allowed to dehydrate. With the exception of oregano and basil, we recommend you store all herbs in the coldest part of your cooler. The temperature fluctuates from the front to the back of the cooler due to the location of the cooling unit and frequency of the door being opened. Download our PDF for more cooler storage hints.
Check out what's going on this week. For our latest market update, please see The FreshPress.
You can also click here to be notified when we post fresh new videos.