You're on the go…and every minute counts. With real-time delivery day notifications, you'll always know where your FreshPoint produce delivery is.
FreshPoint customers* can subscribe here to receive reliable real-time delivery alerts via text or email on the day of your delivery.
Not a customer? Become one today!
*Available to continental U.S. customers.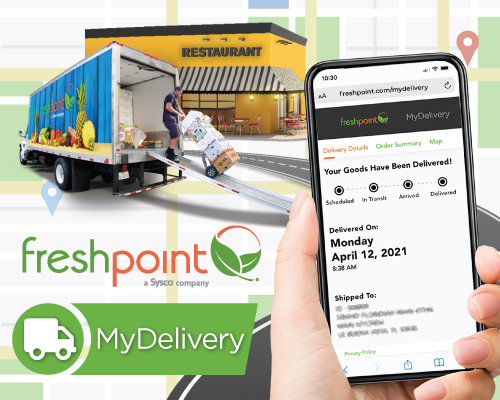 Customer Login
Subscribe to MyDelivery or take a quick look at your daily delivery information by entering in your credentials here.
Choose a Service Location
California – Central
California – San Francisco
California – Southern
Colorado – Denver
Connecticut
Florida – Central
Florida – South
Florida – West Coast
Georgia – Atlanta
North Carolina – Charlotte
North Carolina – Raleigh
Oklahoma
Tennessee – Nashville
Tennessee – Value Add
Texas – Dallas
Texas – South
Quick Look
Find your most up-to-date delivery window for today based on real-time traffic.
Subscribe to Active Alerts
As a FreshPoint customer in the continental US you may opt-in to receive notifications on the day of your delivery. Subscribe below for Active Alerts through daily email or SMS notifications. If you are already subscribed, no action is needed. The subscription is limited to 2 recipients per customer number and each time you subscribe it will override all previous subscribers.
Thank you for subscribing to Active Alerts!