By FreshPoint

Share this post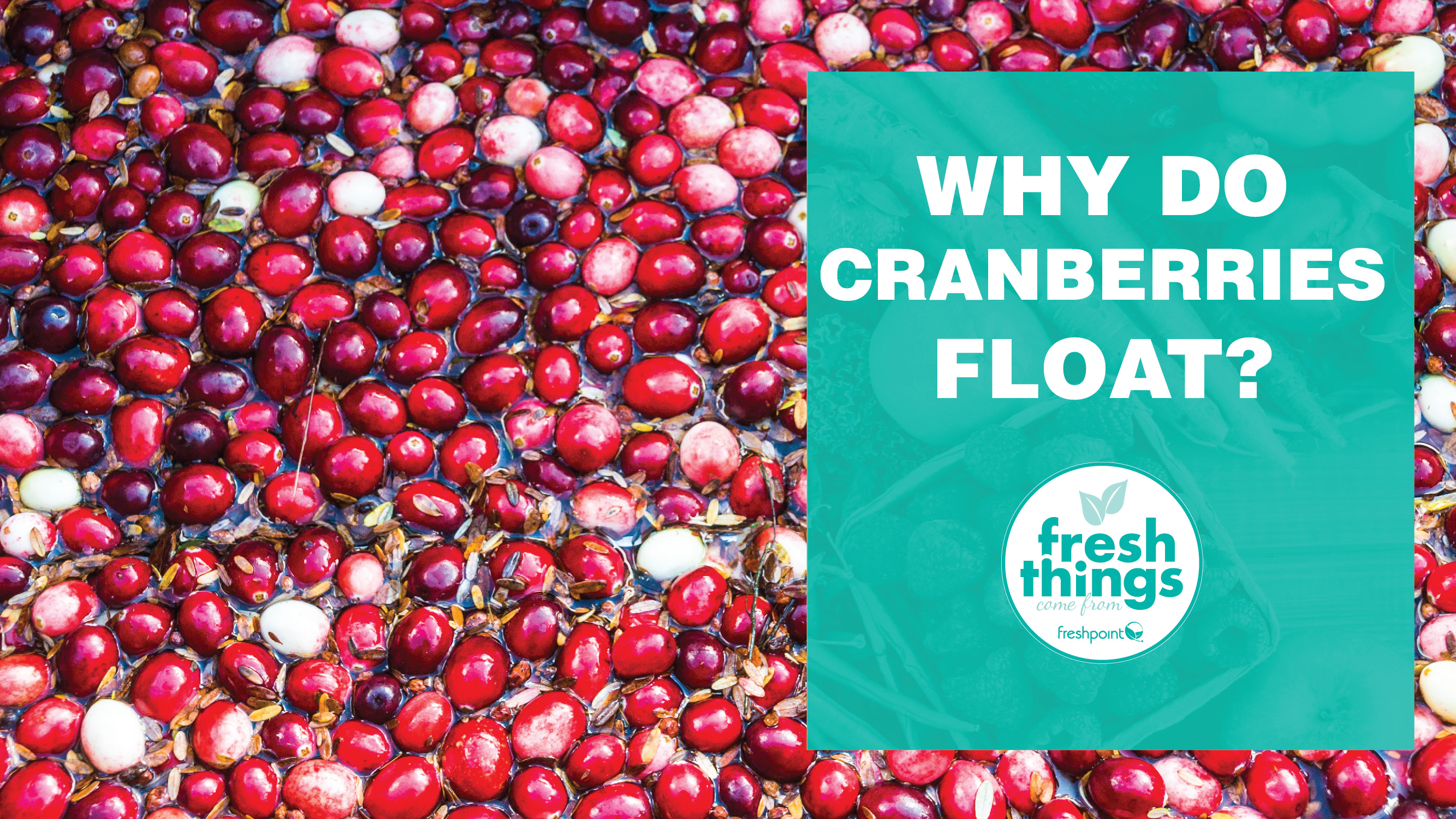 Fresh Things Video: Why Do Cranberries Float?
A few things are as a ubiquitous with the fall season as cranberries are.
The history of cranberries is fascinating. The first commercial crop was in Massachusetts in 1816, native tribes used cranberries to make a meet based snack known as "pemmican", which is very similar to beef jerky. The pemmican sustained them through the long cold winter.
Why do cranberries float?
Do cranberries really grow in water?
No, they don't. It's a small evergreen bush that grows in bogs, which is old organic peated soil. Harvesting, they flood the bogs to take advantage of one of the unique aspects of cranberries. Cranberries are hollow and they float. They flood the bogs, they cut the cranberries from the vine, and then scoop them up in large vacuums. In fact, some growers use helicopters to assist with the harvest.
The main growing regions in the United States, Massachusetts and Wisconsin lead the way, with Michigan in Oregon coming back in third and fourth. Little known fact, if you took each cranberry grown in North America on an annual basis, and stretched them from Boston to Los Angeles, you could make that round-trip 565 times! I'm chef Dan and Fresh Things come from FreshPoint.
Cranberries are an autumnal/winter season item, so contact your Marketing Associate about availability and adding them to your next order. If you are not a customer, find out how to become one today!
Content provided by Chef Daniel Snowden, the Director of Culinary Development for FreshPoint Central Florida. He has been in the produce industry years almost 20 years and loves getting geeky about food. Follow FreshPoint Central Florida on Facebook and Instagram.
---
Some tools you can use:
Visit freshpoint.com for our seasonal availability guides—and while you are there, check out the FreshPress, our latest market report. Place your orders online with ease at myfreshpoint.com. Did you know you can receive real-time reliable delivery alerts on the day of your delivery? Activate and subscribe at FreshPoint.com/mydelivery
Download our app and take your produce management on the go. Place orders, review flyers, watch videos…all in one spot!
Find out more details about our UBU program, and how we are shining a spotlight on food waste while making value and food safety a priority.
We buy local to strengthen regional economies, support family farms, preserve the local landscape, and to provide fresh-from-the-farm food to our customers. Local.freshpoint.com connects you to your local farmers like never before! Customize your search by zip, city, state, radius…even by crops and growing methods. Pop in your zip code and learn about our local farmers.
Socialize with us!
Did you know we are on YouTube? Head over to our page and check out our 75+ videos. Don't forget to subscribe, and also be a part of our Bell Team—hit the little bell icon to get notifications when we upload new videos.
Follow FreshPoint, Inc. on Facebook, Twitter, Instagram, and LinkedIn…and follow The Produce Hunter on Instagram as she finds the best specialty produce at the Santa Monica Farmers Market.