By FreshPoint

Share this post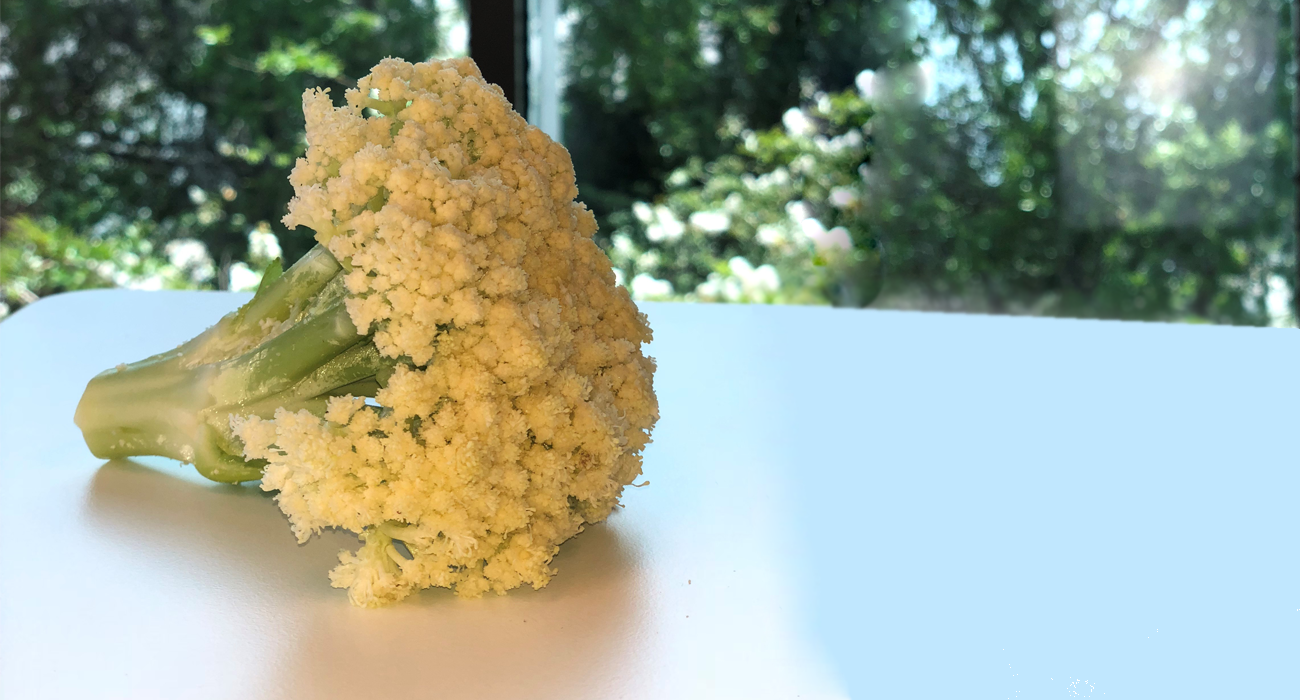 Caulilini…
It's lyrical to say—it sort of rolls off the tongue—and even more lyrical to eat, this new darling of the brassica family is one of the most exciting new vegetables to hit the market in a while.
So what is it?
Grown by Mann's, here's how they describe it: "Caulilini™ SweetStem™ Cauliflower is the newest member of the brassica family, and with its long edible stems and blonde, open florets it could be one of the most striking. Sweetly succulent in flavor, its "perfectly imperfect" shape adds both flavor and texture to side dishes, crudité platters, or entrée builds."
I love playing with fun new items in the kitchen!
I've only come across something somewhat like it recently at the Santa Monica Farmer's Market while touring with Karen Beverlin, Vice President Specialty Sales at  The Produce Hunter, and thought it was interesting. But having not tried it, I mistakenly moved on. She says chefs love it.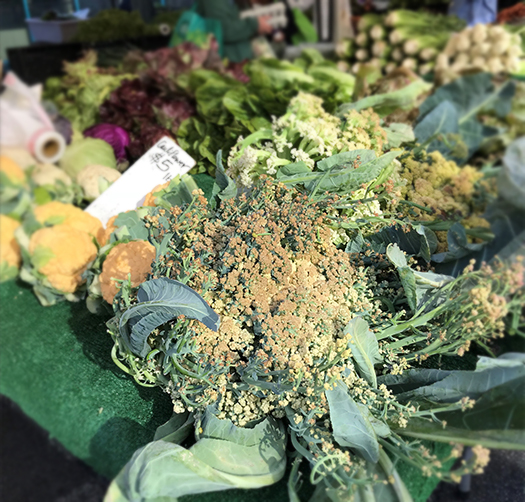 Mann's was kind enough to provide samples so I took some home to play with. I found that it cooked brilliantly and was delicious with very little effort needed. I am a roaster by nature—if you can roast it, it is going in the oven—and found that the delicate little flowery florets became magically crispy in the oven.
They almost looked like I fried them.
I like a hot oven, so in only a matter of minutes the flowery florets were crispy brown and cooked.
I discovered Caulilini to be a sweeter version of cauliflower with graceful florets that are still cauliflower-curdy, but light and flowery too. Bonus: I noted that it had a lower sulphur taste and aroma you tend to get from regular cauliflower.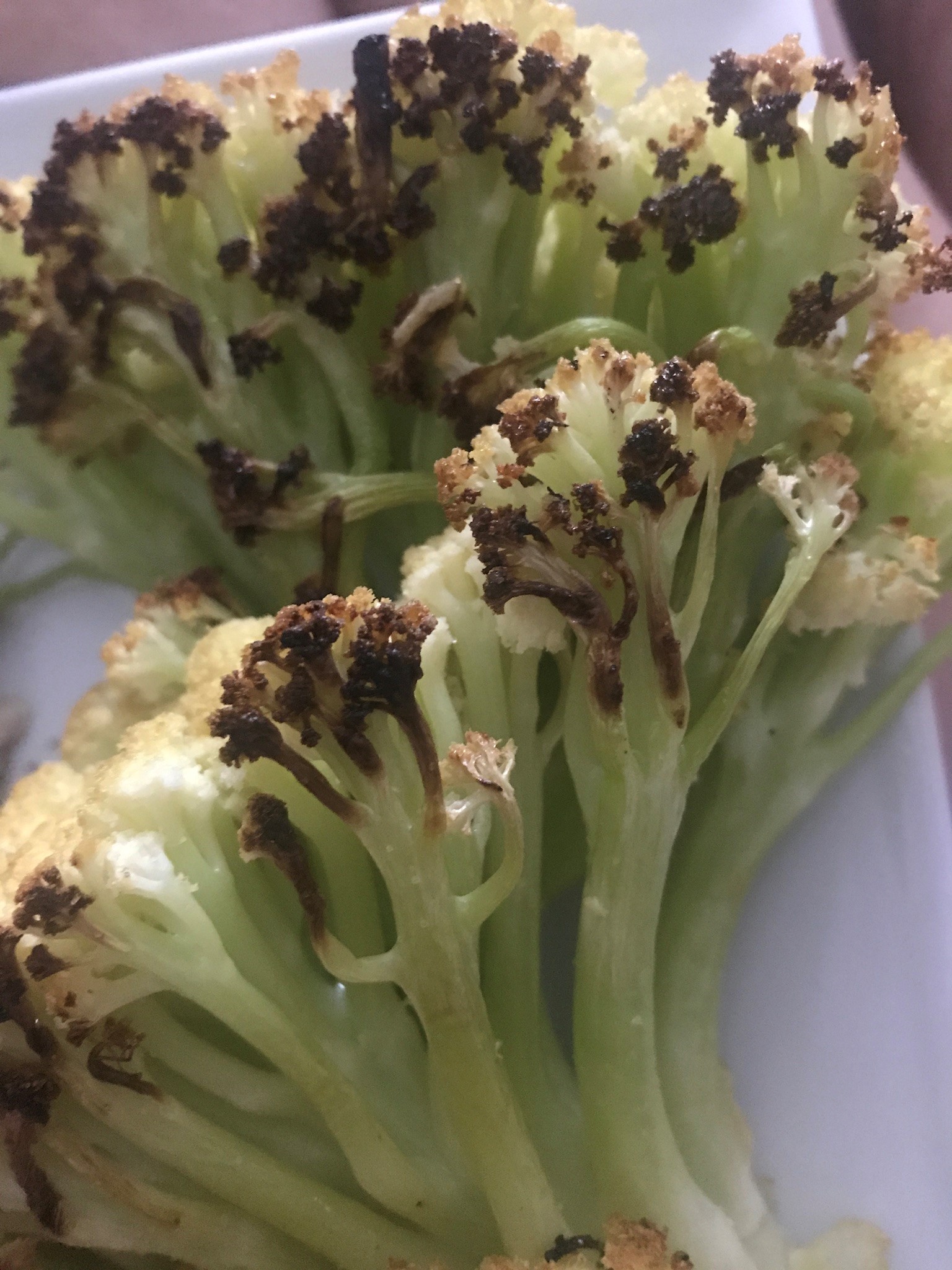 Caulilini can be used on pretty much everyone's menus—from large volume operations to small.
It's low prep, the florets are for the most part ready to go right out of the case. If you are a banquet chef, this is a perfect high volume, low prep, roast it in the oven, easy plate up side.
With all of the dietary restrictions you come across that exclude a wide variety of items: is it low carb? is it plant-based? is it vegan? is it gluten free?…along comes a vegetable that covers all bases. If you had a Venn diagram of dietary restrictions, this slides right into the sweet spot.
And for restaurant chefs, this is also a great item. Again, cauliflower fits right into that sweet spot of having a semi-neutral flavor profile, and since Caulilini is even milder and sweeter, it takes on the flavor of whatever you put on it. You can coat the florets with a little yogurt, mayo, olive oil, or butter, herbs, breadcrumbs—anything you can think of really—and roast it like you roast a whole head of cauliflower. Or you can tempura fry it or saute it. Whatever you can do with cauliflower, you can take it up a notch with Caulilini.
I also sliced the Caulilini and sautéed it with onions. Again, it cooked quickly and the little floret edges browned nicely while the rest of the Caulilini remained al dente.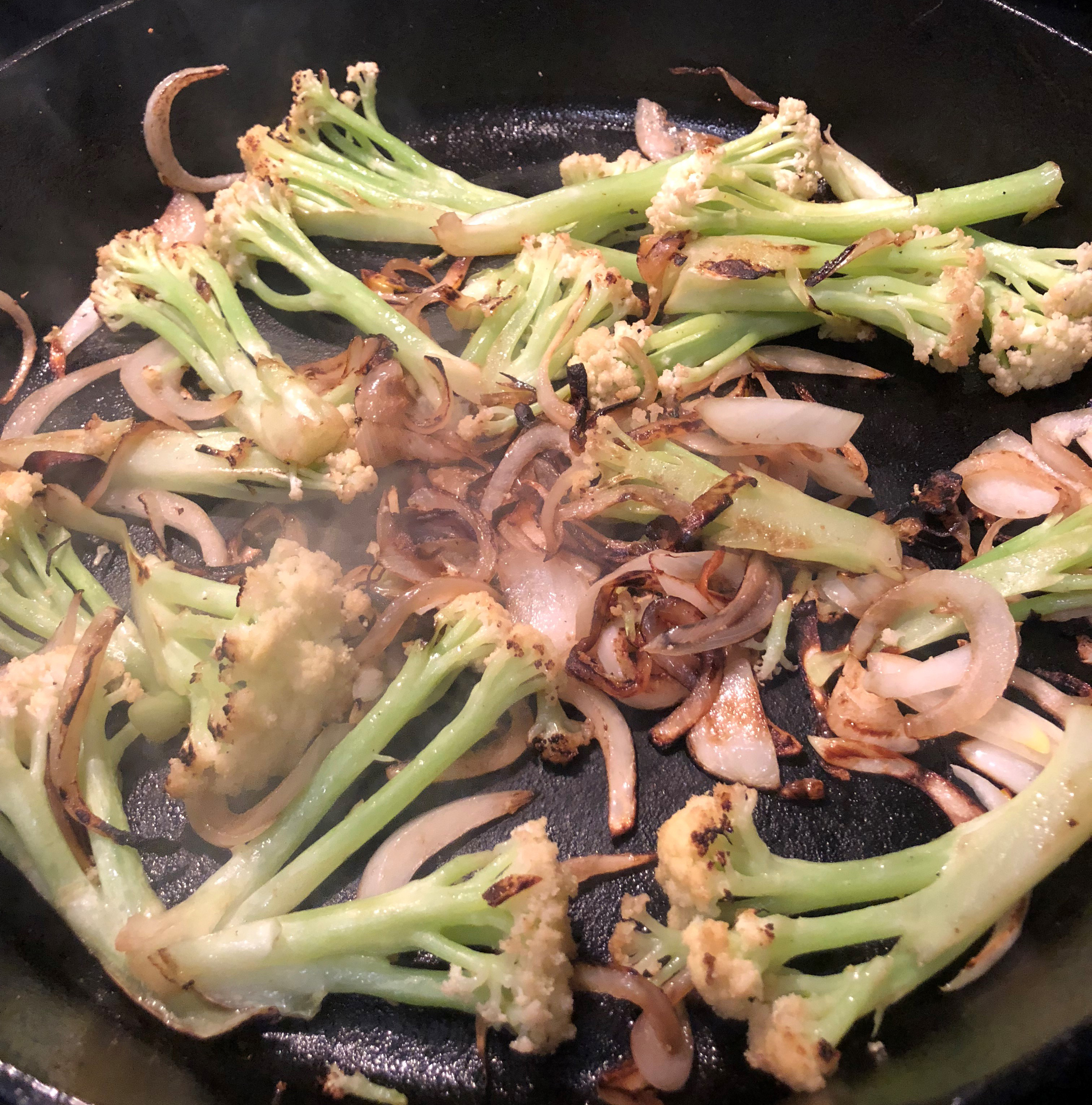 Chef Dan tried some samples too, he grilled it and flash fried it with resounding success. Overall, it was a huge hit here with everyone that tried it.
Chef Dan talks about Caulilini in our latest Fresh Things video.
For more information about Caulilini Sweet Stem Cauliflower, check out Mann's Foodservice website. They have recipes to get you started, or do like we did over here, wing it and become impressed with the result.
While this is a brand new item and just getting started with volume production, their website says it is available year round.
Contact your Marketing Associate about adding Caulilini to your next order. If you are not a customer, find out how to become one today!
Article and images submitted by Lisa Pettineo. Roasted Caulilini photo credit Britni Webster. Video content by Dan Snowden.
---
Some tools you can use:
Visit freshpoint.com for our seasonal availability guides—and while you are there, check out the FreshPress, our latest market report. Place your orders online with ease at myfreshpoint.com. Did you know you can receive real-time reliable delivery alerts on the day of your delivery? Activate and subscribe at FreshPoint.com/mydelivery
Download our app and take your produce management on the go. Place orders, review flyers, watch videos…all in one spot!
Find out more details about our UBU program, and how we are shining a spotlight on food waste while making value and food safety a priority.
We buy local to strengthen regional economies, support family farms, preserve the local landscape, and to provide fresh-from-the-farm food to our customers. Local.freshpoint.com connects you to your local farmers like never before! Customize your search by zip, city, state, radius…even by crops and growing methods. Pop in your zip code and learn about our local farmers.
Socialize with us!
Did you know we are on YouTube? Head over to our page and check out our 75+ videos. Don't forget to subscribe, and also be a part of our Bell Team—hit the little bell icon to get notifications when we upload new videos.
Follow FreshPoint, Inc. on Facebook, Twitter, Instagram, and LinkedIn…and follow The Produce Hunter on Instagram as she finds the best specialty produce at the Santa Monica Farmers Market.