By Karen Beverlin, The Produce Hunter

Share this post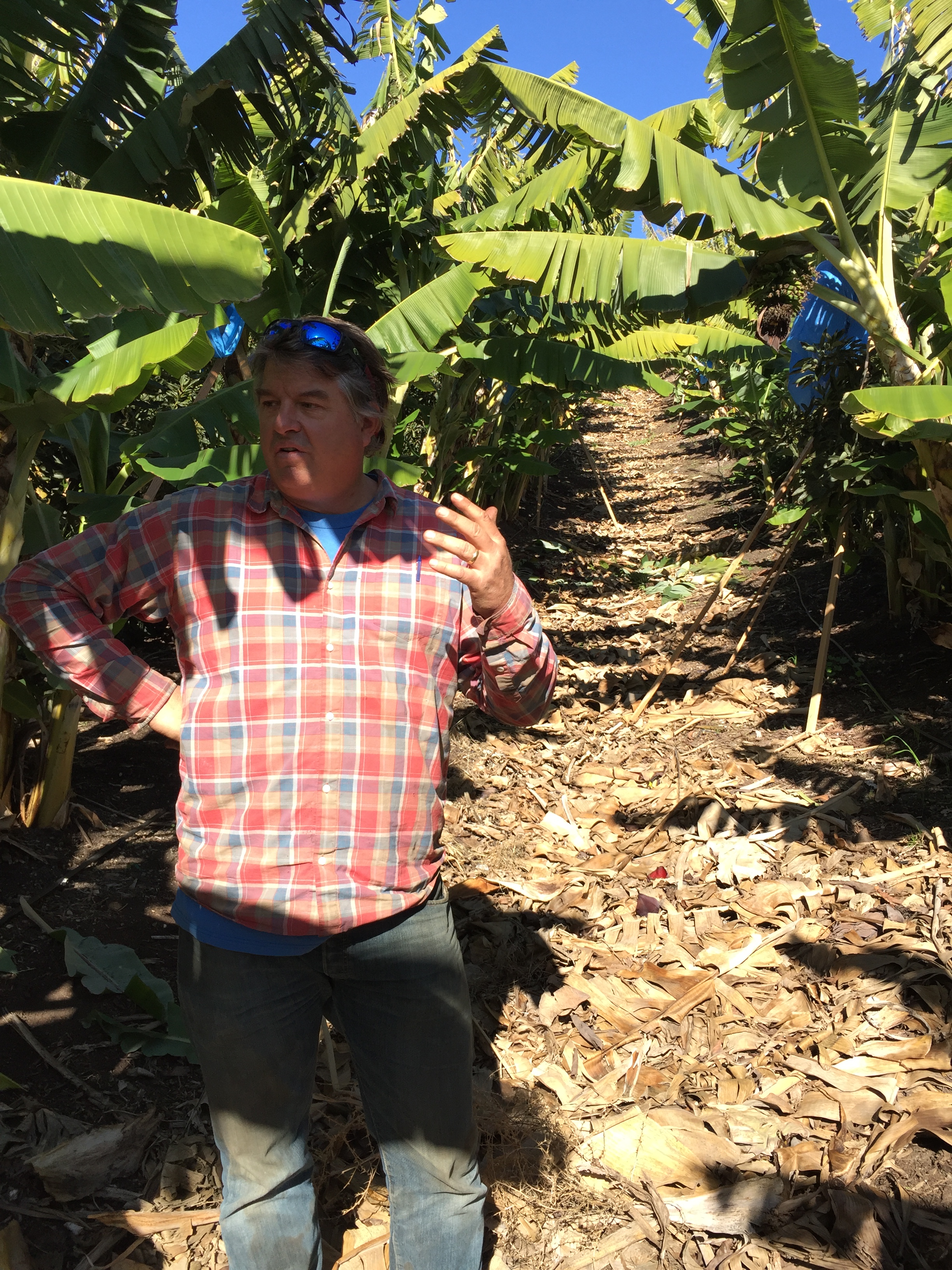 The remarkable story of KAOAE Farm Bananas
Farmer Andy Sheaffer lost a lot of trees and banana plants during California's historic Thomas Fire, but the family's house was not harmed and his family and farm team are all safe, so he's feeling grateful. But now comes the rain; it's too much for recently burned terrain to absorb. Road closures are everywhere around his farm–some areas are under mandatory evacuation–and he waits to see when the rain will stop.  Fortunately, Andy's experience with slope stabilization gives his farm a better than average shot at surviving the post-burn rain. And because farmers are resilient as heck, KAOAE Farm is back to providing us with the very best local organically-grown bananas.
So Cal native son Andy Sheaffer is relatively new to farming.
For years, he traveled the United States as a contractor specializing in slope stabilization and erosion control. Away from home six months of the year, Sheaffer wanted to spend more time at home with his wife and three children. Born, raised, and educated in Santa Barbara County, he put his feet firmly on home turf in 2008 by purchasing an avocado and lemon ranch with a 180 degree view of the Pacific Ocean. Soon after purchasing the land, Sheaffer made some big changes.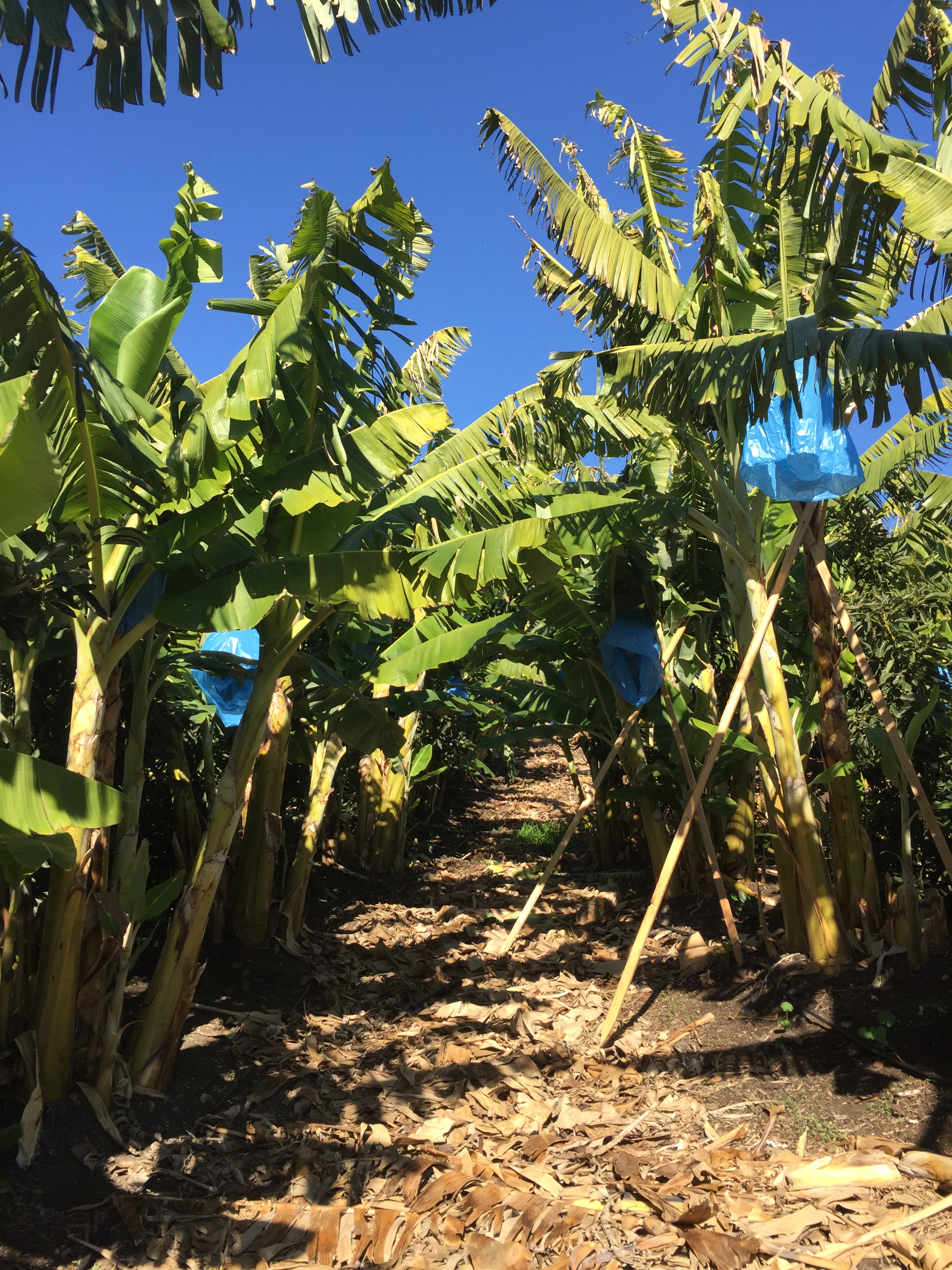 Friend and banana enthusiast Doug Richardson convinced Sheaffer to plant bananas. Richardson's banana farm had produced enough product to sell at local farmers' markets in the late 80s and early 90s, until a landslide wiped out his farm, so he knew the crop could thrive in Ventura's climate. Sheaffer purchased Richardson's personal collection of banana plants, and now has seven acres of certified organic bananas.
For five years, Sheaffer's banana plants languished, producing very little fruit, and looking sickly.
Sheaffer's farm manager said he wanted to "pull out those weeds" so Sheaffer decided to focus on them. In a brilliant move, Sheaffer interplanted his banana plants with avocado trees. The dense planting is highly efficient with regard to water use, and the bananas love it. The result is improved fruit set, and larger bunches—enough production to sell at several Southern California Farmers' Markets.
Sheaffer grows eight varieties of bananas on his organic land, KAOAE Farms. The bananas' flavors are markedly different from the commercial Cavendish bananas imported from the southern hemisphere. Sheaffer's bananas have complex flavors, and a pop of acid. The flavor peaks when their peel is fully yellow, so even if they are green tip, wait another day or two. Even when so ripe they have brown freckles, the texture of Sheaffer's bananas remains creamy and smooth, they just don't get mealy like commercial Cavendish. Plus, these bananas are harvested by people who are paid more for an hour of work than commercial banana harvesters are paid for a full day of harvesting.
Beautifully fragrant, incredibly delicious, responsibly produced, and organically grown in Southern California. There are so many reasons to serve these delicious bananas!
Let's all show Andy some support by buying KAOAE organic bananas!  These small bananas pack a lot of flavor punch. They are fragrant and super sweet and have some acid to back up all that sugar. And their texture is nice and firm even when they fully ripe.  You're gonna love them!
The Produce Hunter has 10lb cartons of KAOAE Organic Raja Puri Bananas in stock now.
(Please be sure to let KAOAE Bananas sit at room temperature until they lose every trace of green; that's when their flavor is at its peak. Please don't use them when they are green tips!)
---
Image and content contributed by Karen Beverlin, Vice President of Specialty Sales at The Produce Hunter. Follow her as she finds the best of the Santa Monica Farmers Market every week with on Instagram. The Produce Hunter curates the Farmers' Markets, and works with small, local family farmers committed to sustainable agriculture, responsible production, and propagation and promotion of fruit and vegetables with exceptional flavor.
Follow KAOAE Farms on Instagram.
Follow FreshPoint, Inc. on Facebook, Twitter, Instagram, and LinkedIn… and follow The Produce Hunter as she finds the best of the Santa Monica Farmers Market every week on Instagram.
Andy's story has been updated from its original post.