Share this post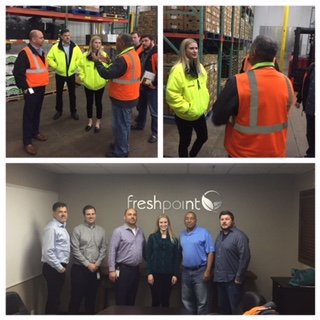 Texas State Senator's District Director Discusses Economic Issues During FreshPoint Dallas Tour
DALLAS – This week, David Hartman, President, FreshPoint Dallas, and his leadership team met with Clarin Gniffke, Texas State Senator Don Huffines' District Director for a tour and roundtable discussion.
During the tour, David took Clarin to see FreshPoint's planned expansion project and its impact on the local economy, employment and the ability to service our customers more effectively. They also discussed tolling issues and the impact these revenue measures have on FreshPoint's distribution.
Senator Huffines is a member of the Senate Natural Resources and Economic Development Committee, which puts him in a perfect position him to work with Sysco and FreshPoint on issues impacting our fleets and our produce business in Florida.
During the roundtable, David discussed the importance of a favorable business environment in Texas for their facility expansion. "Dallas is one of the biggest restaurant markets in the country, so it is important for local and state governments to limit the regulatory burden on us so we can provide the best service possible to our customers."
Texas Governor Greg Abbott and the state legislature are working on a plan to distribute over $200 million from the VW Settlement to promote carbon emission reduction projects. Sysco/FreshPoint and other distributors are encouraging the government to include replacement of older diesel trucks with newer diesel trucks as part of the state's plan.
For more information on Sysco's government relations outreach program, please contact Chip Kunde, Sysco's Vice President, Government Relations.