By FreshPoint

Share this post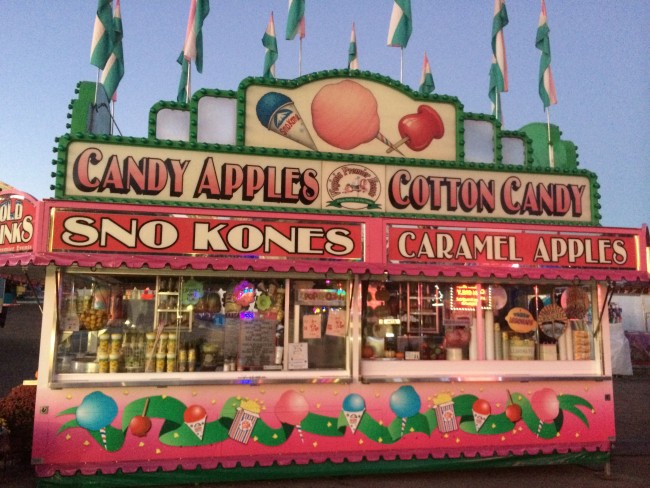 FreshPoint Raleigh Goes to the NC State Fair
On October 15–25, FreshPoint Raleigh took to the streets of the North Carolina State Fair to mingle with the presenters and vendors that make the Fair possible, selling produce in large quantities to the masses.
The most popular items for us were the apples—for candy apples, sweet corn—sold in countless booths, and lemons—used for fresh-squeezed lemonade on every corner. Potatoes, peppers, onions, and lettuce were also sold to several vendors.
We had dedicated sales staff working the Fair every day, going from booth to booth to ask for vendors' business. We would take orders and key them in at the warehouse, and we received text messages until 10:00 pm for next day delivery. We also had dedicated drivers for the Fair, and a truck that would make delivery rounds before the sunrise, ensuring customers would have their product delivered to their tents before the sunrise. This early delivery also helped us get in and out of the fairgrounds efficiently and safely.
It all started in 2010 when a new sales rep said, "Why don't we service anyone at the State Fair?", and we have been delivering ever since. We have increased our sales and add new customers every year because we take such good care of our customers, and they tell their friends at the fair how good we are.
The fair had a record-breaking year in 2010—it was the first time they had over 1 million in attendance—with 2015 on target to surpass it, but fell short and settled as the second busiest year.
FreshPoint Raleigh sold more than 2,300 cases of product, with more than 900 cases of apples alone! Speaking of apples, one of our biggest customers is TBA Concessions, owned by Larry and Gala Hobeck. Larry is 63, has been doing fair since he was 15. Currently, they have two candy apple booths at the Raleigh State Fair and a single booth at other local fairs around here. They have service down to a science, always keeps the line moving, one person standing by the lemonade area, and another by snow cone area etc…and they are fast! Larry said, "People will not wait in line very long, speed is what you need, the people are going to leave broke, it's just a matter of who gets their money."
When the work was over, some of the more entertaining styles of food at the Fair:
Deep Fried Jalapeño Pimento Cheese and Bacon Hush-puppies with Sriracha Bang Bang Dipping Sauce
Deep Fried Pop Tarts
Deep Fried Peanut Butter Pickle
Deep Fried Bacon Wrapped Tootsie Roll
Amazingly Sour Blue Warhead Candy Apples
Article submitted by: Daniel Batchelder, VP Sales of FreshPoint Raleigh.