By FreshPoint

Share this post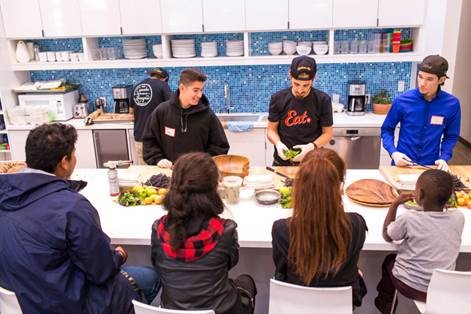 Fostering Relationships with Children in Los Angeles Country…
Approximately, 28,000 children are currently in foster care in Los Angeles County. At the age of 18, these children are "aged out" of the system, and are no longer allowed to live in their foster homes. Children aging out of foster care have a very difficult time, and face severe challenges in education, health, and jobs.
Fewer than 50% of foster youth graduate from high school and only 3% graduate from college.
50% of youth who have aged out of foster care end up homeless or incarcerated.
The Alliance for Children's Rights NextStep program assists 18 year olds who are leaving their foster homes and transitioning to living on their own with very limited funds. FreshPoint Southern California customer Heirloom LA works with the ACR, and provides cooking classes and meals for NextStep participants.
Heirloom LA constantly gives back to the community, and their work with the Alliance for Children's Rights is important and impactful. They are teaching these marginalized children that food that is good for you can also be delicious, and helping them feel empowered. When you're 18, and living on your own for the first time, without family to help, it's incredibly valuable to have advocates and mentors.
HLA asked FreshPoint Southern California to donate products for care packages to be given to the children at their annual NextStep Holiday Bash. They wanted the baskets to contain essential items the youths need for a home with empty cupboards. HLA provided a list of suggested items, including non-food items as well as shelf-stable ingredients reflecting the cooking classes that NextStep youths have been attending at HLA. FPSC donated Green Lentils, Koda Farms organic Kokuho Rose Rice, and Koda Farms organic dried Garbanzo Beans, and Janelle Parenteau, FPSC Director of Human Resources, enlisted the help of the FPSC associates. The FPSC associates really stepped up!
When HLA stopped by FPSC's warehouse to pick up the donations, bags and bags of items donated by FPSC associates greeted them. HLA was blown away by the associates' generosity.
Images from their blog, yolkandflower.com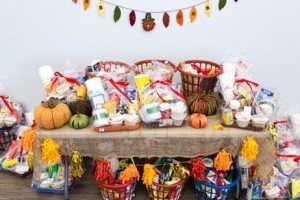 ---
Submitted by Karen Beverlin, FreshPoint Southern California