By Karen Beverlin, The Produce Hunter

Share this post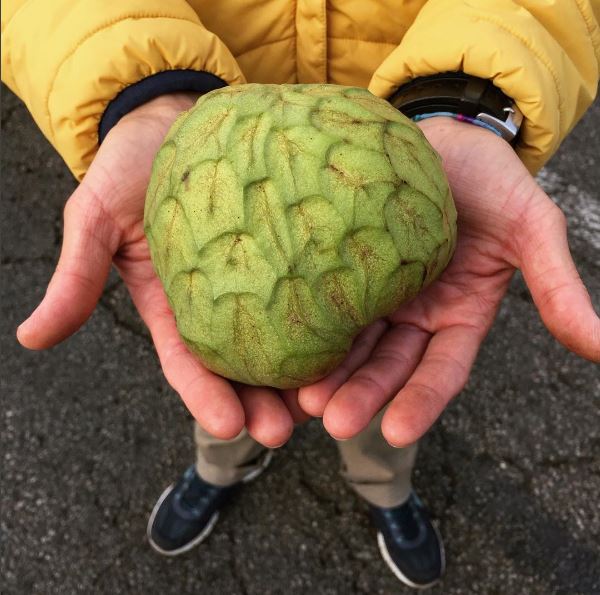 "Tropical Flavors Make Winter Bearable!"
Karen Beverlin, The Produce Hunter says, "Tropical flavors make winter bearable!"
Every Rincon del Mar Ranch cherimoya is hand-pollinated, and every one is truly delicious. "It tastes like summer, but here it is, brightening up our winter—it is so delicious," The Produce Hunter says.  Pictured above in the farmer's hands, is beautiful Rincon del Mar Ranch cherimoya.
Get to know the creamy cherimoya:
Cherimoya is native to South America and the West Indies, and grows on shrubs belonging to the Annona species. Inside the scaly yellowish green skin, the fruit has creamy white, custard-like flesh with a sweet-sour flavor reminiscent of pineapples and bananas, and large black seeds.
Be sure to use the cherimoya before it's completely soft, it loses its acid and some of its flavor.  A ripe cherimoya will feel like an avocado that's just short of ripe, it will just start to have some give.  That's when the cherimoya will have the best flavor.
Cherimoya's tropical flavor is distinct and delicious. Be sure to seed it (seeds are NOT edible) before using!  Cut the flesh into small cubes and sprinkle over mango sorbet.  Lay cherimoya slices over baked puff pastry, glaze with lime syrup, and dot with raspberries for a fresh cherimoya tart.  Make a cherimoya semifreddo or ice cream.  You're gonna love the tropical taste cherimoyas!


---
Image and content contributed by Karen Beverlin, Vice President of Specialty Sales at The Produce Hunter. Follow Ricon Del Mar Ranch cherimoya on Facebook.
Some tools you can use:
Visit freshpoint.com for our seasonal availability guides—and while you are there, check out the FreshPress, our latest market report. Place your orders online with ease at myfreshpoint.com. Did you know you can receive real-time reliable delivery alerts on the day of your delivery? Activate and subscribe at FreshPoint.com/mydelivery
Download our app and take your produce management on the go. Place orders, review flyers, watch videos…all in one spot!
Find out more details about our UBU program, and how we are shining a spotlight on food waste while making value and food safety a priority.
We buy local to strengthen regional economies, support family farms, preserve the local landscape, and to provide fresh-from-the-farm food to our customers. Local.freshpoint.com connects you to your local farmers like never before! Customize your search by zip, city, state, radius…even by crops and growing methods. Pop in your zip code and learn about our local farmers.
Socialize with us!
Did you know we are on YouTube? Head over to our page and check out our 75+ videos. Don't forget to subscribe, and also be a part of our Bell Team—hit the little bell icon to get notifications when we upload new videos.
Follow FreshPoint, Inc. on Facebook, Twitter, Instagram, and LinkedIn…and follow The Produce Hunter on Instagram as she finds the best specialty produce at the Santa Monica Farmers Market.