By Karen Beverlin, The Produce Hunter

Share this post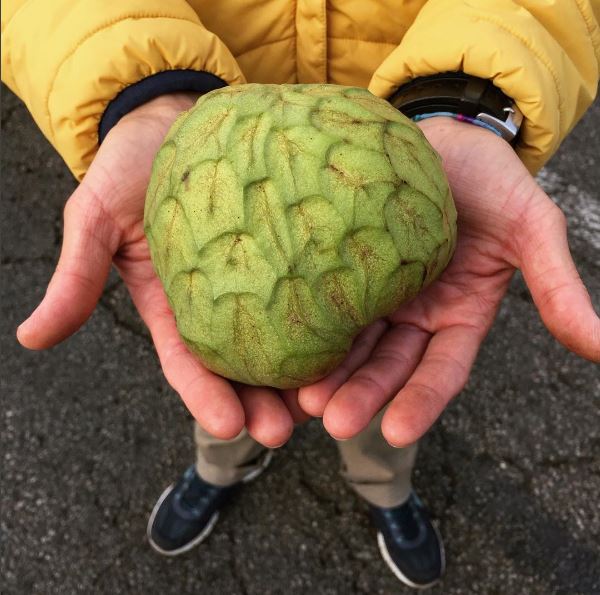 "Tropical flavors make winter bearable!"
Karen Beverlin, The Produce Hunter says, "Tropical flavors make winter bearable!"
Every Rincon del Mar Ranch cherimoya is hand-pollinated, and every one is truly delicious. "It tastes like summer, but here it is, brightening up our winter—it is so delicious," The Produce Hunter says.  Pictured above in the farmer's hands, is beautiful Rincon del Mar Ranch cherimoya.
Get to know the creamy cherimoya:
Cherimoya is native to South America and the West Indies, and grows on shrubs belonging to the Annona species. Inside the scaly yellowish green skin, the fruit has creamy white, custard-like flesh with a sweet-sour flavor reminiscent of pineapples and bananas, and large black seeds.
Be sure to use the cherimoya before it's completely soft, it loses its acid and some of its flavor.  A ripe cherimoya will feel like an avocado that's just short of ripe, it will just start to have some give.  That's when the cherimoya will have the best flavor.
Cherimoya's tropical flavor is distinct and delicious. Be sure to seed it (seeds are NOT edible) before using!  Cut the flesh into small cubes and sprinkle over mango sorbet.  Lay cherimoya slices over baked puff pastry, glaze with lime syrup, and dot with raspberries for a fresh cherimoya tart.  Make a cherimoya semifreddo or ice cream.  You're gonna love the tropical taste cherimoyas!


---
Image and content contributed by Karen Beverlin, Vice President of Specialty Sales at The Produce Hunter. Follow Ricon Del Mar Ranch cherimoya on Facebook.
Follow FreshPoint, Inc. on Facebook, Twitter, Instagram, and LinkedIn and find the best of the Santa Monica Farmers Market every week with The Produce Hunter on Instagram. The Produce Hunter curates the Farmers Markets, and works with small, local family farmers committed to sustainable agriculture, responsible production, and propagation and promotion of fruit and vegetables with exceptional flavor.