By FreshPoint

Share this post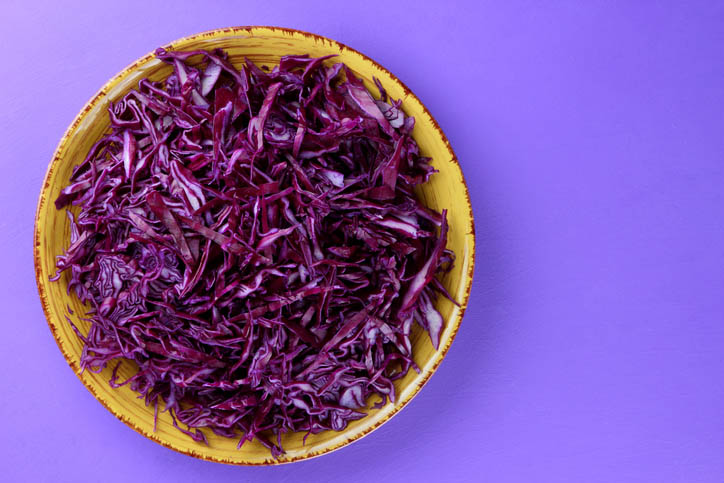 Red Cabbage: A Delicious Way to get More Vitamin C
When you think of Vitamin C, usually oranges come to mind. But actually, red cabbage is naturally rich in Vitamin C—and just one half cup of shredded red cabbage contains 45% of your RDA.  Not to mention, the bluish to red color is caused by anthocyanins. You probably know that eating the rainbow equals eating more antioxidants, such as anthocyanins, and the same holds true for red onions. If color is not an issue, opt for red cabbage for an antioxidant boost. Choosing a more colorful vegetable can equal an easy way to get more antioxidants in your customer's diet.
What does your plate look like when you add red cabbage?
It looks vibrant and exciting—the purple/red makes your dish pop. You eat with your eyes, and a colorful plate is certainly more attractive. Red cabbage checks the box for plate presentation.
Eat the rainbow: red cabbage is naturally rich in Vitamin C
Talk about a low cost, high-yield and colorful vegetable, if you feature a veggie medley of the day, add red cabbage in with your mix. You will have to be careful when you add raw red cabbage to something like a cole slaw…the dish might turn a lovely shade of pink, which, depending on what look you are trying to achieve, actually might work out well.
Try shredding and adding some crunchy color to salads, or better yet, add some shredded red cabbage to your  tacos.  You can also chunk up the cabbage and roast it in the oven for a quick side dish. Cooking brings out the sweetness and mellows out some bitterness, which by the way is caused by anthocyanins.
Have you tried braised red cabbage? It's delicious and sweet with acidic tones, making it the perfect accompaniment to steak, chicken, grilled sausage, shrimp, and our favorite, pork. Check out this braised red cabbage recipe from The New York Times featuring balsamic vinegar and apples.
Since red cabbage is naturally rich in Vitamin C, adding more red cabbage to your recipe arsenal is a delicious way to add color and nutrition to your dishes. Even with just sprinkle of red cabbage shreds as a garnish goes a long way as an antioxidant bang for the buck since red cabbage is a food cost friendly item by nature. Your customers and your food cost will thank you.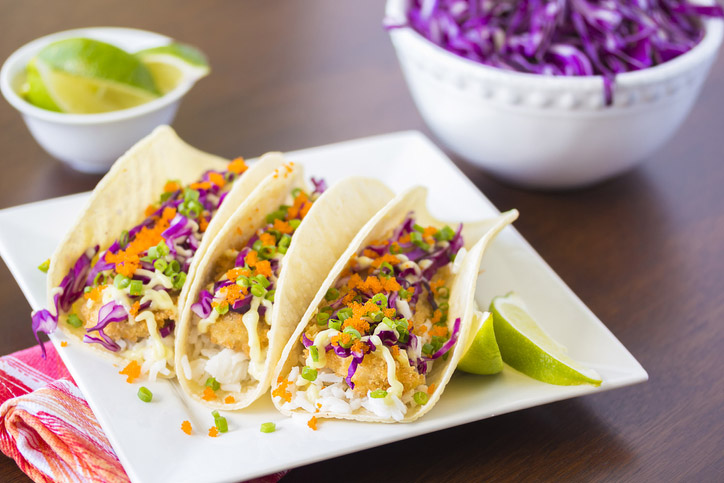 Beat the blues when cooking red cabbage
Has your red cabbage turned blue when cooking? Since tap water is alkaline, anthocyanins might react to it, so adding a little acid (lemon juice or vinegar) in the cooking water might help.
What other vegetables are hiding Vitamin C?
Since red cabbage is naturally rich in Vitamin C, you may be wondering what other vegetables are a good source of vitamin C? Check out this list from our friends at fruitsandveggies.org and see if there are some that you had no idea were on the list.
Red cabbage is a produce item that is available year-round, food cost friendly, and certainly colorful. Contact your Marketing Associate about adding red cabbage to your next order. If you are not a customer, find out how to become one today! 
---
Article submitted by Lisa Pettineo.
Some tools you can use:
Visit freshpoint.com for our seasonal availability guides—and while you are there, check out the FreshPress, our latest market report. Place your orders online with ease at myfreshpoint.com. Did you know you can receive real-time reliable delivery alerts on the day of your delivery? Activate and subscribe at FreshPoint.com/mydelivery
Download our app and take your produce management on the go. Place orders, review flyers, watch videos…all in one spot!
Find out more details about our UBU program, and how we are shining a spotlight on food waste while making value and food safety a priority.
We buy local to strengthen regional economies, support family farms, preserve the local landscape, and to provide fresh-from-the-farm food to our customers. Local.freshpoint.com connects you to your local farmers like never before! Customize your search by zip, city, state, radius…even by crops and growing methods. Pop in your zip code and learn about our local farmers.
Socialize with us!
Did you know we are on YouTube? Head over to our page and check out our 75+ videos. Don't forget to subscribe, and also be a part of our Bell Team—hit the little bell icon to get notifications when we upload new videos.
Follow FreshPoint, Inc. on Facebook, Twitter, Instagram, and LinkedIn…and follow The Produce Hunter on Instagram as she finds the best specialty produce at the Santa Monica Farmers Market.