By FreshPoint

Share this post


Produce 101: Asparagus
Dan spearheads a discussion on asparagus in this edition of our series, Produce 101.
Asparagus History
Asparagus is a true harbinger of spring, though these days, it is available year-round. Related to the onion, this member of the lily family has been grown for thousands of years, in fact, we have historical records of asparagus being grown and eaten in Ancient Egypt as far back as 3000 BC.  Asparagus was so prized that the Roman Emperor Augustus was said to have built a fleet of ships to transport asparagus around the entire Roman Empire.
How is asparagus grown?
Asparagus is unusual in that it is a perennial plant, often producing crops for 15 or more years.  Even more unusual is that it takes three years for the root crown to produce a harvestable crop.  As the plant ages, the spears stats out thinner. Over the plant's life cycle, the spears become thicker and more tender as the root, or crown, is not striving to create spears to stand completely straight, thus creating less fiber in the stalks. Less fiber equals a tenderer spear of asparagus. Once the asparagus plant stops production at around the 15-20 year mark, they are dug up and the cycle starts all over again.
Are thinner spears better?
Well, the quick answer is it depends on how you utilize them.  Thinner spears better for quick cooking methods, such as steaming, sautéing and–gasp–boiling.  Thicker spears are better choices for extended cooking methods such as roasting and grilling.  You might think the larger spears are tougher, when in fact, they are tenderer.  Why?  Easy, less fiber.
Harvesting
Asparagus is harvested by hand, making it one of the most labor intensive crops today.
California leads the way for domestic production, with Washington and Michigan rounding things out.  However, the domestic crop pales in comparison to other nations, China is the leader, though the claimed production numbers are in dispute, with Peru and Mexico coming on strong as well.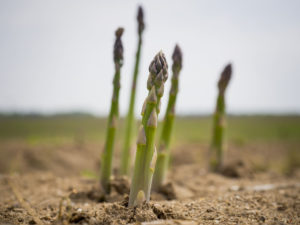 White Asparagus
Yep, and it's not a GMO or hybrid, but rather, white asparagus a result of altering how the asparagus grows. As the spears begin to push through the soil, farmers begin to mound dirt around them, depriving them of sunlight which in turn halts the production of chlorophyll in the stalks.  Once a seasonal treat, white asparagus is now available all year long.
Common Sizes of Asparagus
Very Small: Less than 5/16 inch
Small: 5/16 to less than 8/16 inch
Medium: 8/16 to less than 11/16 inch
Large: 11/16 to less than 14/16 inch
Very Large: 14/16 inch and up
Note: California and Washington State have slightly different standards and nomenclature:
All sizes are based on the diameter of the stalk at the widest point of the stalk cross section.
California Size Designation and Minimum Diameter
Colossal 1 inch
Jumbo 13/16 inch
Extra Large 10/16 inch
Large 7/16 inch
Standard 5/16 inch
Small 3/16 inch
Extra Small Means that more than 10% of the stalks in a container are smaller than 3/16 inch.
Washington State Size Designation and Minimum Diameter
Jumbo 13/16 inch in diameter or larger
Extra Large 10/16 inch in diameter or larger
Large 7/16 inch in diameter or larger
Standard 5/16 inch in diameter or larger
Small 3/16 inch in diameter or larger
Storage and Handling
Look at the spears and select those that are the straightest and have a firm texture.  Look at the tips.  Avoid spears with open, loosely formed tips.  Once you've selected your asparagus, store it cold.  You can even wrap a damp paper towel around the stem ends or store them standing up in an inch or 2 of cold water, much as you would cut flowers.
Asparagus is a true harbinger of spring, though these days, it is available year-round.
In this video:
Dan goes over the three most popular sizes, white and purple asparagus, and the selection and proper storage of asparagus.
Contact your Marketing Associate about adding asparagus to your next order. If you are not a customer, find out how to become one today!
Article submitted by Chef Daniel Snowden, the Director of Culinary Development for FreshPoint Central Florida. He has been in the produce industry years almost 20 years, and loves getting geeky about food. Follow FreshPoint Central Florida on Facebook and Instagram. Additional contributions by Lisa Pettineo.
---
Some tools you can use:
Visit freshpoint.com for our seasonal availability guides—and while you are there, check out the FreshPress, our latest market report. Place your orders online with ease at myfreshpoint.com. Did you know you can receive real-time reliable delivery alerts on the day of your delivery? Activate and subscribe at FreshPoint.com/mydelivery
Download our app and take your produce management on the go. Place orders, review flyers, watch videos…all in one spot!
Find out more details about our UBU program, and how we are shining a spotlight on food waste while making value and food safety a priority.
We buy local to strengthen regional economies, support family farms, preserve the local landscape, and to provide fresh-from-the-farm food to our customers. Local.freshpoint.com connects you to your local farmers like never before! Customize your search by zip, city, state, radius…even by crops and growing methods. Pop in your zip code and learn about our local farmers.
Socialize with us!
Did you know we are on YouTube? Head over to our page and check out our 75+ videos. Don't forget to subscribe, and also be a part of our Bell Team—hit the little bell icon to get notifications when we upload new videos.
Follow FreshPoint, Inc. on Facebook, Twitter, Instagram, and LinkedIn…and follow The Produce Hunter on Instagram as she finds the best specialty produce at the Santa Monica Farmers Market.