By FreshPoint

Share this post

Quick, easy, and basically free—potato peels will become your favorite snack.
The next time you are tempted to toss your potato peels, step away from the trashcan and whip up this dressed up bar snack.
It's basically free, you were planning on tossing them anyway, and with truffle oil*, pepper, and Parmesan, we are so there.
You really can't go wrong with potato peel crisps, they are starchy, neutral tasting, and just waiting to be seasoned. We think these crisps are really just an excuse to get whatever seasoning they are wearing into your mouth. Since they are a blank canvas, they have unlimited seasoning potential—curried, salt and vinegar, rosemary, garlic, fresh dill—we can go on, but you're picking up what we're putting down.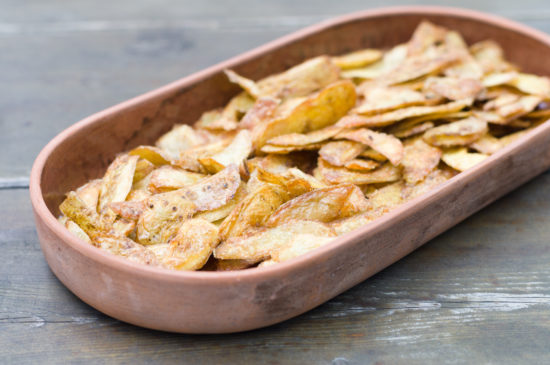 Since they are potato peels and not chips, they are perfect as a garnish and make a fantastic crispy topping for mashed potatoes, or anywhere that can use a little crunch. Peel them into long strips to maximize your surface area when you use a regular peeler. But if you zip the skins off with a potato/apple peeler, all the better. Now you can really fry them up in style.
Not into frying? The Kitchn says roast them instead.
Food waste is on everyone's radar; follow us monthly as we feature one idea on how you can help mitigate food waste.
---
Content by Lisa Brizard. Visit freshpoint.com for our seasonal availability guides—and while you are there, check out the FreshPress, our latest market report.
Find out more details about our UBU program, and how we are shining a spotlight on food waste, while making value and food safety a priority. Find the best of the Santa Monica Farmers Market every week with The Produce Hunter on Instagram. Follow FreshPoint, Inc. on Facebook, Twitter, Instagram, and LinkedIn. Did you know we are on YouTube? Head over to our page and check out our videos. Don't forget to subscribe, and also be a part of our Bell Team—hit the little bell icon to get notifications when we upload new videos.
*Guys, we know that some chefs eschew truffle oil, but we say, to each their own. Potatoes are shameless and like any seasoning.