By FreshPoint

Share this post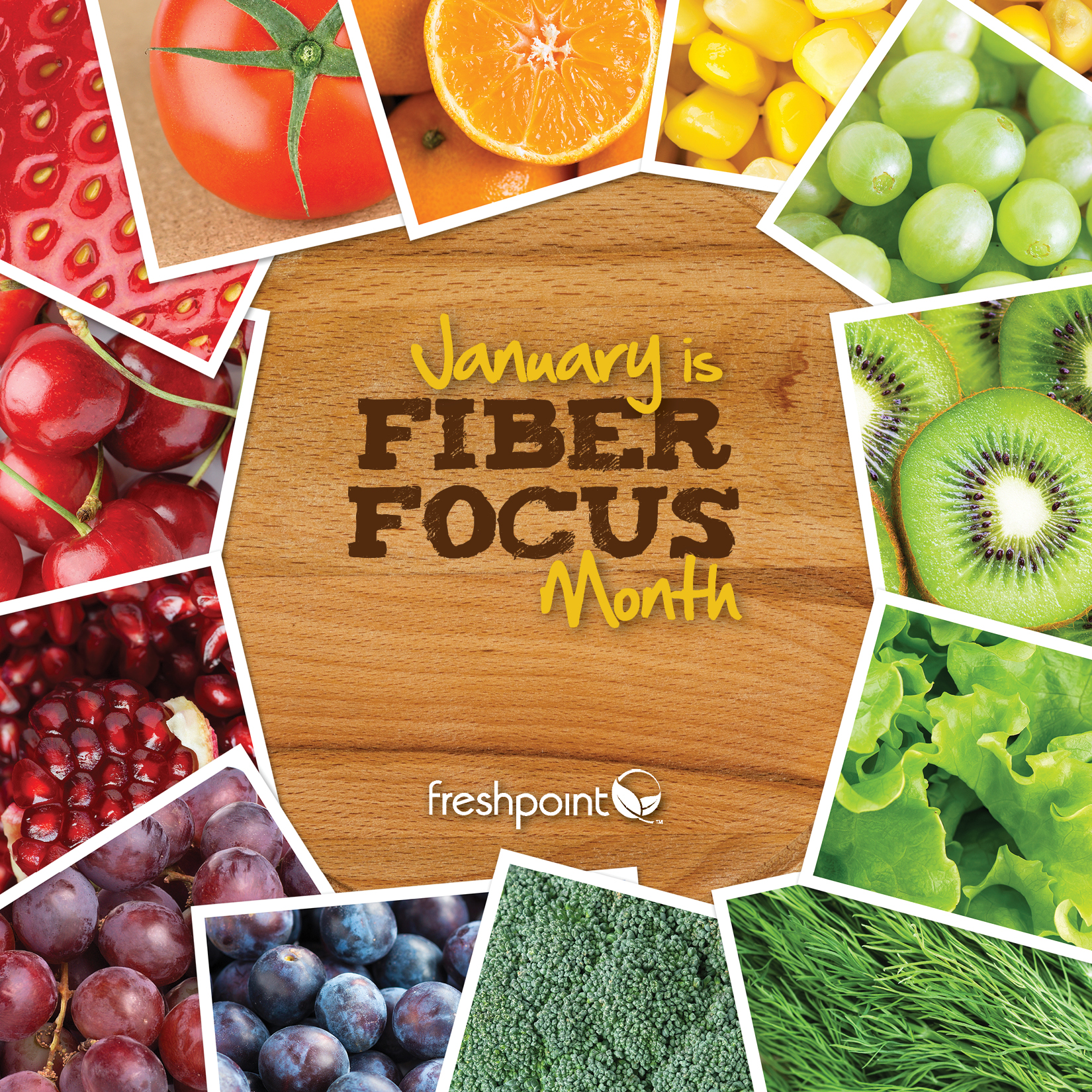 Looking to get Healthy in the New Year? How About More of This…
January is Fiber Focus Month
According to NBC News, "Get Healthy" was the top 2017 New Year's resolution search, with 62,776,640 Google searches—up 13% from last year.
With over 60 million people asking how to get healthy, what about doing something simple, like adding more fiber to your diet?
But fiber means bran muffins!
Fiber is much more than bran muffins…
Think of any fruit of vegetable, and you've got healthy fiber there. Like guacamole? A half of a California avocado has 5 grams of fiber.
Think about adding the tangy sweetness of a ½ cup blackberries to your salad, marrying perfectly with balsamic dressing, and you've got 4 grams of fiber. So far, eating fiber looks delicious! According to Harvard, you need 20-30 grams of fiber per day—with Americans only getting about 15 grams per day. With these two suggestions, it looks like you are well on your way to deliciously  heading towards almost half your daily goal!
We'll stop there, but as you can see, adding fiber to your diet doesn't have to be intimidating or boring. Look how vibrant this salad is: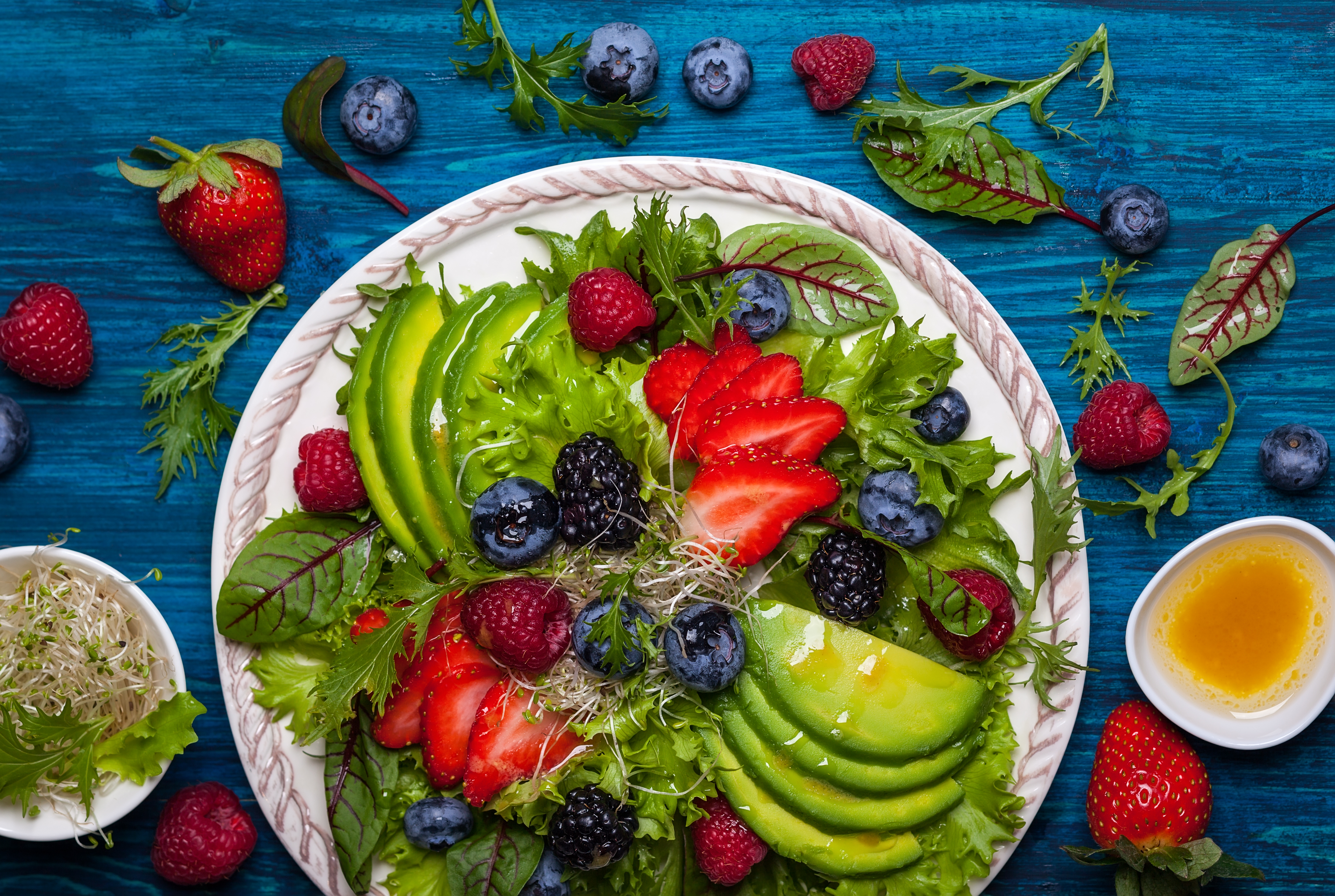 Here's a fun fact: fiber only comes from plant-based foods. You read that right—animal foods do not contain fiber. The Mayo Clinic notes great choices for fiber are fruits and vegetables.
Fiber keeps you fuller longer, and it can help to curb some cravings while you try to stick to your New Year's resolution. It has some other benefits too, like help to reduce diseases such as heart disease—and the CDC states that heart disease is the leading cause of death for both men and women.
Wow, keeps you fuller and helps reduce disease. We're in!
The bottom line (no pun intended) is, fiber is a delicious part of a healthy diet.
---
Contact your Marketing Associate about adding any of our fiber-rich fruits and vegetables to your next order. If you are not a customer, find out how to become one today!
This information is used for informational purposes only, please consult your doctor to discuss your health before making any changes.
Some tools you can use:
Visit freshpoint.com for our seasonal availability guides—and while you are there, check out the FreshPress, our latest market report. Place your orders online with ease at myfreshpoint.com. Did you know you can receive real-time reliable delivery alerts on the day of your delivery? Activate and subscribe at FreshPoint.com/mydelivery
Download our app and take your produce management on the go. Place orders, review flyers, watch videos…all in one spot!
Find out more details about our UBU program, and how we are shining a spotlight on food waste while making value and food safety a priority.
We buy local to strengthen regional economies, support family farms, preserve the local landscape, and to provide fresh-from-the-farm food to our customers. Local.freshpoint.com connects you to your local farmers like never before! Customize your search by zip, city, state, radius…even by crops and growing methods. Pop in your zip code and learn about our local farmers.
Socialize with us!
Did you know we are on YouTube? Head over to our page and check out our 75+ videos. Don't forget to subscribe, and also be a part of our Bell Team—hit the little bell icon to get notifications when we upload new videos.
Follow FreshPoint, Inc. on Facebook, Twitter, Instagram, and LinkedIn…and follow The Produce Hunter on Instagram as she finds the best specialty produce at the Santa Monica Farmers Market.