By FreshPoint

Share this post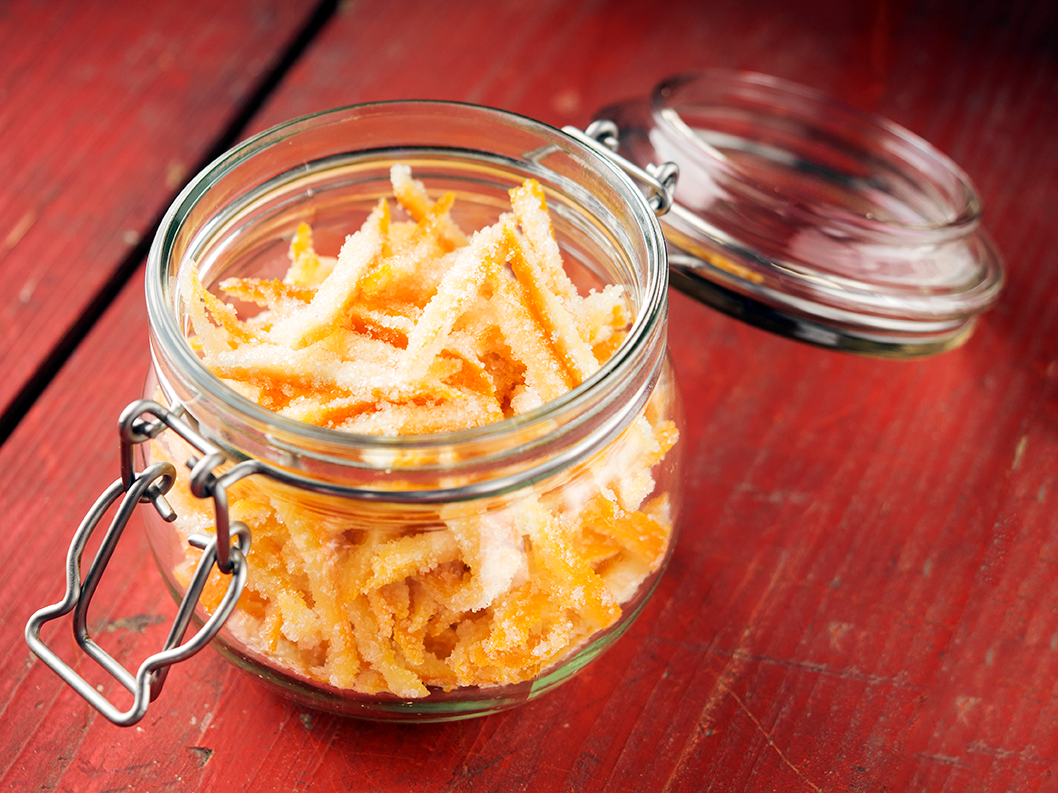 From Food Waste to Candy: Candied Citrus Peels
It's citrus season, and blood oranges, Meyer's lemons, tangerines, mandarins, and Cara Cara navels all abound—they are gorgeous and fragrant—their citrus scent fills the room as you start peeling. Their rind, their gorgeous, fragrant rind… destined for the trash, what can you do with them?
What about candied citrus peels?
Food waste is no longer a trend, it is our new normal. Not only an environmental concern, utilizing as much as you can is good for your food cost. Stems, peelings, and skins are all flavorful, so get some extra miles from them.
Don't overlook the intense flavor hiding in the rind.
Zest the peels and puree with salt or sugar to rim cocktail glasses, or, candy the peels and add a sprinkle to your desserts and pastries. Strips of candied citrus peels also are a great accoutrement to cheese plates–the mix of sweet and salty is a natural fit.

Citrus' Advantage
Citrus has a unique advantage in that it's intensely flavored, sweet, sour, and sometimes bitter, lending itself well to the candying process.
There's no need to be intimated by the candying process—it's easy. Here's how Bon Appetit suggests to candy grapefruit, but really any citrus makes a great candied citrus peel. Just slice the peels into strips, boil twice in water, drain, and then boil it again with sugar until translucent. After you dry them, toss with more sugar and they are ready.
Alton Brown keeps the resulting flavored syrup and uses it in beverages, which is another great use.
Vary the types of citrus for added color and flavor and use them in or as garnish for desserts, add to chicken salad, dip them in chocolate, or use as a garnish for cocktails. You can also puree them with more sugar and sprinkle on pastries.
Not just for candy
Don't be limited with just candying them, you can dry the rinds (without boiling them) and keep them on hand for stir fries: think Orange Chicken or Orange Beef.
---
Contact your Marketing Associate about adding any of our citrus items to your next order. If you are not a customer, find out how to become one today!
Article submitted by Lisa Pettineo.
Some tools you can use:
Visit freshpoint.com for our seasonal availability guides—and while you are there, check out the FreshPress, our latest market report. Place your orders online with ease at myfreshpoint.com. Did you know you can receive real-time reliable delivery alerts on the day of your delivery? Activate and subscribe at FreshPoint.com/mydelivery
Download our app and take your produce management on the go. Place orders, review flyers, watch videos…all in one spot!
Find out more details about our UBU program, and how we are shining a spotlight on food waste while making value and food safety a priority.
We buy local to strengthen regional economies, support family farms, preserve the local landscape, and to provide fresh-from-the-farm food to our customers. Local.freshpoint.com connects you to your local farmers like never before! Customize your search by zip, city, state, radius…even by crops and growing methods. Pop in your zip code and learn about our local farmers.
Socialize with us!
Did you know we are on YouTube? Head over to our page and check out our 75+ videos. Don't forget to subscribe, and also be a part of our Bell Team—hit the little bell icon to get notifications when we upload new videos.
Follow FreshPoint, Inc. on Facebook, Twitter, Instagram, and LinkedIn…and follow The Produce Hunter on Instagram as she finds the best specialty produce at the Santa Monica Farmers Market.