By FreshPoint

Share this post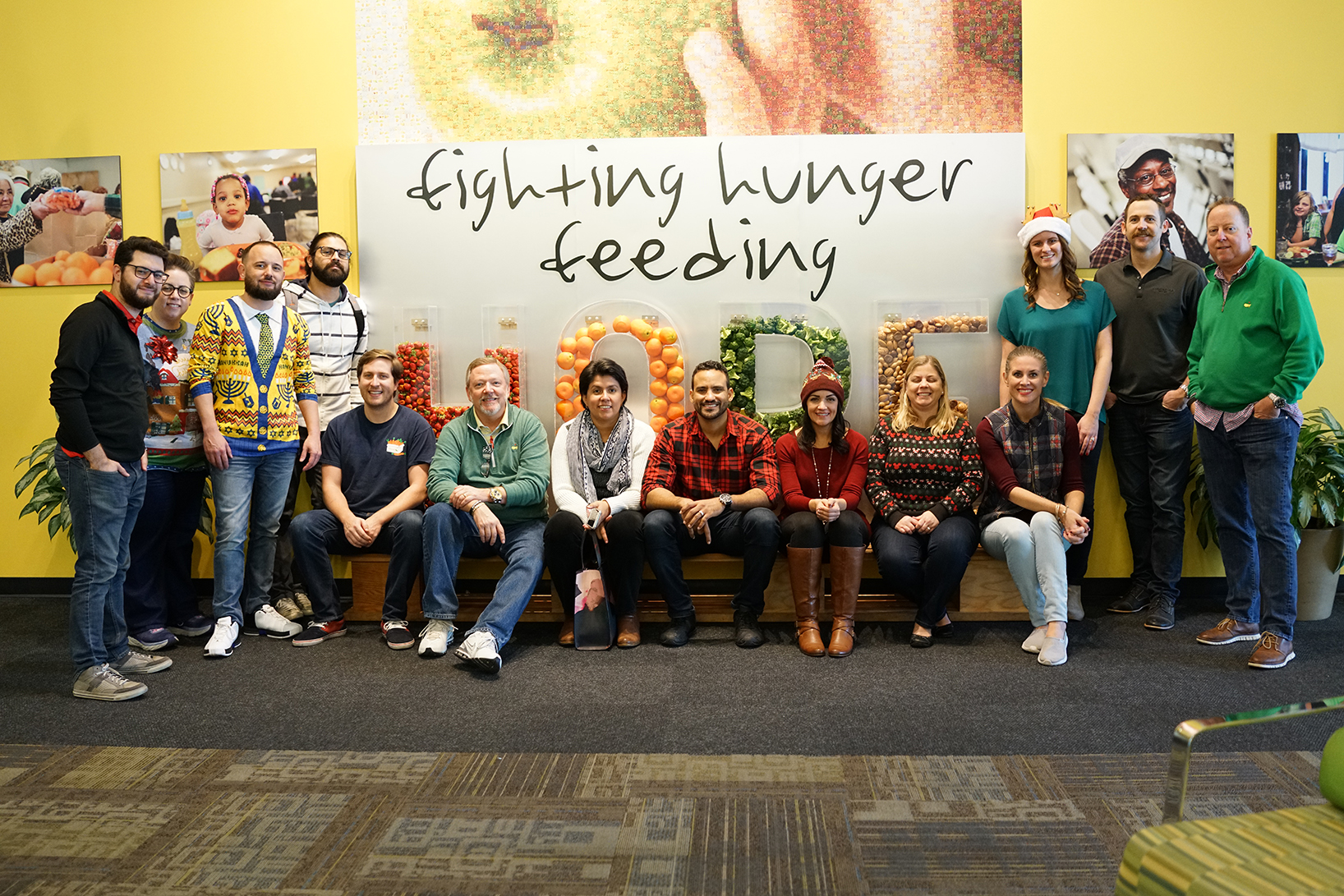 FreshPoint Employee Donations Making a Difference this Holiday Season
"Did you know FreshPoint supports hundreds of organizations throughout North America? We give millions of pounds of produce, we participate in hundreds of fundraisers, and we are very active with charities and special causes in our communities during the year and holiday time.
I feel it is very important to be involved in these causes and do our part where we can," said Robert Gordon, president of FreshPoint.
Below are just a few of the many ways we've proudly supported our communities during the holidays. Collectively, our employees donated thousands of toys, gifts, and cash, and time—another needed resource—to various organizations around the country this season alone.
Thank you to everyone who gave, and we are honored our employees united to make the season bright!
FreshPoint Home Team
Second Harvest Food Bank: volunteering time  
This season, the FreshPoint H.O.M.E. Team donated their time to the Second Harvest Food Bank of Central Florida by helping them sort their donations to be distributed to area individuals in need.
The food bank receives donations of pantry, refrigerated, and dry items and those items need to be checked for quality before distribution to the area. On this particular day, they asked for help sorting pallets of imperfect citrus—produce is our H.O.M.E. Team's area of expertise!
The Second Harvest Food Bank of Central Florida is a private, nonprofit organization that collects, stores and distributes donated food to more than 550 feeding partners in six Central Florida counties.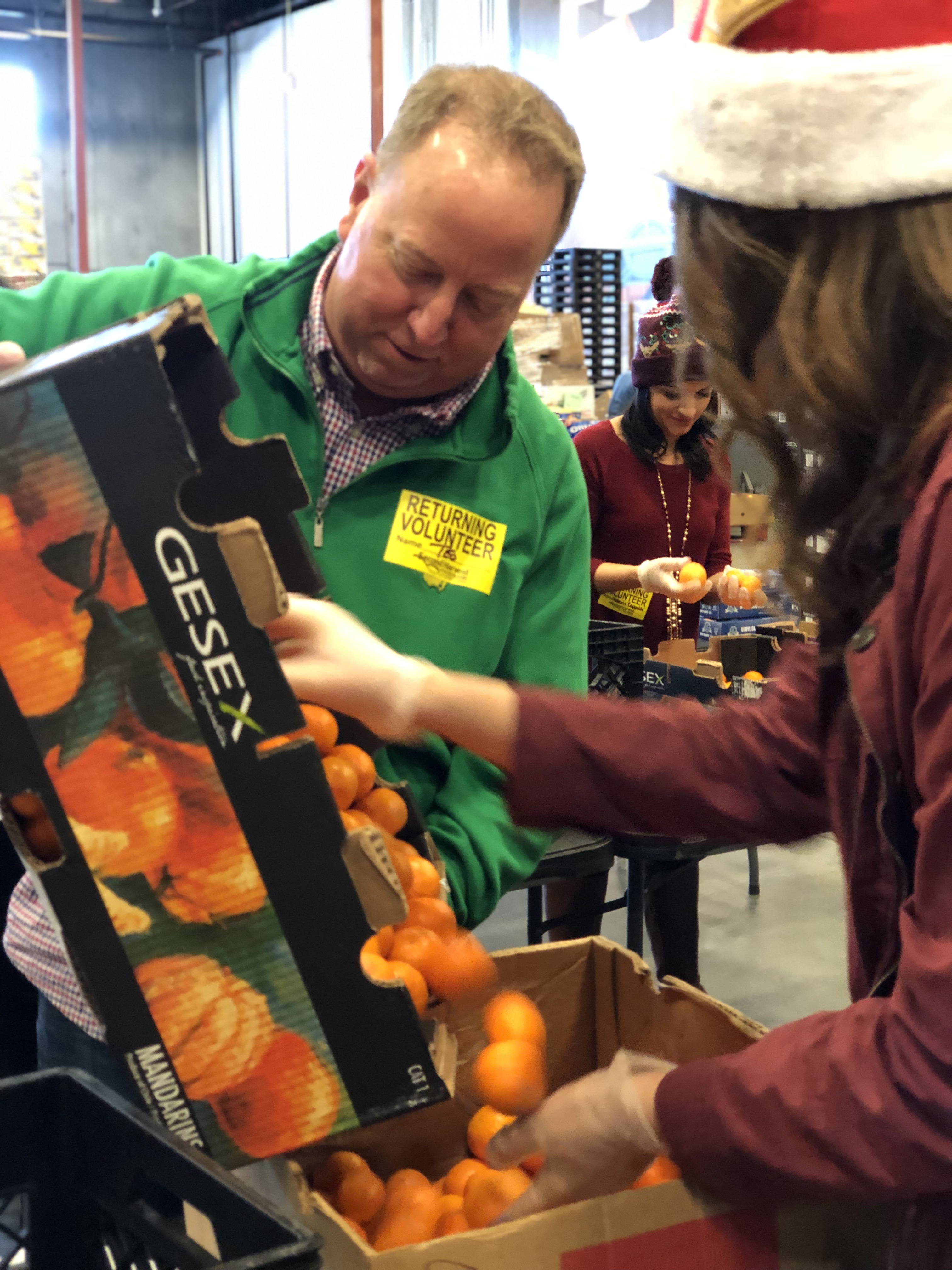 FreshPoint Atlanta
Toys for Tots: toy donations
FreshPoint Atlanta raised over 235 toys for Toys for Tots this holiday season.
They divided into four teams comprised of various departments across our company and had an internal competition to see which team could donate the most toys. Together, FreshPoint Atlanta raised over 235 toys for boys and girls of all ages. The winning team was Team 2: Transportation & Finance Departments, who donated 86 toys.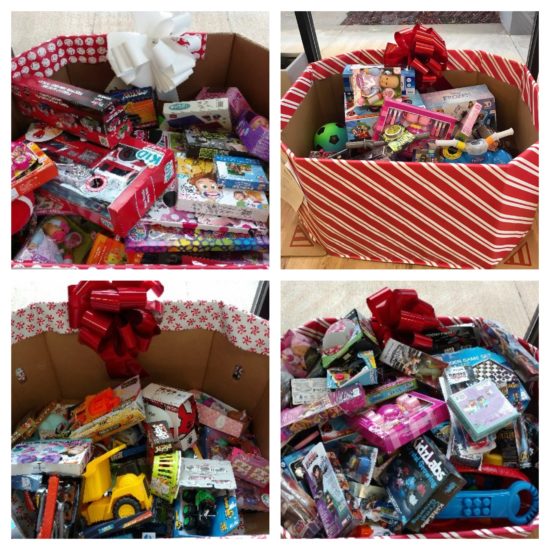 "We couldn't have done this without the help of our generous employees at FreshPoint Atlanta, who were eager to donate toys for this wonderful cause. I can honestly say that I am blown away and overwhelmed by the generosity our associates showed!  The fact that in three short weeks we donated over 230 presents for needy children is nothing short of amazing and heartfelt!", said Lee Woodham, President of FreshPoint Atlanta.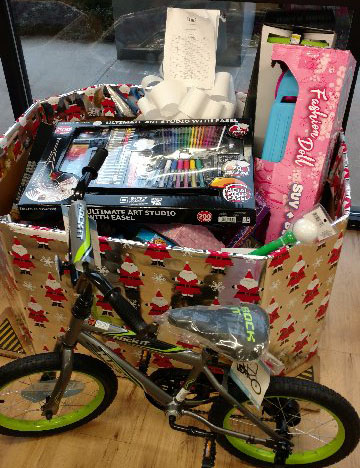 Toys for Tots is an organization developed by the Marine Corps 1947. They work to distribute toys to less fortunate children during the holiday season and have been helping make a difference in the lives of American families for over 71 years.
FreshPoint Canada (Vancouver, Foodservice, and FreshCuts)
RayCam Co-operative Centre: donations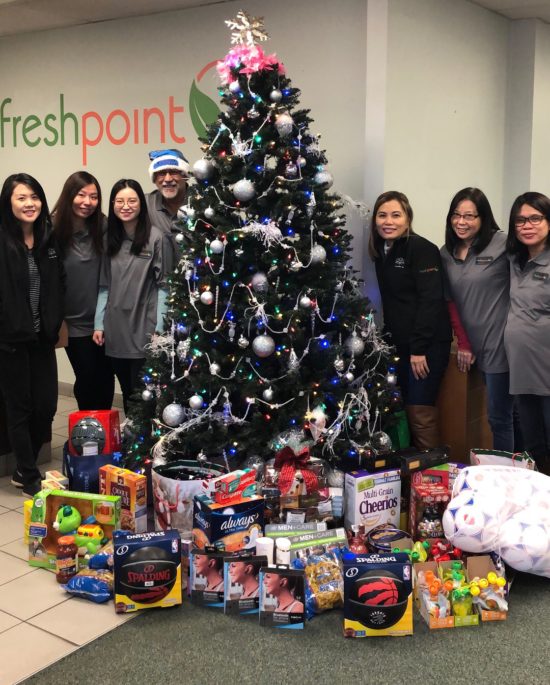 FreshPoint Vancouver and FreshPoint Foodservice donated over 100 items of toys, food, clothing and toiletries to the RayCam Co-operative Centre for the holidays. RayCam is located just one kilometer away from both FreshPoint locations and is a place that is literally and figuratively "close to home" for many of our employees.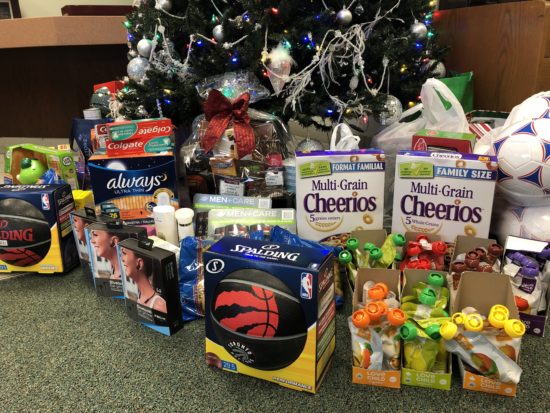 During the holidays, RayCam relies on the community and various organizations to donate items on the centre's wish list. This list not only includes toys, but basic necessities for families in need, such as basic toiletry items, non-perishable food items and household items.
They heard of RayCam's efforts during the holidays and quickly jumped on board last minute. The FreshPoint team pulled together and managed to collect items in just two very short weeks. We are so proud!
"It was incredible to see our team pull together especially at such a busy and strenuous time of year. I hope we do this again next year!"  Yumiko Hayashi from FreshPoint Vancouver
"It is so important to give back to the community in which we live, work, and serve. Raycam does some incredible things for the people living here",  said Mohammed Khan from FreshPoint Foodservice.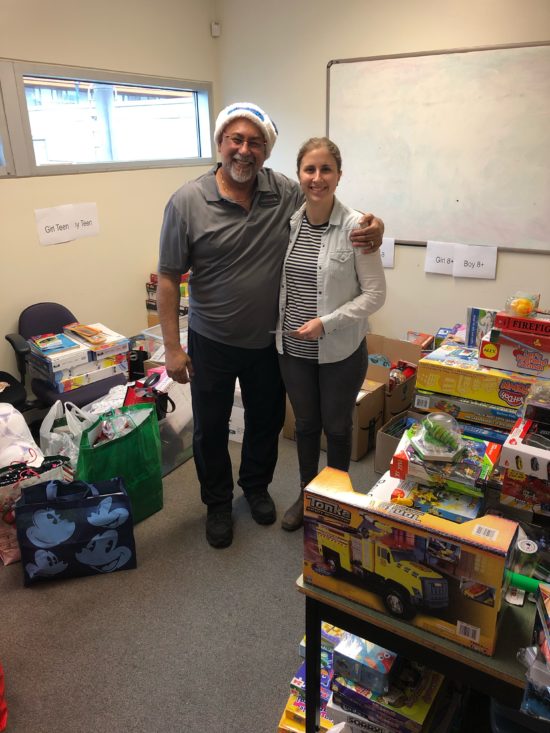 About RayCam: The centre provides recreational and social activities to young and old for families living in the Downtown Eastside, an area where many rely on family support services and financial aid. The centre also provides pre-school, after school, and daycare services for families and has a waitlist of over 100 children.
The centre just recently celebrated its 40th anniversary and is raising funds for a much needed renovation soon.
FreshPoint South Texas
Soldiers Angels: volunteering
Members of the FreshPoint South Texas team teamed up with Soldiers Angels by donating their time to help with getting Christmas stockings put together with goodies and packed in boxes to ship to our deployed military and VA hospitals.
"I had fun and it was nice to give back even just a little, and can't wait for more events!" said Aimee Ramos
In 2003, Patti Patton-Bader founded Soldiers' Angels when her oldest son, Staff Sergeant Brandon Varn, was deployed in Iraq. Her son made comments that he was one of the few soldiers receiving care packages so Patti gathered some friends and neighbors and they began sending packages to his whole platoon. Today, thanks to Patti's vision in 2003, Soldiers' Angels is one of the largest volunteer-centered organizations dedicated to supporting our troops, veterans, and their families.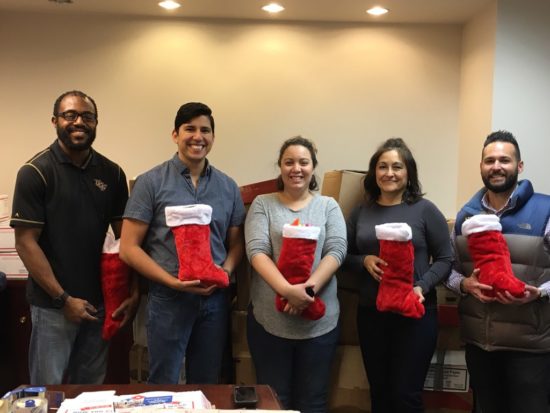 FreshPoint Oklahoma
Concordia Life Care Community: volunteering time
The Salvation Army Angel Tree: "adopting" an angel from the tree
Concordia Life Care Community
FreshPoint Oklahoma had a great time handing out cards and candy canes to the assisted living and nursing residents of Concordia Life Care Community.
A few members from each department went to Concordia Life Care Community to visit the Assisted and Nursing residents. They handed out 100 Christmas cards and candy canes, and took time to visit with each resident and to spread some holiday chair. Our very own Saint Nick Price dressed up as Santa Claus. It was such a joy to hear all of the sweet comments made and to see the smiles light up all over the room when they saw Santa himself walk in. Not only was it a joy to get to give back to such wonderful folks, but it was such an incredible team bonding experience.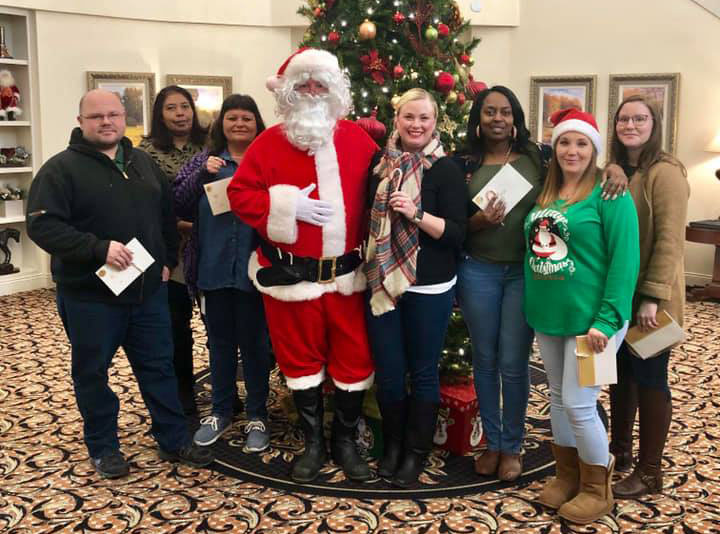 We had discussed finding different ways to give back to the community a couple of times a year. This one event that we've done has led to multiple employees bringing new ideas to the FreshPerks Committee. It may have not been much, but to the residents and to the employees, it meant so much more. We've already got a couple of more events in the works and can't wait to continue to give back to the wonderful communities that make up Oklahoma.
"There were multiple sweet comments made by the residents about what a sweet gesture and how happy they were that we visited" said Amy Stehr.  
Concordia Life Care Community's mission is to provide a faith-centered, welcoming retirement community in Oklahoma City with top quality senior healthcare services
The Salvation Army Angel Tree: "adopting" an angel from the tree
Our Sysco Oklahoma OpCo partnered with the Salvation Army in Oklahoma and Tulsa and welcomed anyone was welcome to choose an "Angel" off the tree. Two marketing associates, Susan Savage and Ronnie Wilkins picked a little girl and teamed up together to buy the items the seven year-old child needed and wanted for Christmas. They donates three outfits, socks, a pair of shoes, hat, gloves, and four toys to make her season a little brighter!
The Salvation Army is an international movement, but locally they are serving over 2,000 families in the Tulsa area alone. Donations to The Salvation Army help serve the most vulnerable members of our community. They help make so many children's Christmas merry and bright by creating the Angel Trees!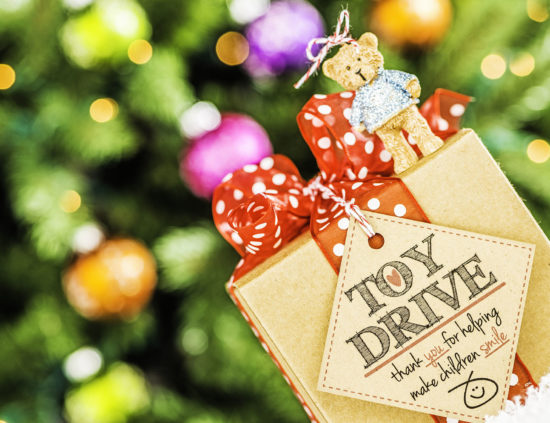 ---
Some tools you can use:
Visit freshpoint.com for our seasonal availability guides—and while you are there, check out the FreshPress, our latest market report. Place your orders online with ease at myfreshpoint.com. Did you know you can receive real-time reliable delivery alerts on the day of your delivery? Activate and subscribe at FreshPoint.com/mydelivery
Download our app and take your produce management on the go. Place orders, review flyers, watch videos…all in one spot!
Find out more details about our UBU program, and how we are shining a spotlight on food waste while making value and food safety a priority.
We buy local to strengthen regional economies, support family farms, preserve the local landscape, and to provide fresh-from-the-farm food to our customers. Local.freshpoint.com connects you to your local farmers like never before! Customize your search by zip, city, state, radius…even by crops and growing methods. Pop in your zip code and learn about our local farmers.
Socialize with us!
Did you know we are on YouTube? Head over to our page and check out our 75+ videos. Don't forget to subscribe, and also be a part of our Bell Team—hit the little bell icon to get notifications when we upload new videos.
Follow FreshPoint, Inc. on Facebook, Twitter, Instagram, and LinkedIn…and follow The Produce Hunter on Instagram as she finds the best specialty produce at the Santa Monica Farmers Market.