By FreshPoint

Share this post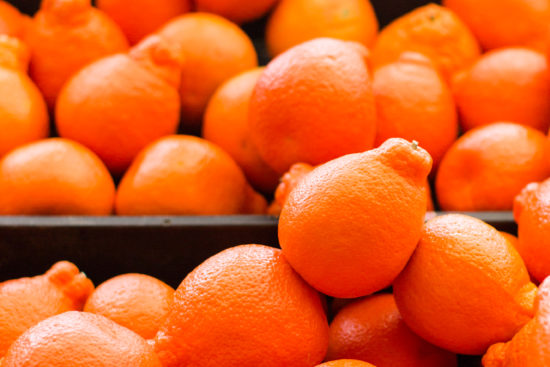 The Honeybell Orange: a sweet, but short season
When my mother was a little girl growing up in Ohio, the real treat in her Christmas stocking was not the peppermint candy canes, but rather, an orange.  Land-locked Ohio was so far, far away from the swampy Indian River of Florida where she would one day move, that this edible gift was exotic and rare.  I'm wondering now, through the rose-colored lenses of memory, if it was a Honeybell orange?
This very special and high end member of the citrus family is grown exclusively in Florida.
When grown in other areas of the world such as California, Arizona, or Peru, it is known as a Minneola.  With origins dating back to a USDA research station in the Orlando area in 1931, it can be recognized by its unique shape which is round with a distinct knob on the stem end, causing it to resemble a bell.
The shape is not the only differentiating factor.
They are extremely juicy, yielding a full cup of juice from just two fruit.  Some growers only half-jokingly recommend putting a glass under your chin when you eat a Honeybell to catch the juice that might spill out!  The aroma has a beautiful, almost therapeutic sweet orange essence.  And the flavor is not cloyingly sweet; but rather balanced with a certain acidity, probably honoring its agricultural heritage of being a hybrid between the Darcy tangerine and Duncan grapefruit.  And although both of these parents have plenty of seeds, the Honeybell usually has only six or so, making it virtually seedless.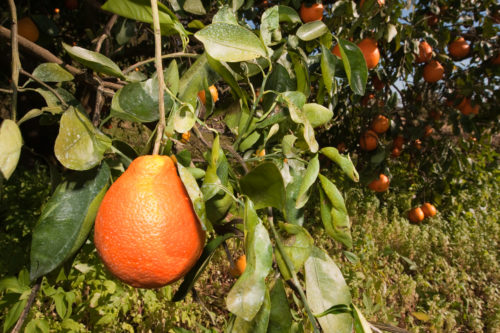 The secret charm of the Honeybell Orange
In speaking with Doug L. Feek, President of DLF International, a trusted and valued business partner of ours, he asserts that therein lies the secret charm of  the Honeybell orange: the ratio of a good brix in balance with a measure of acidity for a more thoughtful, complex flavor.  He is able to expertly guide his most demanding customers year over year through the harvest along the Indian River and how to deliver the fruit that best meets their needs.  The lion's share of Honeybells go to premium mail order fruit companies such as Harry & David, with the rest selling to retailers and roadside fruit stands in Florida and up the eastern seaboard into the Carolinas.  Because it sells for a premium price (about four times that of a tangerine) most of the fruit is practically perfect in appearance.  The seconds will end up in freshly squeezed Florida orange juice such as Natalie's Orchid Island Company, which is a pretty special destiny in and of itself.
A favorite of those in the know
A favorite of those in the know, the Honeybell will upgrade and enhance any recipe typically calling for citrus juice or segments.  The knob of skin at the top allows for easy insertion of a thumb or knife and the efficient unzipping of the skin, hence the name zipper orange.  Try them glazed atop a tarte au fruit, in sorbets, salads, marmalades, or juiced fresh for the most special of brunches.  And feel free to rim the glass of a Manhattan with the peel from one of these glorious orbs and twist those essential oils over the top for an over the top cocktail.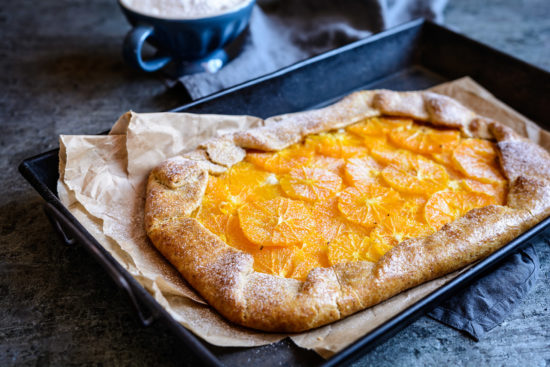 Fresh from Florida
So remember, all Honeybells are Minneolas, but not all Minneolas are Honeybells. They've got to be Fresh From Florida to be the sweetest and juiciest fruit for the shortest of seasons:  less than a month between December and February with January being the peak.  Also remember, if my mother asks, it was a Honeybell in her stocking.
**The Honeybell orange is one of those items that has a blink-and-the-season-is-over  short window of availability. Because of their quick season and southern growing area, please contact your local FreshPoint representative.  If you are not a customer, find out how to become one today!
Article submitted by Chef Francy Deskin. Follow FreshPoint South Florida on Facebook and Instagram.
---
Some tools you can use:
Visit freshpoint.com for our seasonal availability guides—and while you are there, check out the FreshPress, our latest market report. Place your orders online with ease at myfreshpoint.com. Did you know you can receive real-time reliable delivery alerts on the day of your delivery? Activate and subscribe at FreshPoint.com/mydelivery
Download our app and take your produce management on the go. Place orders, review flyers, watch videos…all in one spot!
Find out more details about our UBU program, and how we are shining a spotlight on food waste while making value and food safety a priority.
We buy local to strengthen regional economies, support family farms, preserve the local landscape, and to provide fresh-from-the-farm food to our customers. Local.freshpoint.com connects you to your local farmers like never before! Customize your search by zip, city, state, radius…even by crops and growing methods. Pop in your zip code and learn about our local farmers.
Socialize with us!
Did you know we are on YouTube? Head over to our page and check out our 75+ videos. Don't forget to subscribe, and also be a part of our Bell Team—hit the little bell icon to get notifications when we upload new videos.
Follow FreshPoint, Inc. on Facebook, Twitter, Instagram, and LinkedIn…and follow The Produce Hunter on Instagram as she finds the best specialty produce at the Santa Monica Farmers Market.