Share this post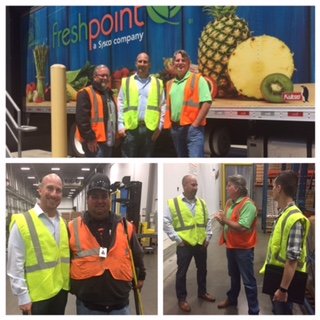 Freshman Republican Lawmaker Tours FreshPoint Central California
TURLOCK, Calif. – California Assemblymember Heath Flora, who is serving his first term in the State Assembly, recently visited FreshPoint Central California. Sean Gaffaney, Vice President of Operations, provided a tour of the facility, which is located in his district, and shared information on FreshPoint's business operation and local community impact.
Before running for state office, Assemblymember Flora was a farmer and small business owner.  In fact, he knew many of FreshPoint's local produce suppliers. Assemblymember Flora now serves as the Vice Chair of the Labor & Employment Committee and is a member of the Agriculture and Natural Resources Committees.
"Given his background, Assemblymember Flora knows a lot about the business of agriculture," said Sean. "After visiting FreshPoint, he now has a greater appreciation for the role we play getting these products to market."
Even though Republicans are in the minority in Sacramento, Assemblymember Flora has already distinguished himself as an effective legislator interested in working across the aisle to solve problems. After the tour, he expressed interest in working with FreshPoint and Sysco to streamline the process for new drivers to obtain their CDLs and to promote greater flexibility in how companies meet California's strict carbon emission standards.
For more information about Sysco's government relations outreach program, please contact Chip Kunde, Sysco Vice President of Government Relations.