By FreshPoint

Share this post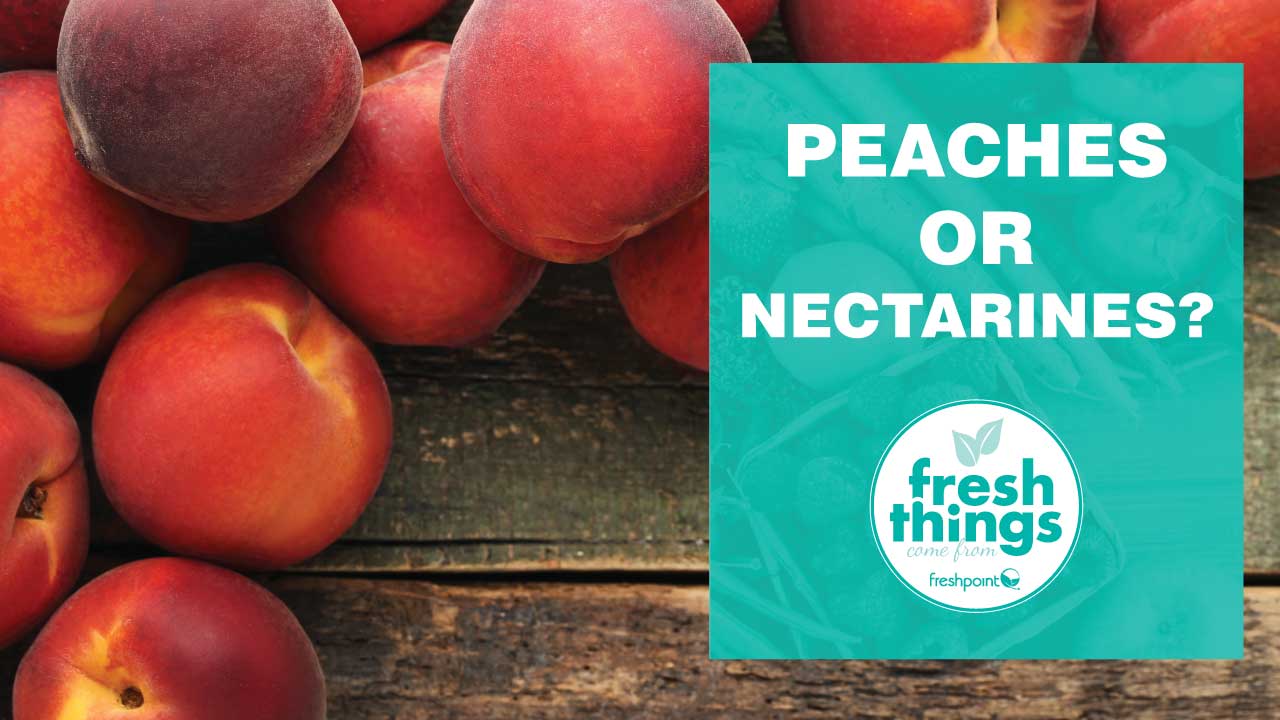 Fresh Things Video: Peaches or nectarines?
Hi I'm Chef Dan from FreshPoint, and stone fruit season this upon us.
Peaches or nectarines?
Nectarine season is under full swing; we've got some of the best growers available sending us fruit on a weekly basis. So in the eternal summer battle of stone fruit, peaches vs. nectarines, who comes out ahead? Well, there's really no loser. Peaches offer you the wonderful succulent taste of summer, while nectarines offer the same thing in a "fuzzless" package.
So which came first–the peach or the nectarine?
Well, scientists believe the peach did, and that the nectarine is actually a natural mutation of the peach. The skin of the nectarine is triggered by a recessive gene known as the G gene.
If two nectarine trees are parents, the offspring trees will always throw nectarines. If a peach is grafted on, some of the fruit may be peaches, some of the fruit may be "fuzzless" like nectarines to enjoy all summer.
So what can you do with nectarines besides eating them of hand or making desserts? Well, I like to grill the nectarine. Dice it, toss it with a little mint, maybe some shallots, even a jalapeno pepper for a great quick summer salsa that goes great with roasted pork and chicken
Click the video link to see what Dan has to say out peaches or nectarines…
Peaches and nectarines are generally available starting at the very end of April. Throughout the summer you will many different varieties, all the way sometimes into September. Contact your Marketing Associate about availability and adding some to your next order. If you are not a customer, find out how to become one today!
Article submitted by Chef Daniel Snowden, the Director of Culinary Development for FreshPoint Central Florida. He has been in the produce industry years almost 20 years and loves getting geeky about food. Follow FreshPoint Central Florida on Facebook and Instagram.
---
Some tools you can use:
Visit freshpoint.com for our seasonal availability guides—and while you are there, check out the FreshPress, our latest market report. Place your orders online with ease at myfreshpoint.com. Did you know you can receive real-time reliable delivery alerts on the day of your delivery? Activate and subscribe at FreshPoint.com/mydelivery
Download our app and take your produce management on the go. Place orders, review flyers, watch videos…all in one spot!
Find out more details about our UBU program, and how we are shining a spotlight on food waste while making value and food safety a priority.
We buy local to strengthen regional economies, support family farms, preserve the local landscape, and to provide fresh-from-the-farm food to our customers. Local.freshpoint.com connects you to your local farmers like never before! Customize your search by zip, city, state, radius…even by crops and growing methods. Pop in your zip code and learn about our local farmers.
Socialize with us!
Did you know we are on YouTube? Head over to our page and check out our 75+ videos. Don't forget to subscribe, and also be a part of our Bell Team—hit the little bell icon to get notifications when we upload new videos.
Follow FreshPoint, Inc. on Facebook, Twitter, Instagram, and LinkedIn…and follow The Produce Hunter on Instagram as she finds the best specialty produce at the Santa Monica Farmers Market.