By FreshPoint

Share this post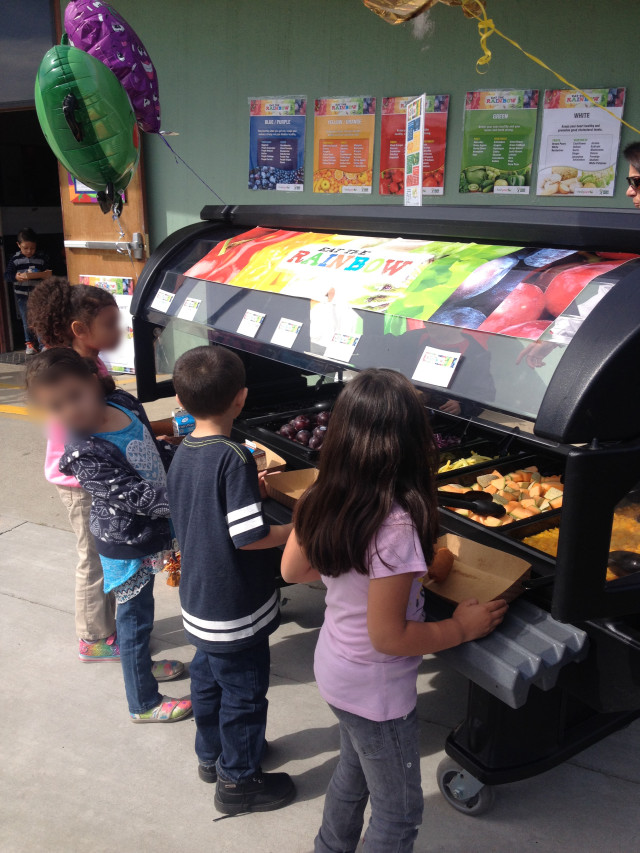 Do you "Eat the Rainbow?"
FreshPoint has come together to create a spin on traditional salad bars. Our concept of "Eat the Rainbow" offers schools an educational and interactive way for students to sample new fruits and veggies while  expanding their knowledge on how each color group benefits their bodies nutritionally. FreshPoint Central California provides their schools all the marketing material, coloring books, brochures, and offers assistance for each hosted "Eat the Rainbow" salad bar.
We have just launched this new concept to our schools on March 1st and we've already gotten positive feedback and booked six "Eat the Rainbow" salad bar events throughout Central California in the first week! Our concept incorporates banners, posters, salad bar window clings, full-page item tags, and small item tags that can easily be implemented to salad bars or table setups. The students can serve themselves or are assisted with the help of the district's kitchen staff.
During the event students are released a little before their typical lunch period. We speak to the children about the benefits of eating within the different color groups highlighting each one. As the students proceed through the salad bar we continue to encourage trying different colors and to venture into trying new items they've never had before. We walk the cafeteria handing out coloring books and brochures to the students who have an array of colors on their trays, reinforcing the concept, eat the rainbow.
For our first couple events it has been great to hear students request asparagus or being able to see them with their plates full of different colors. For instance, there was a student who loved red bell peppers so much, at the end of the event he came up and requested the WHOLE bell pepper used as display. He proceeded to bite into it like an apple!
Students were excited to learn and eager to answer our questions for a chance to win prizes. Often times, the kids are used to eating something specific. It was great to educate and let them sample something new. Even if they took a bite and didn't like it, at least they tried it. That's the whole point!
---
Submitted by Martha Gonzalez, Marketing Coordinator for FreshPoint Central California