Share this post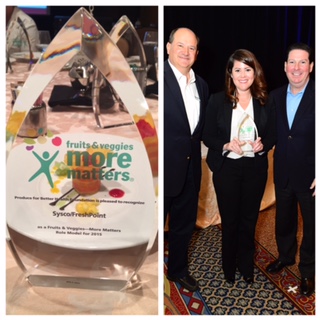 Sysco and FreshPoint Recognized Again with PBH Role Model Award
HOUSTON, April 19, 2016 – For the second year in a row, Sysco and FreshPoint were recognized with the Produce for Better Health (PBH) Foundation's highly regarded Role Model Award.
This award recognizes public and private organizations for outstanding efforts in increasing the visibility, recognition and impact of the "Fruits & Veggies—More Matters" national health campaign.
"Sysco and FreshPoint have done another amazing job, for a second year, at working toward increasing consumption of fruit and vegetables for a healthier America," said Elizabeth Pivonka, PBH President and CEO. "We are very thankful for partners like Sysco and FreshPoint who have not only made a commitment to educate employees about fruit and vegetables, but who also offer delicious produce solutions for their customers."
The organization recognized Sysco as an industry leader in communicating the importance of daily consumption of fruits and vegetables with our customers and associates, using resources like the Sysco Healthy and Positive Eating (SHAPE) eNewsletter, fruit baskets at Sysco Corporate's Food Truck Fridays, placing the "Fruits & Veggies—More Matters" logo on approved packaging and in general, advocating for PBH and its mission.
"We're very excited to be recognized as a leader in health and wellness by encouraging health conscious meal options, as this has been a large focus for us over the past few years" said Rich Dachman, Sysco's Vice President-Produce. "We strongly believe in PBH's mission and are proud to be such strong partners."
PBH is a national non-profit organization whose mission is to achieve increased daily consumption of fruits and vegetables for better health by leveraging private industry and public sector resources, motivating key consumer influencers, and promoting fruits and vegetables directly to consumers.
---
Submitted by This Week on @Sysco Today, Sysco Communications.