Share this post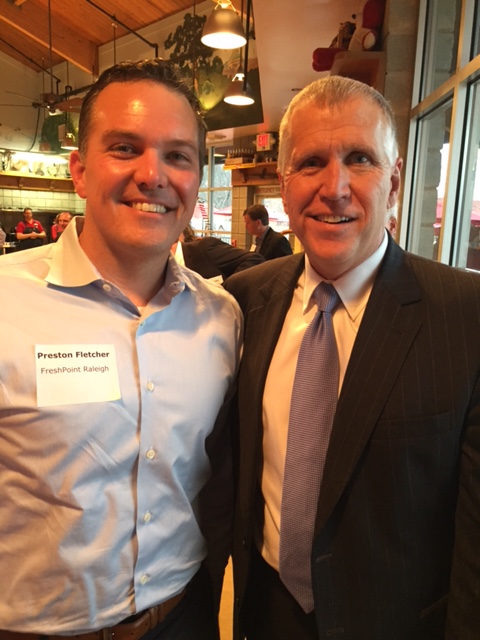 FreshPoint Raleigh Joins Influential Roundtable Discussion with U.S. Senator
RALEIGH, N.C., Feb. 24, 2016 — On Monday, Feb. 22, Preston Fletcher, President of FreshPoint Raleigh, joined 30 produce farmers and industry colleagues at a roundtable discussion with U.S. Senator Thom Tillis (R-NC) in Raleigh, N.C.
As a member of the Senate Agriculture and Judiciary Committees, Senator Tillis was interested in the produce industry's views on food safety, GMO labeling, environmental regulations and immigration reform.
"Our ability to impact the direction of policies in Washington, D.C. starts at home," said Preston. "It's important for us to talk to our federal representatives so they better understand how decisions made in Congress affect our company, employees and suppliers."
The roundtable was hosted by Sysco/FreshPoint, the United Fresh Produce Association, L&M Companies and the North Carolina Farm Bureau. North Carolina Agriculture Commissioner Steve Troxler also attended the event.
FreshPoint's participation is part of Sysco's on-going government relations outreach program designed to increase awareness about our business among state and federal lawmakers.
---
For more information on the roundtable or Sysco's government relations program, please contact Chip Kunde, Vice President of Government Relations.
Submitted by This Week on @Sysco Today, Sysco Communications.