By FreshPoint

Share this post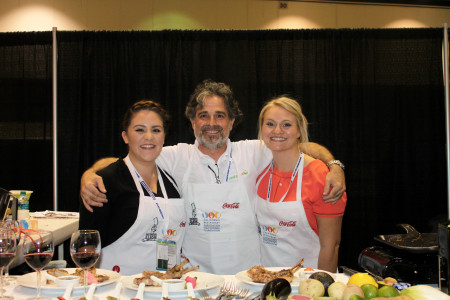 This week FreshPoint So Cal competed in the Culinary Clash: Battle Los Angeles supporting CRAEF, the California Restaurant Association Education Foundation. CRAEF supports students pursuing a career in the foodservice industry through educational programs and scholarships. The competition consisted of two FreshPoint Employees, Teodoro Protano, District Sales Manager; Bella Marvelli, Marketing Associate; and culinary student from Cal Poly Pomona, Bianca Pombal, battling it out to create the best dishes with Coca-Cola ingredients. Together they had 45 minutes and two butane burners to create six amuse bouche and three entrées.
The amuse bouche was all about layered texture – a bed of crunchy cucumber under chopped Ahi Tuna, avocado, and finely chopped jalapeno with a slice of red chili pepper, was drizzled with a wasabi, soy sauce, and Odwalla lime juice based sauce, topped with fresh wasabi microgreens.
The entrée was rosemary lamb chops over an eggplant puree, plated with a side of mint jelly. Bianca took on the task of pureeing Cherry Coke and eggplant – a hit with the judges! Teodoro perfectly seared the rosemary lamb chops, leaving the judges thoroughly impressed! Lastly, Bella was tasked with the mint jelly, a minty-sweet addition to the dish using Coca Cola's coconut water.
In a competition against all restaurant entities with respected Executive Chefs, FreshPoint didn't win but they battled it out well and had a great time!
Submitted By: Bella Marvelli