By FreshPoint

Share this post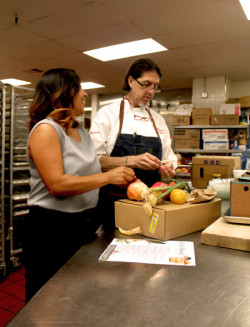 Caroline Ross, Produce Specialist, meets with Chef Troy Thompson of the Beverly Hilton in Beverly Hills twice a week to discuss upcoming events, menu plans, and the Chef's Basket. Caroline has been working with Chef Troy for almost a year now. Prior to being appointed as the Executive Chef at the Beverly Hilton a year ago, Chef Troy served as the Executive Chef at the Ritz Carlton in Marina Del Rey for six years.
FreshPoint So Cal puts together a weekly basket of Farmers' Market items to promote our local farmers and excite Chefs with the freshest and newest produce on the market. Last week, as Caroline discussed the Chef's Basket, she talked with Chef Troy about the effects of California's recent weather and how to plan for upcoming events as we step out of summer and begin to see more autumn produce come to the Farmers' Market.
Last week's Chef's Basket included young ginger, Persian cucumbers, black coco beans, a yellow pluot, a yellow peach, and both red and white pomegranates. Caroline met with Chef Troy as he prepared his Amenity baskets, inspiring Chef to order yellow pluots, yellow peaches, and red pomegranates.
FreshPoint and the Beverly Hilton are proud partners and work closely together to provide the best dining experience in one Southern California's finest hotels.
---
FreshPoint was recently recognized with the Produce for Better Health (PBH) Foundation's prestigious Role Model Award. The annual award recognizes public and private organizations for outstanding efforts in increasing the visibility, recognition and impact of the "Fruits & Veggies—More Matters" national health campaign. To learn more, visit www.FruitsandVeggiesMoreMatters.org.
FreshPoint has also taken the pledge to Eat by Example from the PMA. Have you signed up yet? www.pma.com/eatingbyexample
Some tools you can use:
Visit freshpoint.com for our seasonal availability guides—and while you are there, check out the FreshPress, our latest market report. Place your orders online with ease at myfreshpoint.com. Did you know you can receive real-time reliable delivery alerts on the day of your delivery? Activate and subscribe at FreshPoint.com/mydelivery
Download our app and take your produce management on the go. Place orders, review flyers, watch videos…all in one spot!
Find out more details about our UBU program, and how we are shining a spotlight on food waste while making value and food safety a priority.
We buy local to strengthen regional economies, support family farms, preserve the local landscape, and to provide fresh-from-the-farm food to our customers. Local.freshpoint.com connects you to your local farmers like never before! Customize your search by zip, city, state, radius…even by crops and growing methods. Pop in your zip code and learn about our local farmers.
Socialize with us!
Did you know we are on YouTube? Head over to our page and check out our 75+ videos. Don't forget to subscribe, and also be a part of our Bell Team—hit the little bell icon to get notifications when we upload new videos.
Follow FreshPoint, Inc. on Facebook, Twitter, Instagram, and LinkedIn…and follow The Produce Hunter on Instagram as she finds the best specialty produce at the Santa Monica Farmers Market.