By FreshPoint

Share this post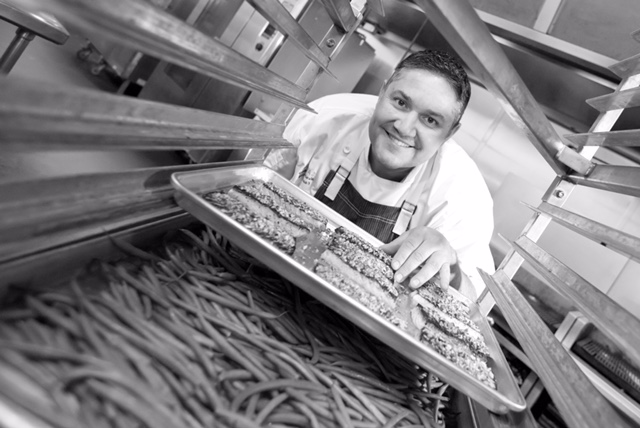 Chef Story: Chef Marcel Martinez at the Broward County Convention Center
We talk to chefs for their orders, or see them in the mornings as they're opening the kitchen, but we rarely get to hear their personal stories. Chef Marcel Martinez is the Executive Chef of "Savor…" at the Broward County Convention Center in Greater Fort Lauderdale, FL, and he shared his story with us. The Broward County Convention Center is a 600,000 square foot facility hosting 5 million guests and 5,500 meetings since opening its doors in 1991.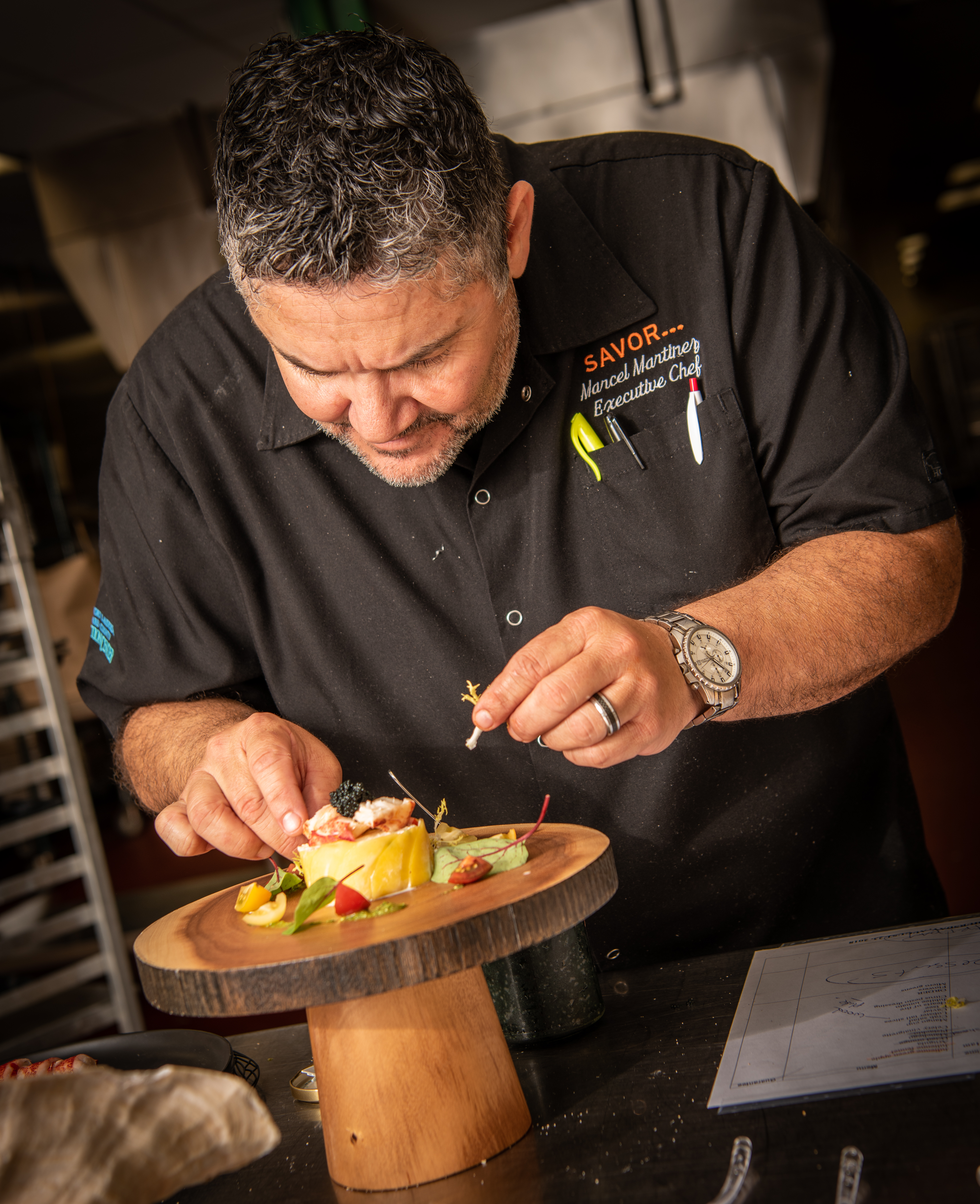 When did you decide to become a chef?
I decided to become a Chef while serving in the Marine Corp Reserves. I started working around 1990 in the first known Health/Organic restaurant in Aventura, Florida named The Unicorn Village for 5 years. I began working there as a bus boy, then host, then server, then went into the kitchen. From that point on I knew that the kitchen is where I wanted to be.
What is your favorite dish to create?
I enjoy cooking Latin or Southern-style tapas plates. I like to prepare and serve food the way I like to eat. Which is usually a lot of small different plates to experience different styles and flavors. At home, I am usually the one doing the cooking and prepare something fast and light. Usually some type of grilled protein and salad.
What produce season do you look forward to every year?
I enjoy the winter season. I'm a big seafood lover and can't get enough of oyster, clams, mussels, and scallops and that's when I feel they are at their peak. Also, duck, partridge, squashes and root vegetables.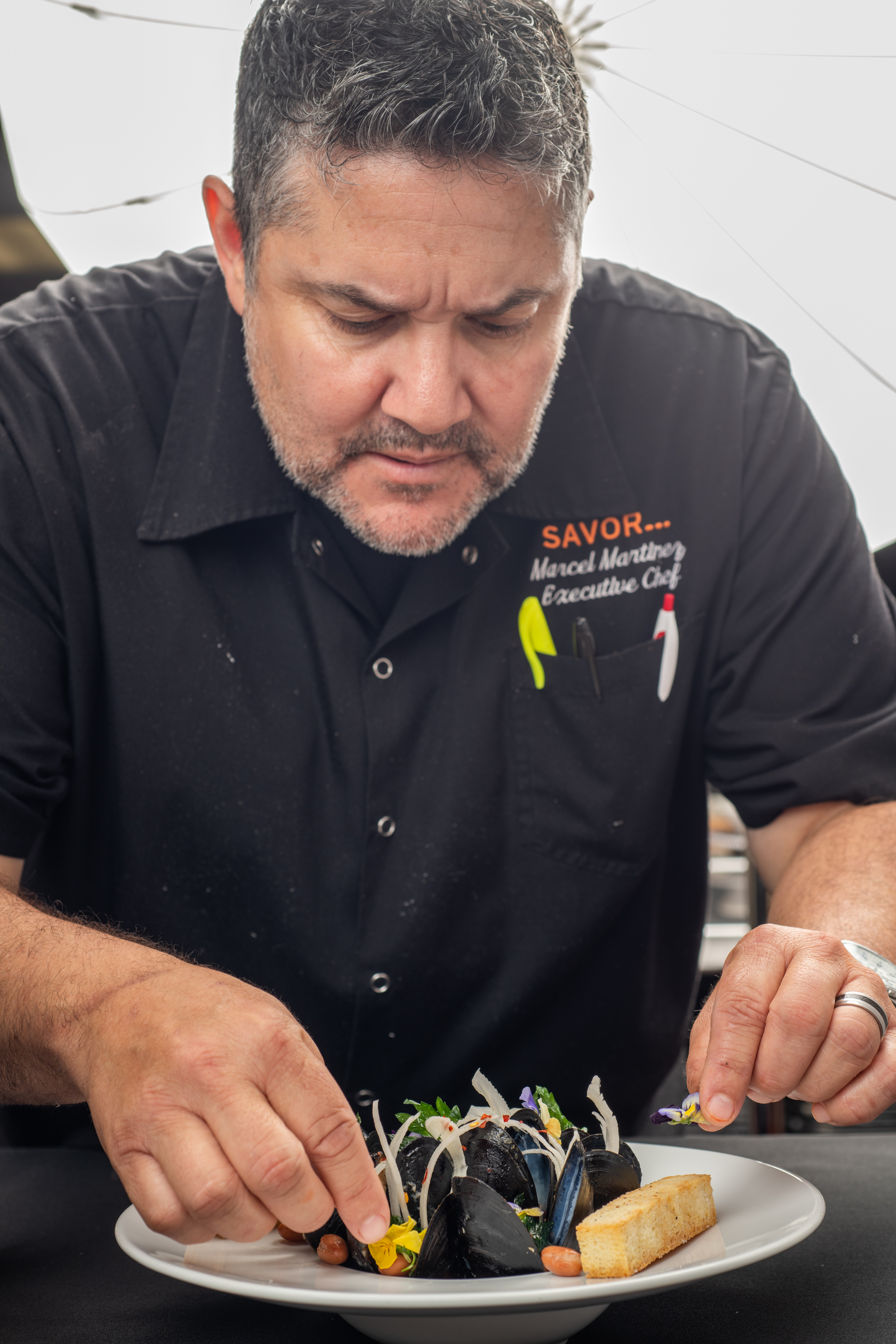 What is your favorite fruit or veggie that you like to play with in the kitchen?
My favorite fruit would be the tomato. Such as local heirloom and jubilee tomato. (You got us on a technicality chef! But a good one!) My favorite vegetable is fennel–it is such a versatile vegetable. You can eat it raw, roasted, sautéd, boiled, fried, braised or grilled.
What is the most unusual thing you have eaten?
The most unusual thing I've eaten has been a Hawaiian pig brain salad. The chef at the Ritz Carlton Miami Beach at the time had taken a roasted whole pig head and scooped out the brain, removed the cheek meat, surrounding meat, and chicharron, then tossed it together with some lime, onions, cilantro, and some other ingredients and gave it to me to try. So delicious!
What food trend would you like to see more of? What do you want to go away?
I would like see more Chefs and businesses give more to the outreach programs. In large scale hotels and convention centers, there is always leftovers. Here at The Broward County Convention Center we work to get the food to the people who need it. It brings myself and staff such great joy to know were helping others any way we can.
What three words describe your culinary style?
My culinary style is simple, flavorful, and fresh.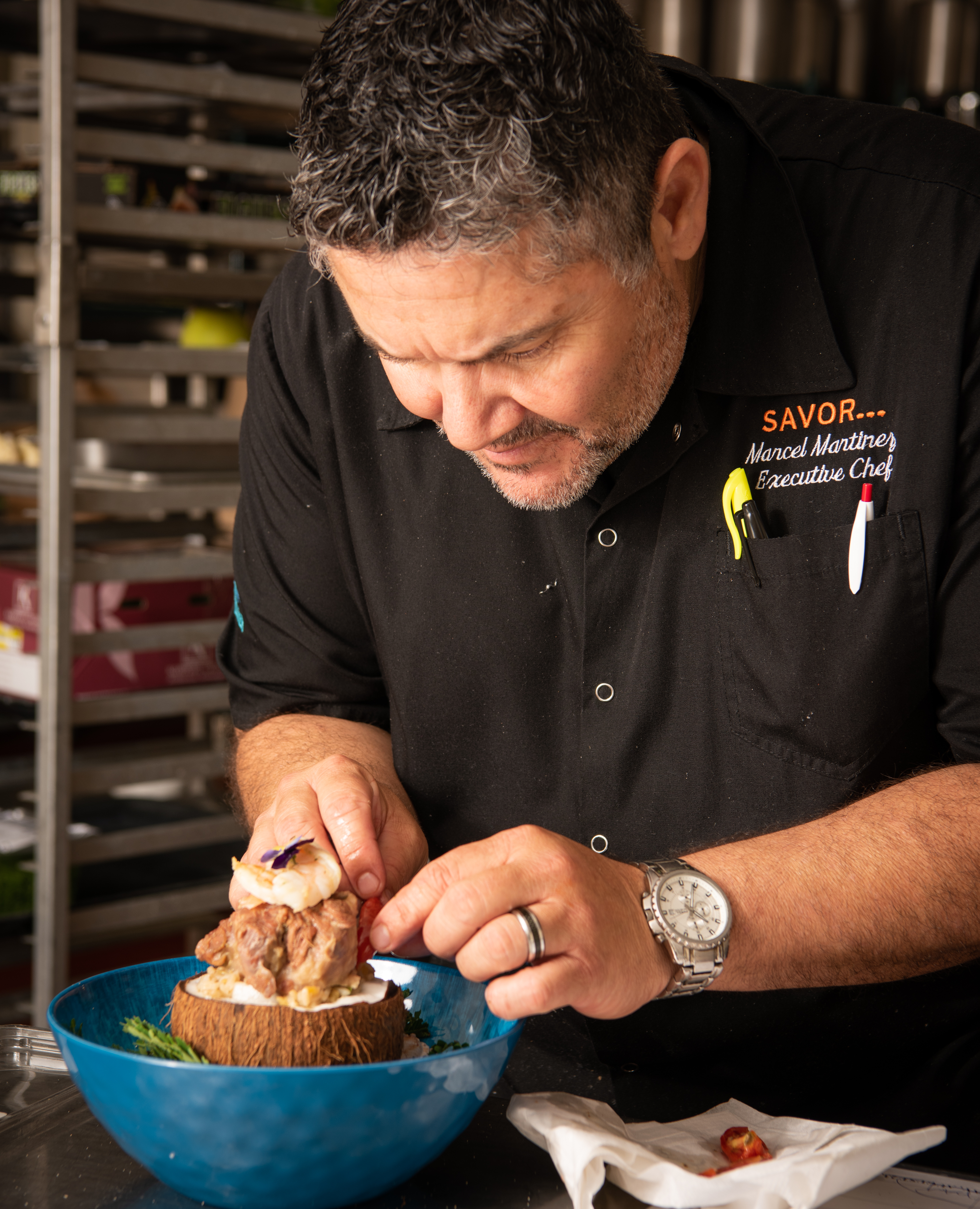 What is your favorite thing about FreshPoint?
My favorite thing about FreshPoint is their generosity, the freshness of product, and my sales representative Scott Gulick.
Thank you Chef Marcel Martinez—we love hearing about the chef story of our chef partners, and why they love to do what they do. Everyone has a story. Send us yours. 
If you are not a customer, find out how to become one today!
---
Images and article contributed by Scott Gulick, Marketing Asociate at FreshPoint South Florida, and of course, Chef Marcel Martinez. Click here to find out more about "Savor…" at the Broward Country Convention Center, and get social with them on Facebook.
Check out everything that's going on at FreshPoint South Florida on their Facebook and Instagram.
Some tools you can use:
Visit freshpoint.com for our seasonal availability guides—and while you are there, check out the FreshPress, our latest market report. Place your orders online with ease at myfreshpoint.com. Did you know you can receive real-time reliable delivery alerts on the day of your delivery? Activate and subscribe at FreshPoint.com/mydelivery
Download our app and take your produce management on the go. Place orders, review flyers, watch videos…all in one spot!
Find out more details about our UBU program, and how we are shining a spotlight on food waste while making value and food safety a priority.
We buy local to strengthen regional economies, support family farms, preserve the local landscape, and to provide fresh-from-the-farm food to our customers. Local.freshpoint.com connects you to your local farmers like never before! Customize your search by zip, city, state, radius…even by crops and growing methods. Pop in your zip code and learn about our local farmers.
Socialize with us!
Did you know we are on YouTube? Head over to our page and check out our 75+ videos. Don't forget to subscribe, and also be a part of our Bell Team—hit the little bell icon to get notifications when we upload new videos.
Follow FreshPoint, Inc. on Facebook, Twitter, Instagram, and LinkedIn…and follow The Produce Hunter on Instagram as she finds the best specialty produce at the Santa Monica Farmers Market.