By Karen Beverlin, The Produce Hunter

Share this post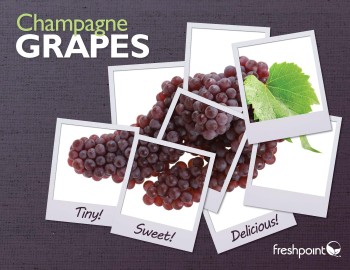 Champagne Grapes: small grapes, big on flavor
We' ve been eagerly awaiting their arrival…Champagne Grapes, also known as Black Corinth, are named for their sweet, wine-like flavor.
Small and seedless, they are mouth-watering when chilled and eaten out-of-hand. You need not pull the berries from their very tender stems… just pop the whole Champagne grape cluster into your mouth or drape them on the edge of a champagne glass that holds a scoop of sorbet. The stems are so thin and tender that they do not detract from the grapes sweet flavor.
Champagne Grapes are a delicious addition to a green salad with roasted walnuts and a light dressing, or a beautiful garnish for slices of roasted pork or duck breast. For breakfast with a flair, try stirring champagne grapes into yogurt for a blast of flavor and color.
---
Content contributed by Karen Beverlin, Vice President of Specialty Sales at The Produce Hunter. Follow her as she finds the best of the Santa Monica Farmers Market every week with on Instagram.
Follow FreshPoint, Inc. on Facebook, Twitter, Instagram, and LinkedIn. Did you know we are on YouTube? Head over to our page and check out our videos. Don't forget to subscribe, and also be a part of our Bell Team—hit the little bell icon to get notifications when we upload new videos.