By Karen Beverlin, The Produce Hunter

Share this post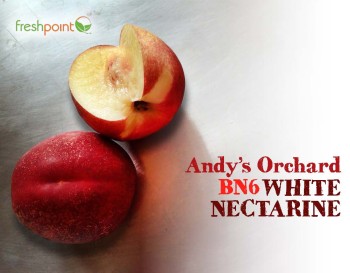 Brixing this week at 23.5!
This variety is so new it hasn't been named yet, and still goes by its trial name, BN6. But a catchy name is unnecessary because this Nectarine is fabulous.
Developed by Burchell Nursery, and grown by acclaimed fruit farmer Andy Mariani on his Andy's Orchard in Morgan Hill, California, the BN6 has smack-you-in-the-face flavor and the perfect balance of sugar and acid. The fragrance is intoxicating. This is not a subtle piece of fruit. It's not freestone but no one cares because The Flavor…
We're not sure what magic Farmer Mariani is using up there in Morgan Hill but we are going to continue to buy as much as we can get from him because he's having an amazing run. We're thrilled to be able to provide our customers with his great fruit. Only available for a short time! Typically, the first three weeks in July is all the time you have to get your hands on them!
---
Image and content contributed by Karen Beverlin, Vice President of Specialty Sales at The Produce Hunter. Follow her as she finds the best of the Santa Monica Farmers Market  on Instagram.
The Produce Hunter curates the Farmers' Markets, and works with small, local family farmers committed to sustainable agriculture, responsible production, and propagation and promotion of fruit and vegetables with exceptional flavor.