By BWebster

Share this post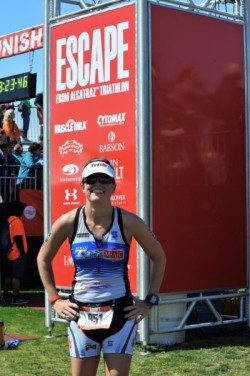 How do you "Escape from Alcatraz"? You fuel up on fresh produce!
Escape from Alcatraz
Christina Willis is our Sr Accounting Manager at FreshPoint Corp. She recently shared the below story with me and I am so excited to share it with you. It's an amazing journey, one that I don't know I will ever have the desire to participate in- which makes it all the more enjoyable of a read! The official website states "The Escape from Alcatraz Triathlon includes a 1.5 mile swim from Alcatraz Island in the San Francisco Bay. The race continues with an 18 mile bike ride out the Great Highway, through the Golden Gate Park, and concludes with an 8 mile run through the Golden Gate National Recreation Area. The finish is at The Marina Green." Christina said fresh produce contributes to her success. She eats fresh fruit and veggies every day and leads a healthy lifestyle.
2,000 competitors are accepted each year! We are so proud of Christina! Here's her story…

---
"It all started at 3:23a race morning. Woke up anxious but excited thinking about how I only had 4 hours til the boat jump! When I arrived at transition there was already a line to get in.. So many people, so much activity…It was getting real fast. Got to my bike rack and started getting my gear ready.. Bike, helmet, shoes, running shoes, sunglasses, race number… Bike in the right gear for racing, spotted my location so I could easily find after my swim. Next stop. The bus ride to Pier 3. No turning back at this point. The bus was one way! Once we arrived at Pier 3, I started eating my second breakfast. Putting sunscreen on, pulled my wetsuit up to my waist and started my mental preparation. At 6:15 we loaded onto the boat that would take us to Alcatraz. The boat ride was long but went by fast..

At 7:30 the race had begun. First the pros, then the age groupers which was me. It took me at least 5 minutes to get to the edge of the boat as there were 2k people making their way through to jump.. As I approached the edge, all I could do at that Point was jump! For the first 5 minutes it was quite cold.. But not as bad as it was for me in training as the water temp was 60 degrees vs 55. Cold but not as cold, made a huge difference. I started my strokes one after the other and my counting.. Counting keeps my mind occupied. I remember for the first 1/4 of the race, the current and waves were in my favor. Was so easy. I could barely see the shore line. So I just focused on the Fontana towers. My first sighting point that I could recognize. I saw folks swimming right but I did not follow as that is what I was told not to do. I tried to look out and see the Golden Gate Bridge but it was too foggy… So no sightseeing to be had on the swim. 1/2 way through and the current and waves started changing big time. Now I knew what everyone meant by the current changes. Ever stroke was a wave in my face.. Salt in my mouth but I kept stroking. Finally, I saw the dome building. Another sighting point that was closer to the finish.. I could see the shoreline now. Was still on course and was Feeling great. As I approached the shoreline I saw folks start walking on the water's bottom. I kept swimming until my hands touched the bottom. Then got up and started running! As I approached the transition area, I saw my family and friends. Was so happy to see familiar faces cheering me on.

T1 was quick and off I went onto the bike course. I knew the bike course after riding the computrainer twice in training so I knew I only had about a 1/2 mile before the hills started.. Sure enough, hair pin turn up the hill. I was off the saddle climbing, spinning on the saddle alternating back and forth. After finally reaching the crest of the hill the downhill began and I hit speeds of 35+ mph. All I could do was keep my eye on the road, keep the brakes in check and watch out for slow riders. I flew down the hills, racing .. Making turns at high speeds. So much fun. The turnaround point was flat and I knew where we were since I had ridden the trainer simulation. Half way and I was way ahead of my projected pace. I recall the last hill, 14% grade. My legs were burning. My heart rate was high but I knew I only had around 2 miles to go after cresting the top of the last hill. I cruised again at 35+ and finally approached the transition area. I again saw all of my friends and family. It was so great !

T2 tradition was quick and off I went to the run. The run started off flat and I felt strong. I did not want to check my pace on my Garmin as I just wanted to run as best that I could. 2 miles in and the stairs started and I walked them immediately. My heart was racing and my legs were on fire and I was only 2 miles in. We were going up elevation and down elevation and all I could think of was what goes down will go back up. So as I headed down a steep hill towards the beach I knew the sand latter was coming up soon. As I approached the beach around mile 3.5, we ran an out and back along the coast. It was nice but tough running on the sand, especially the deep sand. Then the sand ladder was up next- what a unique ladder. Covered in sand you could barely see the stairs themselves. Each of us were pulling on the ropes working our way up the ladder.. 400 stairs. After reaching the top, I walked a bit to get my legs and heart back to normal as it was so hard ! The last 3 miles were fast and strong.. I was on my way to the finish. I couldn't wait to get around the corner and see the fans, my friends and the finish line. I felt great, looked at my Garmin and saw I was way ahead of my target of 3:30. Was even thinking I could come in less than 3:15. As I came into the shoot for the finish, everyone was screaming.. I saw my friends and family and was so excited. I finished in 3:16! Crossed the line with a smile on my face knowing I had given it all I had and finished a race that many would not even attempt. It was the most exciting and most technical race I've ever done.

On June 7, 2015 I Escaped from Alcatraz !"