By Karen Beverlin, The Produce Hunter

Share this post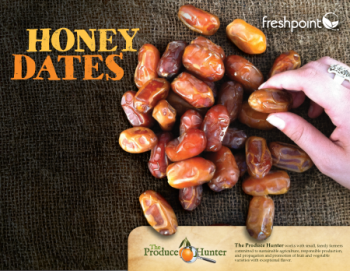 Best time of the year for California Dates!
This is the best time of year for California Dates!  Our favorite variety is the Honey Date. Our farmer is harvesting the new crop now, and the quality is fabulous! This unique variety is one of three developed in California in the 1920's by our farmer's great-great uncle, Date pioneer Everett K. Davall. We love Honey Dates for their rich, maple-y flavor and smooth and creamy texture. Continuing his family tradition of Date farming, our farmer's land is planted with Date palms originally selected by his great-great uncle.  There, Honey Dates hang on the palms until they are very ripe, ready to be hand-harvested, and packed especially for us.
All California Dates are harvested at this time of year but in order to provide year-round availability, most of the crop is frozen, and the producers pull product out of the freezer throughout the year. They then let the Dates thaw before packing.  Dates freeze extremely well because they have such high sugar content but it is always better to get them before they've seen the inside of a freezer. The Honey Dates we pick up on Wednesday were hanging on a palm on Monday.  Because they are so recently harvested, these local Honey Dates have exceptional texture and flavor.
A true California native, Honey Dates deserve to be featured on your menu while they are at their very best!   You will taste the difference!
Available year-round; fresh crop available from September through November.
---
The Produce Hunter works with small, family farmers committed to sustainable agriculture, responsible production, and propagation and promotion of fruit and vegetable varieties with exceptional flavor.