By FreshPoint

Share this post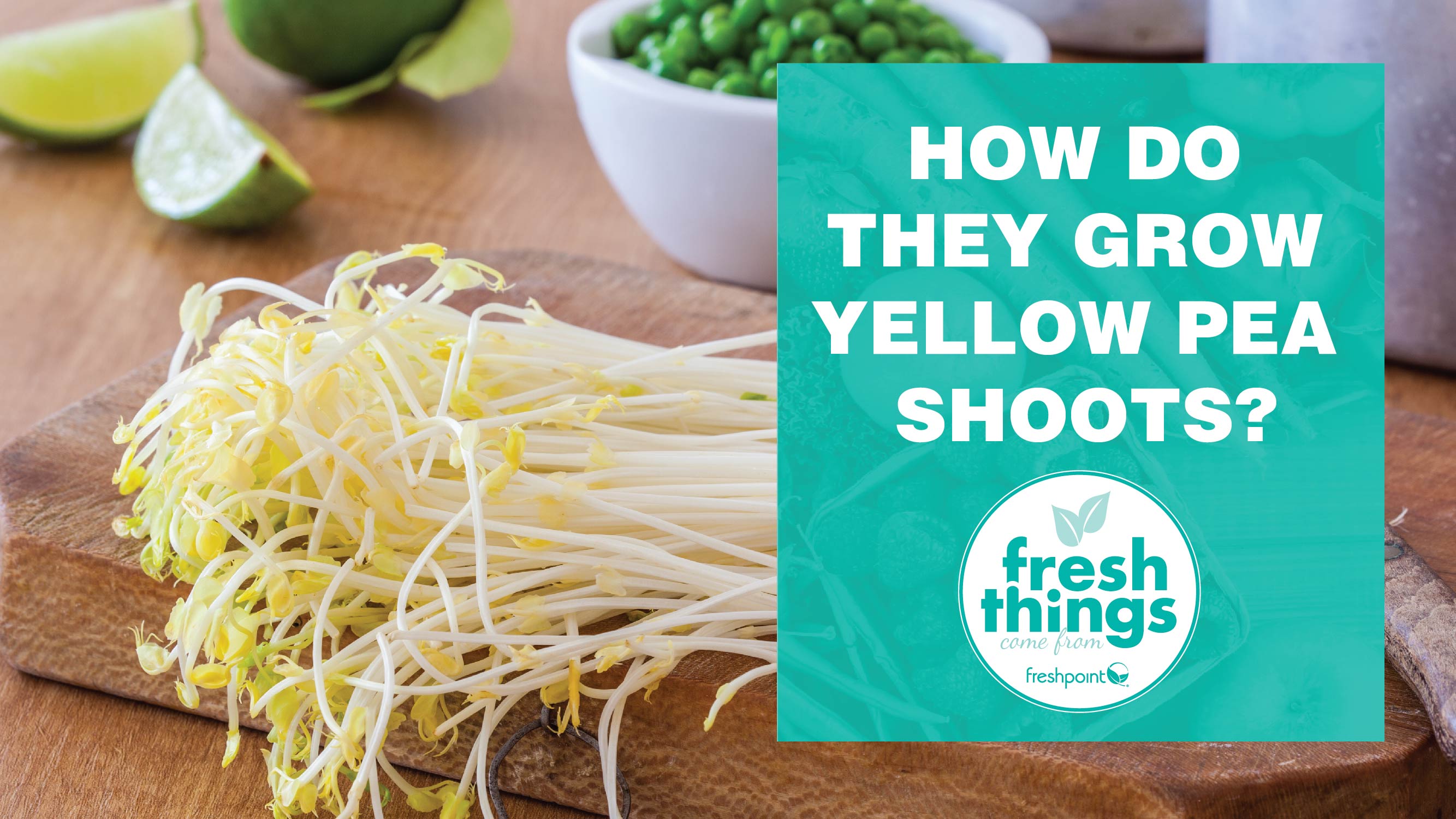 Video: How do they grow yellow pea shoots?
How do they grow yellow pea shoots?
If they are grown from the same seeds as green pea tendrils, how do they grow yellow pea tendrils?
Pea shoots, pea tendrils, however you want to call them…Chef Dan fills us in on these delicate beauties.
I brought along two more springtime items for menu inspiration.
They're both the same plant. They're both from the same seed, but they're both very different.
On my right, we have green pea tendrils. They are essentially the vine of the pea plant before they flower and throw the pods. Very sweet, spinach-like flavor used throughout Asia as a stir-fry vegetable, in soups, and raw on its own.
On my left, are yellow pea shoots. Again, same plant, same seed, but grown in the dark.
Reason for the appearance to difference? The lack of sunlight inhibits chlorophyll formation, and the long, slender growth of the shoots indicate that they're stretching, looking for the light.
Want to know a little more about pea shoots and tendrils? Chef Francy found out there is more than one kind. She talked with one of our local growers, Marvin Wilhite of Cahaba Clubs Herbal Outpost.
While shoots and tendrils speak to the season of spring with their fresh, green, young and lively appearance, they are in fact grown year-round thanks to the controlled environment in the greenhouse.
Click the link to read more of what she says:
Francy digs into the world of micro pea shoots and tendrils. Did you know there is more than one kind? Click the link…

Posted by FreshPoint on Tuesday, May 15, 2018
---
Content provided by Chef Daniel Snowden, the Director of Culinary Development for FreshPoint Central Florida. He has been in the produce industry years almost 20 years and loves getting geeky about food. Follow FreshPoint Central Florida on Facebook and Instagram.
Visit freshpoint.com for our seasonal availability guides—and while you are there, check out the FreshPress, our latest market report.
Follow FreshPoint, Inc. on Facebook, Twitter, Instagram, and LinkedIn. Did you know we are on YouTube? Head over to our page and check out our videos. Don't forget to subscribe, and also be a part of our Bell Team—hit the little bell icon to get notifications when we upload new videos.