Share this post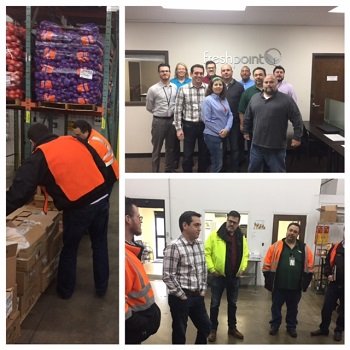 Texas State Representative Matt Rinaldi Tours FreshPoint Dallas
DALLAS – Last Saturday, FreshPoint Dallas hosted a tour for Texas State Rep. Matt Rinaldi (R-115th District) in an effort to raise his awareness about the broad scope of our business operations and introduce him to an array of our leaders.
Representative Rinaldi is currently in his second term in the Texas House of Representatives and serves on the Agriculture and Livestock Committee, as well as the Judiciary and Civil Jurisprudence Committee. Additionally, as a former member of the Business and Industry Committee, he is very familiar with the Texas Nonsubscription program and voiced his strong support for it.
During the visit, FreshPoint Dallas President David Hartman and members of the leadership team provided a tour of the facility and spoke about issues facing the organization. As a member of the Agriculture and Livestock Committee, Representative Rinaldi holds a key position for various agriculture issues that affect our Texas operations.
"We are grateful for Representative Rinaldi's willingness to find sensible solutions to the challenging transportation, agriculture and tax policies we face," said Hartman. "I looking forward to working with him on public policy matters impacting our business and associates."
For more information on Sysco's government relations outreach program or to schedule a tour with one of your public officials, please contact Chip Kunde, Sysco's Vice President of Government Relations.