By FreshPoint

Share this post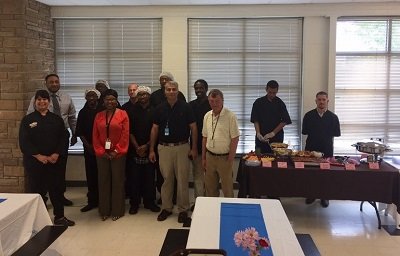 FreshPoint Raleigh Commits to Reducing Food Waste within the Community
MORRISVILLE, N.C. – FreshPoint Raleigh recently partnered with Wake Tech Community College and the South Wilmington Men's Shelter to start a culinary skills course within the community.
This three-week program paired 10 men at the shelter with a professional chef to learn about knife skills, food prep, basic cooking techniques and recipe development. As part of an ongoing effort to reduce unnecessary food waste in the retail and consumer market and re-distribute the perfectly good product for use elsewhere, FreshPoint Raleigh donated fresh produce that had been taken out of inventory.
At the end of the course, the students prepared a graduation brunch for associates at FreshPoint Raleigh. Two students announced that they had been offered and had accepted jobs working as line cooks. Since then, six more have gotten full-time jobs at various restaurants.
"We're excited to continue working with this program and helping to prepare new cooks with the job skills needed to enter the foodservice industry," said Chris Woodring, General Manager, FreshPoint Raleigh.