Share this post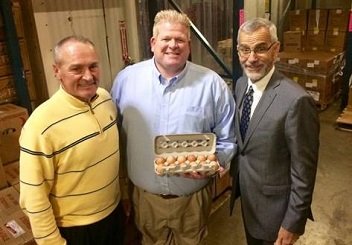 FreshPoint Oklahoma Opens Its Doors to Oklahoma State Department of Agriculture
OKLAHOMA CITY, Okla. – The FreshPoint Oklahoma team recently hosted Jim Reese, the Oklahoma Secretary of Agriculture, and several Oklahoma State Department of Agriculture Department members to establish an open dialogue and explore the possibility of establishing a working relationship with the producers of local products.
Representation from other departments included: Communications, Market Development, Agritourism, Farmers Market, Made in Oklahoma Coalition and Farm to School Directors.
In addition to this meeting, FreshPoint Oklahoma President Greg Hall volunteered to host a produce training at the OpCo this spring for the Farm to School program, which brings Oklahoma grown food into school cafeterias, giving students the opportunity to taste farm fresh foods and learn how their food is grown. It inspires farmers to sell their products to schools and encourages schools to purchase fresh fruits and vegetables as well as other healthy, local products from Oklahoma farmers.
During the event, the attendees asked FreshPoint Oklahoma to present on Food Safety and what it would take for local farmers to provide product to FreshPoint at the Oklahoma Farmers Market & Agritourism Expo this February.
"The ability to sit down face-to-face with the Secretary of Agriculture and the Department of Agriculture, and educate them on who FreshPoint is, and the food safety plans we deploy that make us an industry leader, is immeasurable," said Greg. "As a bonus, the partnership and collaboration on training could have a great impact on our state and future customers!"
---
Info provided by Sysco's The Dish.
Follow FreshPoint, Inc. on Facebook, Twitter, Instagram, and LinkedIn… and follow The Produce Hunter as she finds the best of the Santa Monica Farmers Market every week on Instagram.