Share this post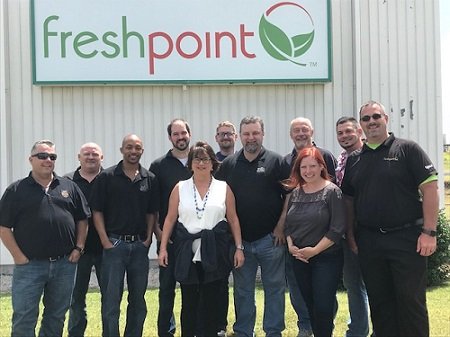 FreshPoint Oklahoma Hosts Zoës Kitchen Inc. for General Manager Meeting
OKLAHOMA CITY – On July 31, FreshPoint Oklahoma opened its doors to host nine General Managers for Zoës Kitchen Inc. for their regional business meeting and provide a tour of the produce distribution center.
During the tour of the storage and 38,000 square foot distribution center – which receives approximately 60,000 cases of produce a week – the General Managers,  from Oklahoma and Colorado, viewed the receiving and storage areas, as well as an example of shipping a multitude of perishable products. This tour also included the five temperature-zoned sections of the distribution facility where produce is stored by the most optimal temperature for safety, freshness and quality for the 1,032 different products stocked.
Additionally, they learned how the pallet tags and bar code laser scanning tracks the produce from the farm to the distribution center and on to the individual customer location. This is extremely important since most crops move around the country and continent in order to increase their availability.
According to FreshPoint Oklahoma President Greg Hall, "By partnering with our customers and providing meeting space, we have the opportunity to show the working side of the distribution center and explain in great detail the food safety, quality, selection and delivery of product to their individual foodservice facilities."
He added, "We are no longer just a supplier as the process becomes more intimate… Especially once they saw the distribution center in full action and were able to ask question specifically related to their food service operations. I consider this a huge success for everyone involved."
---
Info provided by Sysco Corporation.
Follow FreshPoint, Inc. on Facebook, Twitter, Instagram, and LinkedIn. Did you know we are on YouTube? Head over to our page and check out our videos. Don't forget to subscribe, and also be a part of our Bell Team—hit the little bell icon to get notifications when we upload new videos.