By FreshPoint

Share this post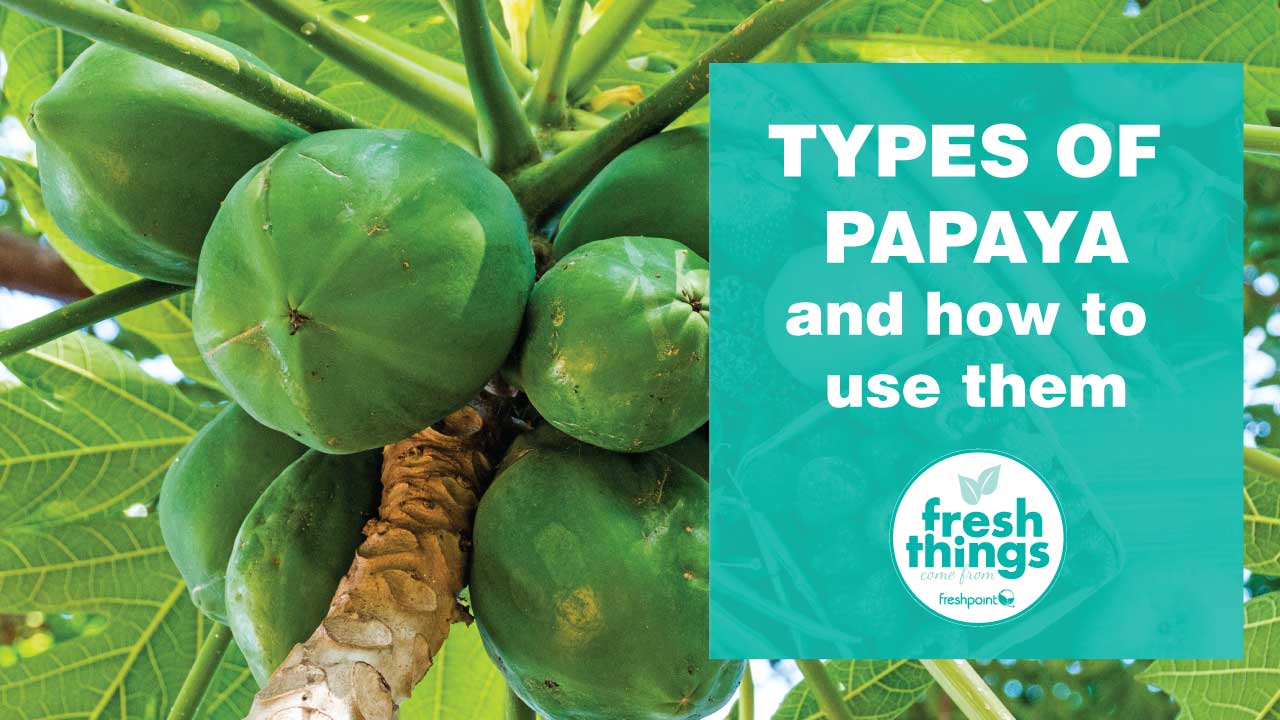 Fresh Things Videos: Types of Papayas and How to Use Them
What are the different types of papayas and how to use them?
Hi, I'm Chef Dan with FreshPoint, and I have a couple different papayas to talk to you about today
What can you do with papayas besides eating them as fruit?
They're great meat tenderizer. They have an enzyme known as papain that breaks down protein. In fact, it's commercially used in in commercial powdered meat tenderizers. I prefer making it myself at home, just puree up the flesh. Add it to any marinade: a little vinegar, salt, pepper, some herbs–even chilies–and let it sit for an hour or two. It works wonders.
What do you do with all the seeds?
Eat them! They've got a membrane around them. Just take the seeds out, rub them between two pieces of paper towel and rupture the membrane.  You can use them as a substitute for black pepper. They have a nice horseradish-type bite doesn't last very long, but man, it adds a great flavor to your summer dishes.
Are there different types of papayas?
Yes and no. They're classified by color. Most of what's grown today are your red flesh, which is what we've got here today. Even the large white flesh, well, when it ripens it will turn red–but don't let that white flesh fool you. You can make an incredible Thai-inspired salad with a little lime juice, some cilantro, some chili peppers, some tomatoes, a touch of fish sauce, and a pinch of sugar and you've got the perfect side dish for your summer barbecue.
Thank you Chef Dan for a little bit on the different types of papayas and how to use them!
Contact your Marketing Associate about adding papaya to your next order. If you are not a customer, find out how to become one today!
Content provided by Chef Daniel Snowden, the Director of Culinary Development for FreshPoint Central Florida. He has been in the produce industry years almost 20 years and loves getting geeky about food. Follow FreshPoint Central Florida on Facebook and Instagram.
---
Some tools you can use:
Visit freshpoint.com for our seasonal availability guides—and while you are there, check out the FreshPress, our latest market report. Place your orders online with ease at myfreshpoint.com. Did you know you can receive real-time reliable delivery alerts on the day of your delivery? Activate and subscribe at FreshPoint.com/mydelivery
Download our app and take your produce management on the go. Place orders, review flyers, watch videos…all in one spot!
Find out more details about our UBU program, and how we are shining a spotlight on food waste while making value and food safety a priority.
We buy local to strengthen regional economies, support family farms, preserve the local landscape, and to provide fresh-from-the-farm food to our customers. Local.freshpoint.com connects you to your local farmers like never before! Customize your search by zip, city, state, radius…even by crops and growing methods. Pop in your zip code and learn about our local farmers.
Socialize with us!
Did you know we are on YouTube? Head over to our page and check out our 75+ videos. Don't forget to subscribe, and also be a part of our Bell Team—hit the little bell icon to get notifications when we upload new videos.
Follow FreshPoint, Inc. on Facebook, Twitter, Instagram, and LinkedIn…and follow The Produce Hunter on Instagram as she finds the best specialty produce at the Santa Monica Farmers Market.