By FreshPoint

Share this post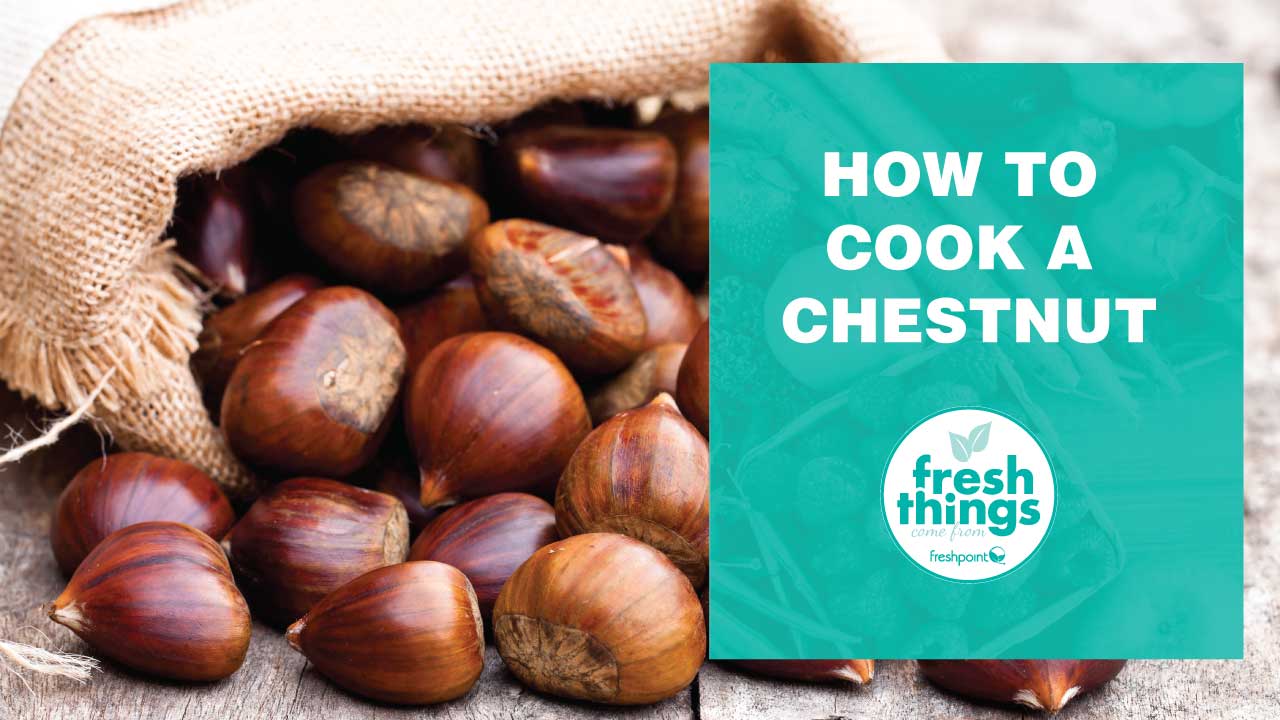 Fresh Things: How to Cook a Chestnut
Hi, I'm Francy Deskin with FreshPoint and today we're going to talk about how to cook a chestnut.
The best way to cook a chestnut is just like the holiday song would imply, roasting them over an open fire.
Don't have one of those?
No problem…pre-heat your oven to 400 degrees then  you're gonna take the chestnut on the flat side, and you put a superficial incision just like you would tomato concasse. Roast those off in the oven for 20-25 minutes until they pop open.
Now, the thing that you want to be careful of is, if you start to hear some pings and pongs coming out of your oven, that might mean that those chestnuts are *exploding*, and maybe you didn't get that incision quite deep enough. So make sure you cut it deep enough, alright…and be careful when you open the door because now they can escape, and possibly hit you.
So be careful.. hashtag true story.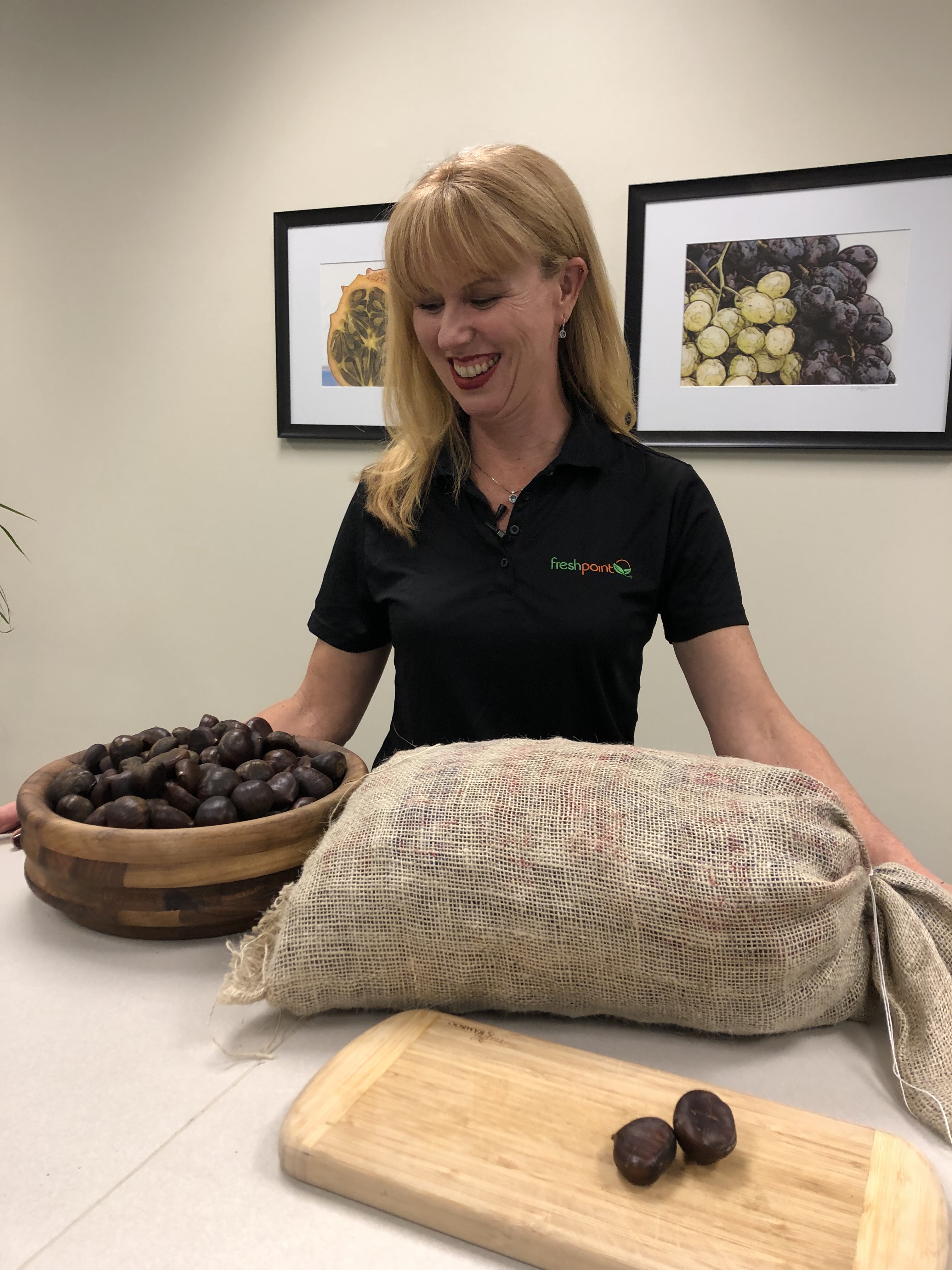 When are chestnuts in season?
Okay so chestnuts are in season from September to January, and during these times on the street corners of Europe you can see chestnuts roasting an open fire and you can get a little warm bag and it's a great experience.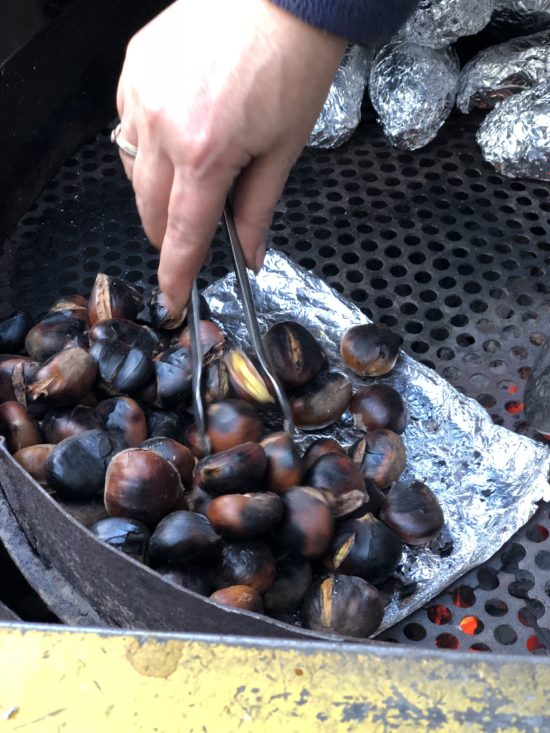 Are chestnuts really a nut?
Yes they are.
They're a little bit different from a nut, in that they're more starchy like a potato, but that's the right texture that you want when you've roasted them properly. Some great recipes to use for chestnuts: try them in your holiday stuffing, try making a soup with them—it brings a really unique and interesting texture, and my personal favorite is a Mont Blanc dessert. It's a sweetened chestnut cream, mounted onto a plate, and dusted with powdered sugar….(it's) so good.
How do you store a chestnut?
Just keep them in the fridge in a tightly covered container and they should last for two to three weeks.
Watch Francy's video here:
---
Chestnuts are available only in the autumn and winter months, usually around September through January. As with all fresh produce, sometimes there are supply issues, so you will want to call your produce specialist about placing an order for your special menu.
Content provided by Chef Francy Deskin, the Specialties Coordinator for FreshPoint South Florida. She has spent 20+ years in kitchens, including as an Executive Chef, and she loves all things food. Follow FreshPoint South Florida on Facebook and Instagram.
Follow FreshPoint, Inc. on Facebook, Twitter, Instagram, and LinkedIn. Did you know we are on YouTube? Head over to our page and check out our videos. Don't forget to subscribe, and also be a part of our Bell Team—hit the little bell icon to get notifications when we upload new videos.