By Karen Beverlin, The Produce Hunter

Share this post

Wonderful Things Happen when Farmers "Force" Treviso
Tardivo is the most elegant member of the Radicchio family. It has long, narrow, slightly curving leaves with the bitter flavor typical of all chicories.
However, Tardivo is not a separate radicchio variety. Tardivo is Radicchio di Treviso that's been tweaked by the farmer using a production method called "forcing."
Developed by Belgium agronomist Francesco Van Den Borre in the 1860s to blanch Belgium endive, forcing is a three-step process:
1) plant in spring
2) harvest in autumn
3) force in winter.
The farmer lets the plant grow in the field until the hard frost, digs the plant with the root out of the soil, trims the root to 4″-6″ long, ties the plants together in clusters of 15, submerges the root ends of the plant clusters in water, and then keeps the clusters in complete dark at 45-55°F for 2-3 weeks.
The tight clusters, cold temperature, and lack of light forces the plants to push out compact new growth—resulting in the lovely, narrow leaves that typify Tardivo.
Farmer Romeo Coleman of Coleman Family Farm in Carpinteria, CA, is harvesting his first Tardivo crop, and we've got to say, he nailed it. His foray into forcing is a rousing success!
Use Tardivo in dishes that feature the shape of its leaves, like a salad of mixed chicories with vinaigrette, hazelnuts, and Parmesan, or Tardivo and warm Cranberry bean salad.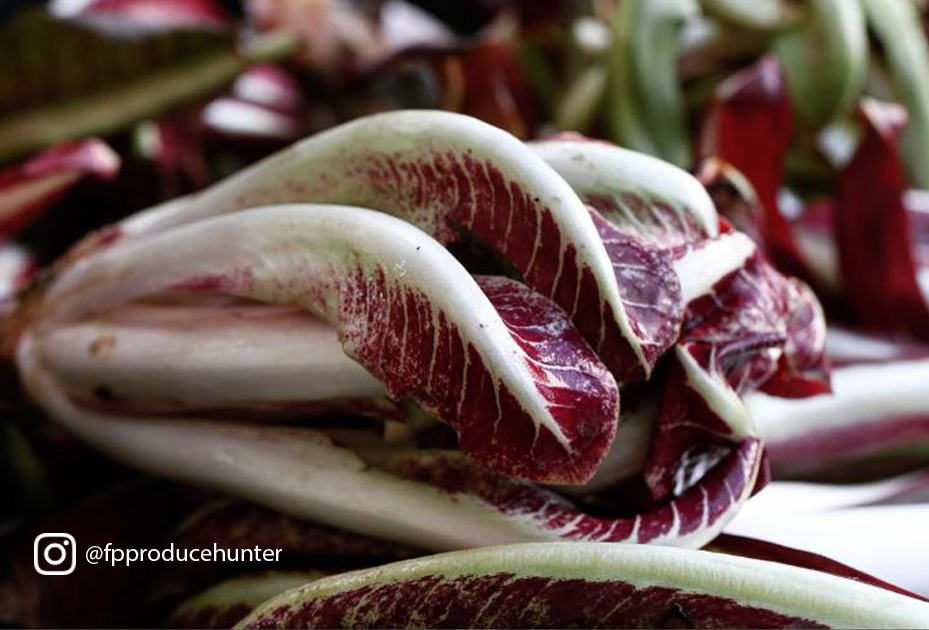 ---
Image and content contributed by Karen Beverlin, vice president of Specialty Sales at The Produce Hunter.
Find the best of the Santa Monica Farmers Market with The Produce Hunter on Instagram. The Produce Hunter curates the farmers markets, and works with small, local family farmers committed to sustainable agriculture, responsible production, and propagation and promotion of fruit and vegetables with exceptional flavor.
Keep tabs on what's growing with Farmer Romeo Coleman of Coleman Family Farms on his Instagram.
Some tools you can use:
Visit freshpoint.com for our seasonal availability guides—and while you are there, check out the FreshPress, our latest market report. Place your orders online with ease at myfreshpoint.com. Did you know you can receive real-time reliable delivery alerts on the day of your delivery? Activate and subscribe at FreshPoint.com/mydelivery
Download our app and take your produce management on the go. Place orders, review flyers, watch videos…all in one spot!
Find out more details about our UBU program, and how we are shining a spotlight on food waste while making value and food safety a priority.
We buy local to strengthen regional economies, support family farms, preserve the local landscape, and to provide fresh-from-the-farm food to our customers. Local.freshpoint.com connects you to your local farmers like never before! Customize your search by zip, city, state, radius…even by crops and growing methods. Pop in your zip code and learn about our local farmers.
Socialize with us!
Did you know we are on YouTube? Head over to our page and check out our 75+ videos. Don't forget to subscribe, and also be a part of our Bell Team—hit the little bell icon to get notifications when we upload new videos.
Follow FreshPoint, Inc. on Facebook, Twitter, Instagram, and LinkedIn…and follow The Produce Hunter on Instagram as she finds the best specialty produce at the Santa Monica Farmers Market.