Share this post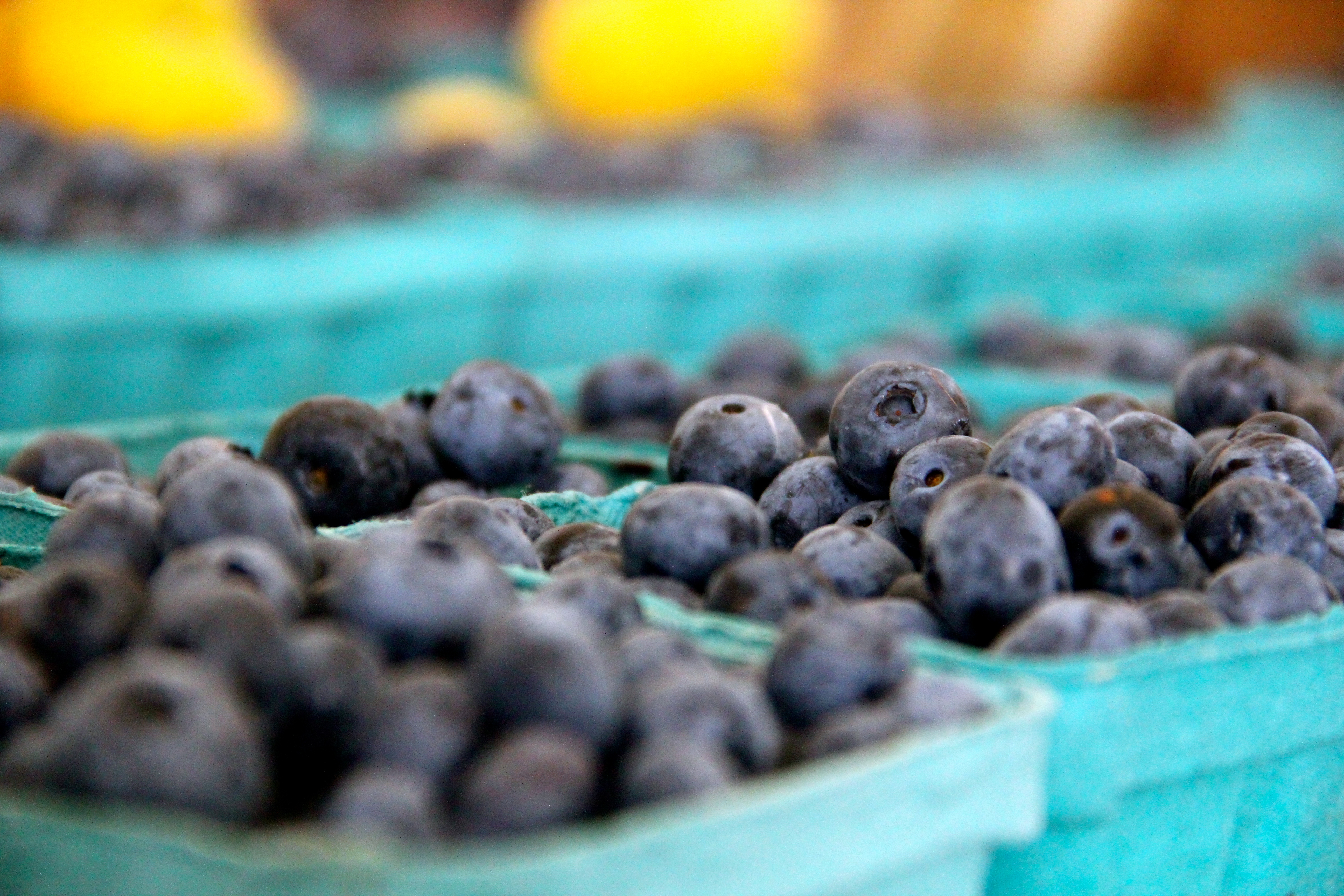 Florida blueberries, no B.S. and more anthocyanin
I said it.  I meant it.  No B.S.
Referring of course to the growing soil preferred by Florida blueberries.  Florida blueberries prefer acidic soil, and even the most-ungreen-of-thumbs, such as me know that manure is far too alkaline to contribute anything good to the terroir of Florida grown blueberries.
Blueberries have not always been a traditional Florida crop.
It was the University of Florida who developed the cultivars, building research on some early experimental work done in the 1990s.  Generally speaking, there is a blurry line of demarcation in the center of the state somewhere between Lake City and Ocala.  North of this line, rabbiteye varieties are the best choice.  This fruit has a slightly tougher skin and slightly larger seed, and they store better.  Their harvest season can extend from May to July.  South of this line, southern highbush are the preferred varieties and better suited to withstand Florida's long hot summers and generally mild winters (provided protection from late winter freezes.)
Blueberries are wildly popular in muffins, scones, cakes, pancakes, pies, jams, jellies, syrups, and gastriques as a complement to savory game and roasted meats.
Their anthocyanin purple-blue skin gives cocktails a blush when muddled and they can even be found in seasonally inspired craft beers.
And just try to deny that as a child (or a mimosa-laden adult) you haven't carefully placed a single blueberry into each square indent of a waffle.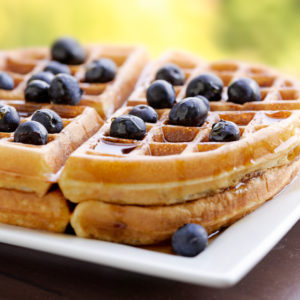 Or that you haven't made the all-American cake for the Fourth of July picnic with whipped cream, strawberry stripes, and blueberry stars!
But if you ask me, the most beautiful expression of blueberries can be found in cookbook Sunday Suppers at Lucques by Suzanne Goin. She offers a recipe for Blueberry Compote, utilizing fresh, cooked and dried blueberries, which she serves with Tarte au Fromage with Lemon Cream.  This is what I did with my u-pick-it harvest in Jacksonville some years ago.
Florida Blueberries are highly flavorful while not overly sweet as some other berries and fruit, and are considered a super food nutriceutical.
As such, they are a delicious part of a healthy lifestyle. USDA scientists attribute the anti-aging effect of blueberries to anthocyanin:  the blue pigment.  "'When it comes to brain protection, there's nothing quite like blueberries,' according to Tufts neuroscientist James Joseph, as recounted in Newsweek (6/17/02)." He called the blueberry the brain berry and attributed the effects to its antioxidant and anti-inflammatory compounds.
One of FreshPoint's favorite Florida growers of blueberries is Tom West Farms of Ocoee, near Lake Apopka.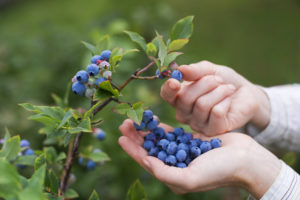 Tom West began tending the land in citrus in the 1950s, and shared the business to his son, Milton and grandchildren, Scott, and Stacy.  In light of the many challenges facing the citrus industry, they transitioned their business to blueberries about seven years ago.  They grow several types of southern highbush, but Arcadia, Emerald, and Meadowlark are the majority of what you'll find in the approximately 2,000 cases per week purchased between April and May.  In speaking with Stacy West Williams, she had this to say, "We're really just living out our grandfather's legacy.  We get kids involved in our u-pick-it activities and it helps them understand that we need farming.  And it gets them off their phones!  We love the way it brings families together and causes them to interact with each other.  That's the real blessing!"
---
Content provided by Chef Francy Deskin, the Specialties Coordinator for FreshPoint South Florida. She has spent 20+ years in kitchens, including as an Executive Chef, and she loves all things food. Follow FreshPoint South Florida on Facebook and Instagram.
Follow FreshPoint, Inc. on Facebook, Twitter, Instagram, and LinkedIn… and follow The Produce Hunter as she finds the best of the Santa Monica Farmers Market every week on Instagram.
Here at FreshPoint, we buy local to strengthen regional economies, support family farms, preserve the local landscape, and to provide fresh-from-the-farm food to our customers. Local.freshpoint.com connects you to your local farmers like never before! Customize your search by zip, city, state, radius…even by crops and growing methods. Pop in your zip code and learn about your local farmers, like Tom West Blueberries!