By FreshPoint

Share this post
Crazy for Cauliflower Pizza…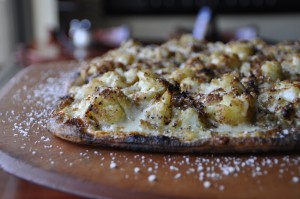 Yes, you read that correctly, cauliflower on pizza! Anthony Bruno, the founder of Anthony's Coal Fired Pizza, says cauliflower is great on pizza.
When the Ft. Lauderdale-based national chain introduced this very non-traditional pie, there were some skeptics.  A few years ago, Anthony's tested the cauliflower pizza at their original location in East Fort Lauderdale, and it was an immediate success! He then had customers at other locations requesting this specialty pizza.
With the growing popularity of the cauliflower-topped pizza, Anthony naturally reached out to FreshPoint's FreshCuts for the perfect spec of cauliflower. It needed to exact on the quality to be able to withstand the cooking application. It is first roasted in an 800-degree coal-burning oven with olive oil and garlic, and then cooled. Then it is topped on pizza dough along with mozzarella, baked, and then finished with a sprinkle of Romano cheese.
The cauliflower florets are only used for this pizza; they are not used for anything else on the menu. It is so popular, they go through about 100 pounds of cauliflower per week for each location. That's a lot of cauliflower!
Are you ready to try it? We have, and it's amazing. FreshPoint says yes to cauliflower on pizza!
Submitted by: Kelly Walsh
---
FreshPoint is proud to be a long-standing partner with Anthony's, providing them all of their produce. For more information about this delicious pizza, please visit their website at acfp.com