By FreshPoint

Share this post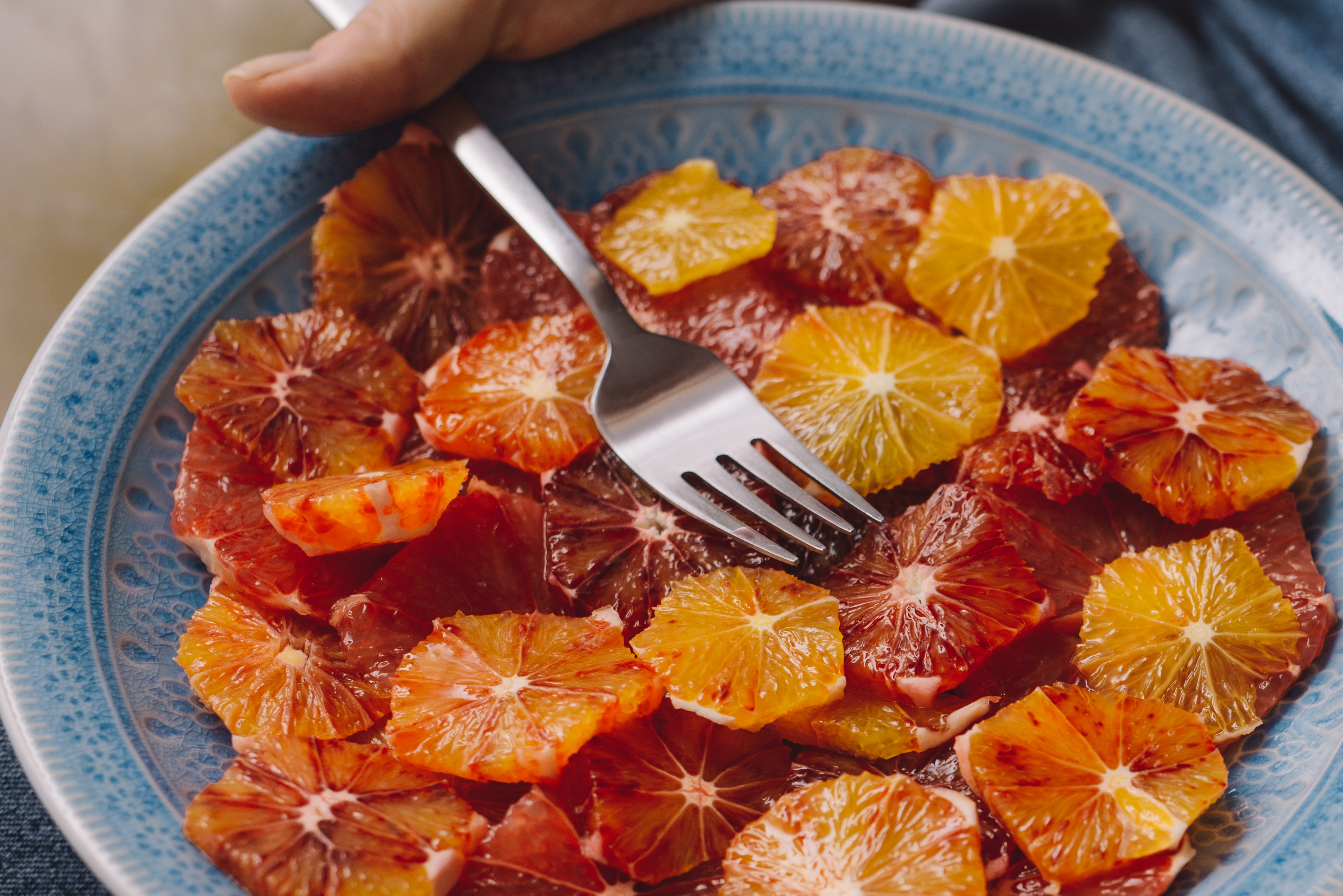 Blood oranges, anthocyanins, and…juggling…(yes juggling)
I grew up eating oranges off the tree in my Florida backyard, but it wasn't until I was a first block culinary student at The Culinary Institute of America when I learned about blood oranges.
I was instantly fascinated and enamored with their beauty and uniqueness.  And instantly horrified at the tale another student told about a prep cook discarding an entire case of blood oranges because he kept slicing the oranges open and they were all dark and gross inside!
Part of me still wants to believe this was an urban myth.
Most times blood oranges will offer a teaser blush of red on the outside of their peel, hinting at something special inside.  But the amount of red on the outside does not necessarily correlate with the amount of deep, dark coloration of the flesh.  Today's cut shows a pretty normal amount of "bloody" color in this California-harvested orange, as we are in the domestic season now and for a little while longer.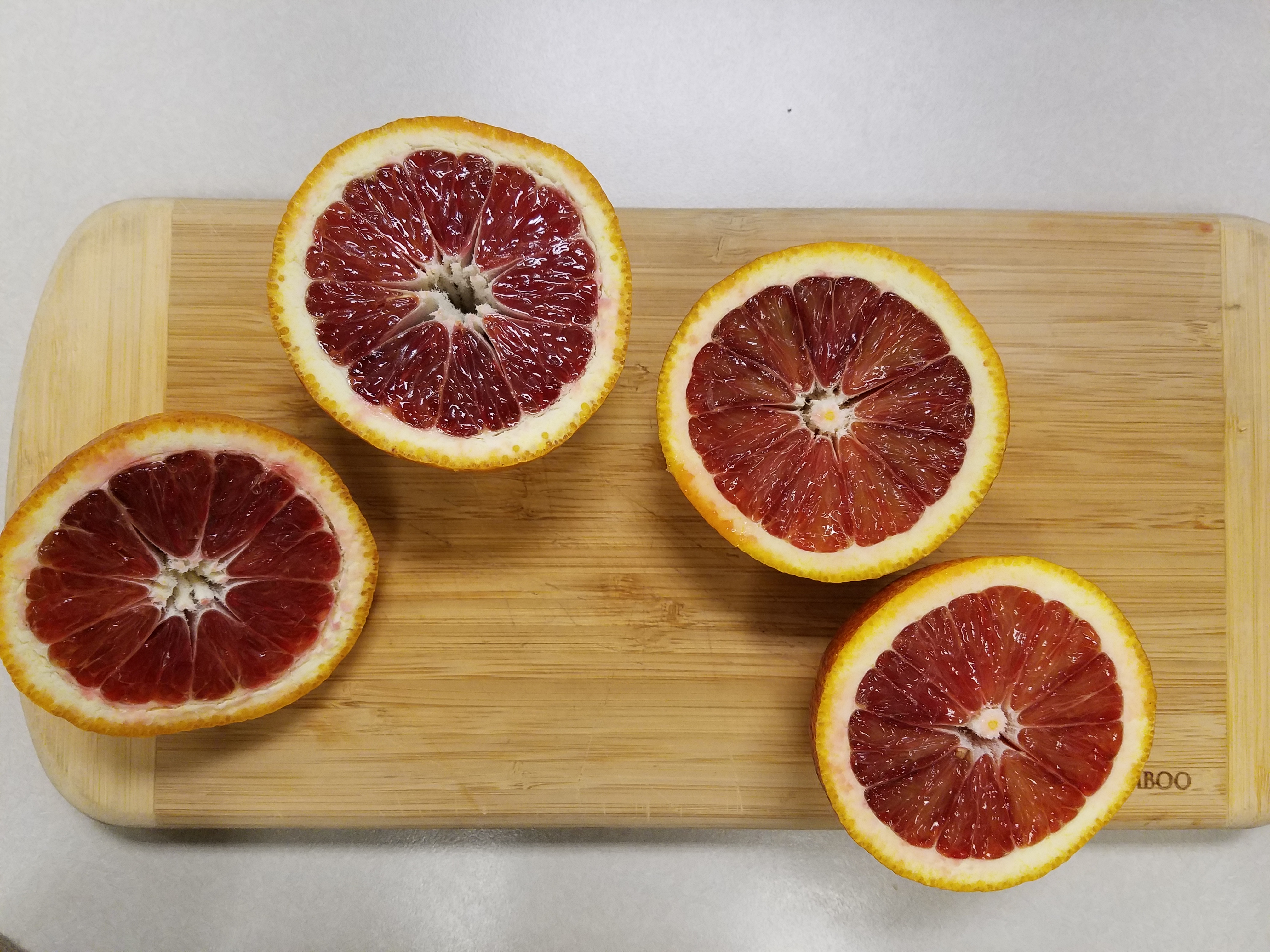 They do come darker and sometimes lighter.  Juiced for a refreshing beverage, they create such a pleasing color to the eye that the drink tastes so good even before you even put the glass to your lips!
It's like a trick of the brain that the reddish juice tastes better than regular old orange juice.
The tastes are quite similar actually, with the blood orange offering just a bit more tartness with a better balance of pleasing bitterness.  Sorbets and syrups are another way to showcase their dramatic splendor.  Segments, or supremes if you're fancy, in a salad are a standout.  Couple them with pistachio and you've got a Sicilian dream team, as this area is known as a primo growing region for both items, dating back to centuries.
The dark and lovely color in blood oranges comes from their very high anthocyanin content.
Anthocyanin is a flavonoid in found in plants and is the same deal responsible for the coloring in other dark red/purple fruits and vegetables such as eggplant, red cabbage, cherries, berries, currants, and pomegranates.  So in addition to being a delicious part of eating your rainbow, they have been shown to be very helpful as a cancer fighter.
In short, having good guy anthocyanins floating around in your blood stream helps to scavenge out bad guy free radical cells.
Cancer cells' ability to multiply is inhibited by anthocyanins.  Inflammation is a contributor to so many diseases, including cancer, and blood oranges are a great anti-inflammatory.
Don't forget Valentine's Day is just around the corner and these babies are bound to have an aphrodisiac effect. Their stunning color screams romance. Besides sorbets, cocktails, salads, syrups, and supremes, the thing I love to do most with blood oranges?  Juggling.  I've mastered one and am getting really good at juggling two.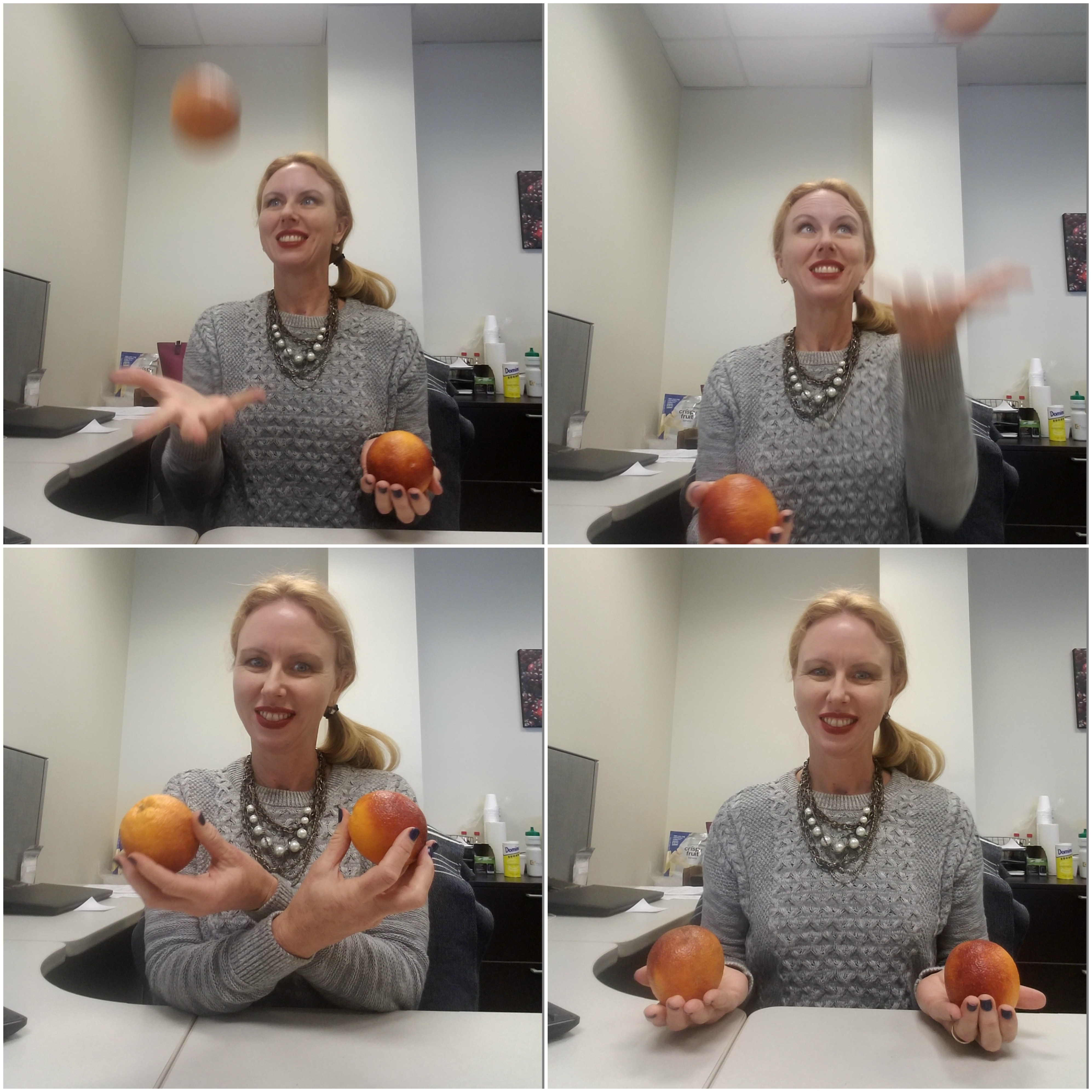 Blood oranges are generally available from December through April domestically and imported from August to October, and make the perfect addition to your Valentine's Day menu.
---
Content provided by Francy Deskin, the Specialties Coordinator for FreshPoint South Florida. She has spent 20+ years in kitchens, including as an Executive Chef, and she loves all things food. Follow FreshPoint South Florida on Facebook.
Follow FreshPoint, Inc. on Facebook, Twitter, Instagram, and LinkedIn.
This information is used for informational purposes only, please consult your doctor to discuss your health before making any changes.