By FreshPoint

Share this post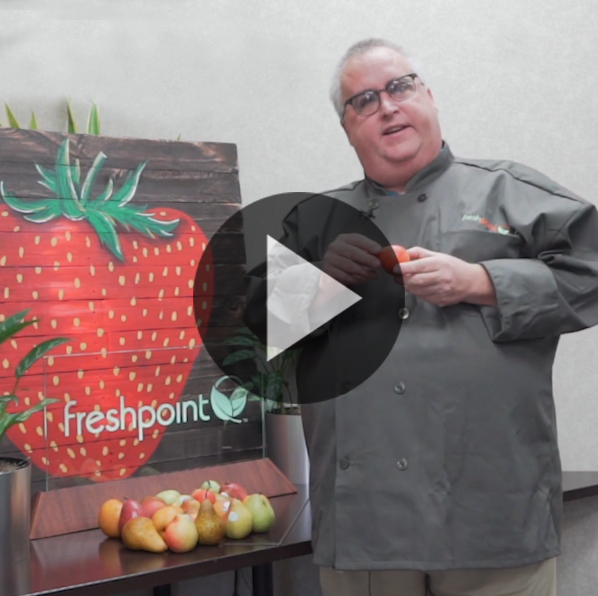 Video: A quick guide to pears, and the best way to use them
Hi, I'm Daniel Snowden, and today I want to talk to you a little bit about pears.
I brought along some of my favorite ones. I have an Asian pear. These are prized for their crisp texture and honey sweet flavor, best used raw. They're fully ripe when picked and ready to go. We have the D'Anjou pear, which is a common eating out of hand pear, just really a good pear all around.
Next we have a pear with a face for radio.
It's great for baking and roasting, even better poached in a red wine syrup with a little cinnamon and star anise. Then we have the pear that resembles me – short and squat, a little round. It's a great pear. This is the Comice, native to France.
Last but not least, it may be diminutive in size, but it's full of flavor. This is the Forelle Pear which gets its name from the freckles which the German farmers thought resembled that of the trout.
Looking for more info on pears? Find out the history and culture of pears in Dan's other blog post below:
---
Overall, pears are available year round, but are at their best in the fall and winter months when they are harvested.
Content provided by Daniel Snowden, the Director of Culinary Development for FreshPoint Central Florida. He has been in the produce industry years almost 20 years, and loves getting geeky about food. Follow FreshPoint Central Florida on Facebook, Twitter, and Instagram.
Follow FreshPoint, Inc. on Facebook, Twitter, Instagram, and LinkedIn… and follow The Produce Hunter as she finds the best of the Santa Monica Farmers Market every week on Instagram.