By FreshPoint

Share this post
A Fresh Season of Generosity…
At FreshPoint, we are honored to give back to our communities. Below is a roundup of the generous contributions our employees and companies made during the 2015 holiday season.
Our employees not only donated toys, food, or money, in some cases, they also made a donation of their time—an equally precious commodity.
FreshPoint Atlanta: Can-a-Thon!
—Submitted by Lee Woodham from FreshPoint Atlanta
The Can-A-Thon contest that we run at FreshPoint Atlanta is one of my favorite promotions. We pit department vs department to see who can raise the most money or canned food products. The Atlanta Community Food Bank reaches countless people in their time of need. For every $1 donated, they turn it into over $9 in groceries! We are very fortunate and grateful as a company to be a partner of the food bank! The winner of the Second Annual Can-a-Thon was the Purchasing, Wholesale, and Compliance Team.All teams put forth a valiant effort, and this year we were able to almost DOUBLE the amount of cans/monetary donations from last year. Together we collected 1,000 pounds worth of food/financial donations combined.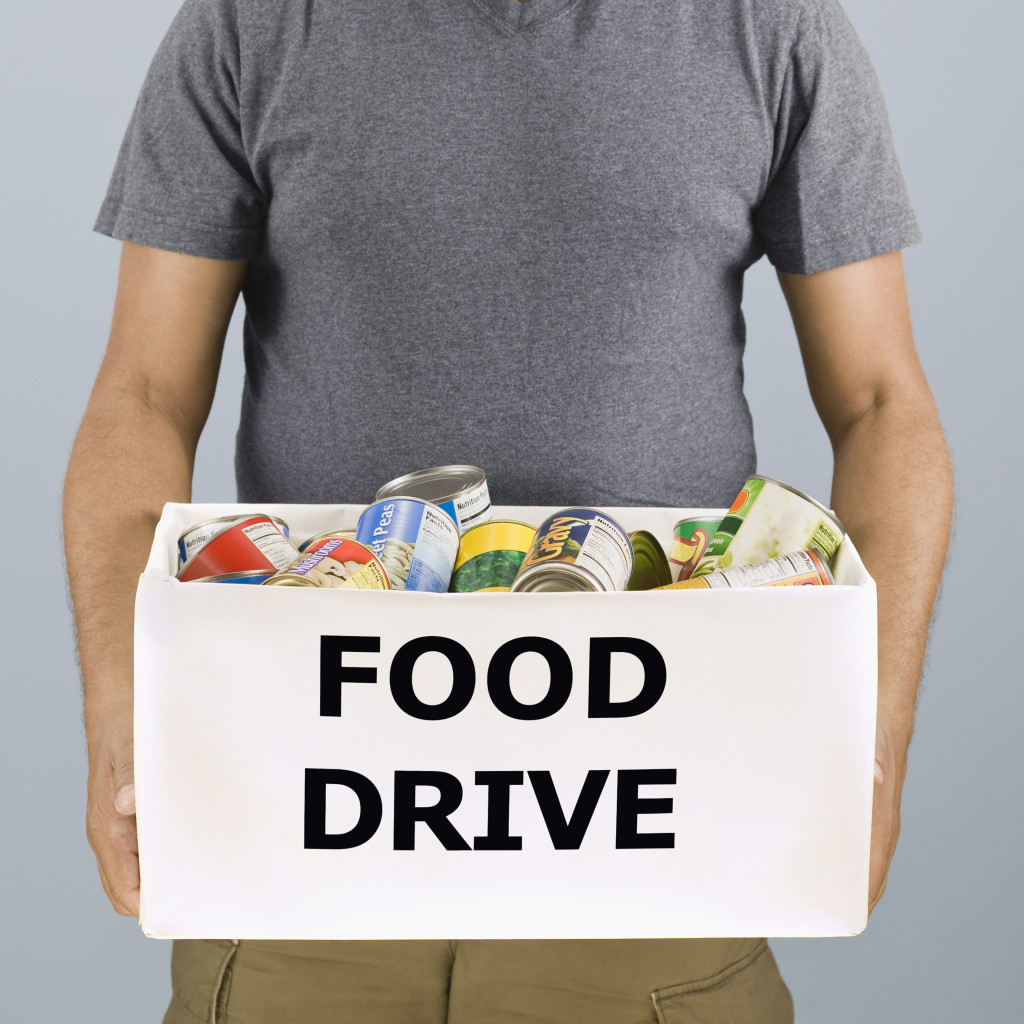 FreshPoint Atlanta Canned Food Drive
FreshPoint Central California: Holiday tree, Adopt-a-Family
—submitted by Martha Gonzalez from FreshPoint Central California
We partnered with The Salvation Army USA in Turlock to bring three local families a very merry Christmas. We would like to give a special thank you to all employees that volunteered to be a part of this program; with their help, we were able to raise over 100 items for these three families (totaling 19 people). We then delivered more than 50 pounds of food to each family along with their gifts.
A while ago, we partnered up with Modesto Family Promise to create an employee-based toiletries donation. Employees have come through, and we've done our first donation along with extra gifts that were brought in for the Adopt-a-Family program. We were happy to know that these gifts were much needed for the current homeless families in the program.Oh 'tis the season. Happy healthy holidays!
FreshPoint Southern California: Eli Home for the Abused, Alliance for Children's Rights with Heirloom LA, Concept 7 Toy Drive
—submitted by Isabella Marvelli and Karen Beverlin from FreshPoint Southern California
 Eli Home for Abused Children: FreshPoint donated a decorated Christmas tree that sold for $1,600.00. Eli Home is a California based foundation that focuses "on breaking the cycle of child abuse and family violence." Read the full story in our previous blog post.
Alliance for Children's Rights with Heirloom LA—culinary education for young adults just leaving foster care: FreshPoint donated a truckload of cooking utensils and materials (associates), and ingredients (FreshPoint). The Alliance for Children's Rights NextStep program assists 18 year olds who are leaving their foster homes and transitioning to living on their own with very limited funds. Read the full story in our previous blog post.
Concept 7 Toy drive: FreshPoint associates donated a wish for 50 children from ages 6-17 in foster homes.
FreshPoint Charlotte: Toys for Tots
—Submitted by Debra Williams
FreshPoint Charlotte collected 50 brand new toys for the Toys for Tots Magical Drive through the Salvation Army. Previously, for three years, we worked with the Marines for their Toys for Tots collection drive.
FreshPoint Charlotte Toys for Tots
FreshPoint Vancouver: Ronald McDonald House and the Festival of Trees for the BC Children's Hospital Foundation
—Submitted by Yumiko Hayashi from FreshPoint Vancouver
[In October], FreshPoint participated in the Home for Dinner program at the Ronald McDonald House. We put together a team of volunteers to prepare and serve a meal for the residents of the house. Our honorary chef, Sunni, at FreshPoint FreshCuts, led the way with his expertise. We served beef stew with a bun and a side of mashed potatoes alongside two different salads. For dessert, English Bay Batter Inc. donated chocolate chip cookies. We also served our very own fruit salad from FreshCuts. Thank you to our team for a great night, and for all of your hard work to make the evening a success! You can read more of the amazing event here.
At FreshPoint, we take pride in supporting communities where we live, work and serve. This year is our 21st year at the BC Children's Hospital Festival of the Trees. Every year the hotel lobby of the Four Seasons is beautifully decorated with trees in support of the BC Children's Hospital. With the generous support of your donations, we were able to raise more than $5,300! We were the proud recipient of the "Spirit of Giving" award this year with the highest amount of donations. Thank you to all for your contributions.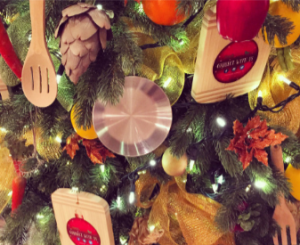 FreshPoint Vancouver Festival of Trees benefiting the BC Children's Hospital
FreshPoint Denver: Toys 4 Colorado
—Submitted by Jennifer Kennedy-Castillo
FreshPoint Denver partnered up with Toys 4 Colorado for the second year to collect unwrapped toys for children in the Denver Metro Area. I am proud to say we collected 194 toys! Some of our employees reached out to their neighbors, some held parties and requested a toy as the price of admission, and others just reached into their own pockets.I am so proud to work with such a generous and creative group.
FreshPoint South Florida
November event: On November 23, FreshPoint South Florida donated eight pallets of produce in Overtown, a lower income area, for the Thanksgiving Turkey give-away. Over 485 families received sweet potatoes, collard greens, celery, onions, and more! Several employees were on hand to distribute the produce, and even pitched in to help with the distribution of turkeys provided by another company. A special thanks goes out to employees Jose Moreno, Nick Grate, Obed Bazile, Oscar Baez, Robert Tappen, Jorge Diaz, MaryAlice VandePol, and FreshPoint South Florida president, Alan Lieberman.
December event: FreshPoint South Florida employees donated over 260 new, unwrapped toys for the United Cerebral Palsy Early Beginnings Academy. Early Beginnings Academy Charter Schools (EBA) provides services to children ages birth to grade 2 with and without developmental delays at Civic and North Shore.
December event: FreshPoint South Florida donated produce for the 2015 Pinion Holiday Event, Benefiting the Special Olympics.
FreshPoint South Texas
—submitted by Annette R. Olmsted
FreshPoint South Texas had a Holiday Food Drive to benefit the East Side Boys & Girls Club of San Antonio. Our Associates donated over five large boxes of non-perishable food items. Christina Fisher, Marketing Associate, was instrumental in contacting the Boys & Girls Club to arrange the benefit drive with Shayla Beck, Director of the Center. Annette Olmsted, HR Business Partner, promoted the drive with FreshPoint South Texas Associates. Our merchandising team, led by Nicholas Rocha, arranged to donate over 200 pounds of rice, beans, potatoes, and onions.Rick Gutierrez, delivery driver, was joined at the center by Christina Fisher and Annette Olmsted, and Director Shayla Beck and the staff nutritionist, Diane James, accepted the donation.
Thank you to all of our locations and employees that donated something this year. We are grateful to have such a wonderful and generous FreshPoint family.
---
Some tools you can use:
Visit freshpoint.com for our seasonal availability guides—and while you are there, check out the FreshPress, our latest market report. Place your orders online with ease at myfreshpoint.com.
Download our app and take your produce management on the go. Place orders, review flyers, watch videos…all in one spot!
Find out more details about our UBU program, and how we are shining a spotlight on food waste while making value and food safety a priority.
We buy local to strengthen regional economies, support family farms, preserve the local landscape, and to provide fresh-from-the-farm food to our customers. Local.freshpoint.com connects you to your local farmers like never before! Customize your search by zip, city, state, radius…even by crops and growing methods. Pop in your zip code and learn about our local farmers.
Socialize with us!
Follow FreshPoint, Inc. on Facebook, Twitter, and LinkedIn…and follow The Produce Hunter on Instagram as she finds the best specialty produce at the Santa Monica Farmers Market.