By FreshPoint

Share this post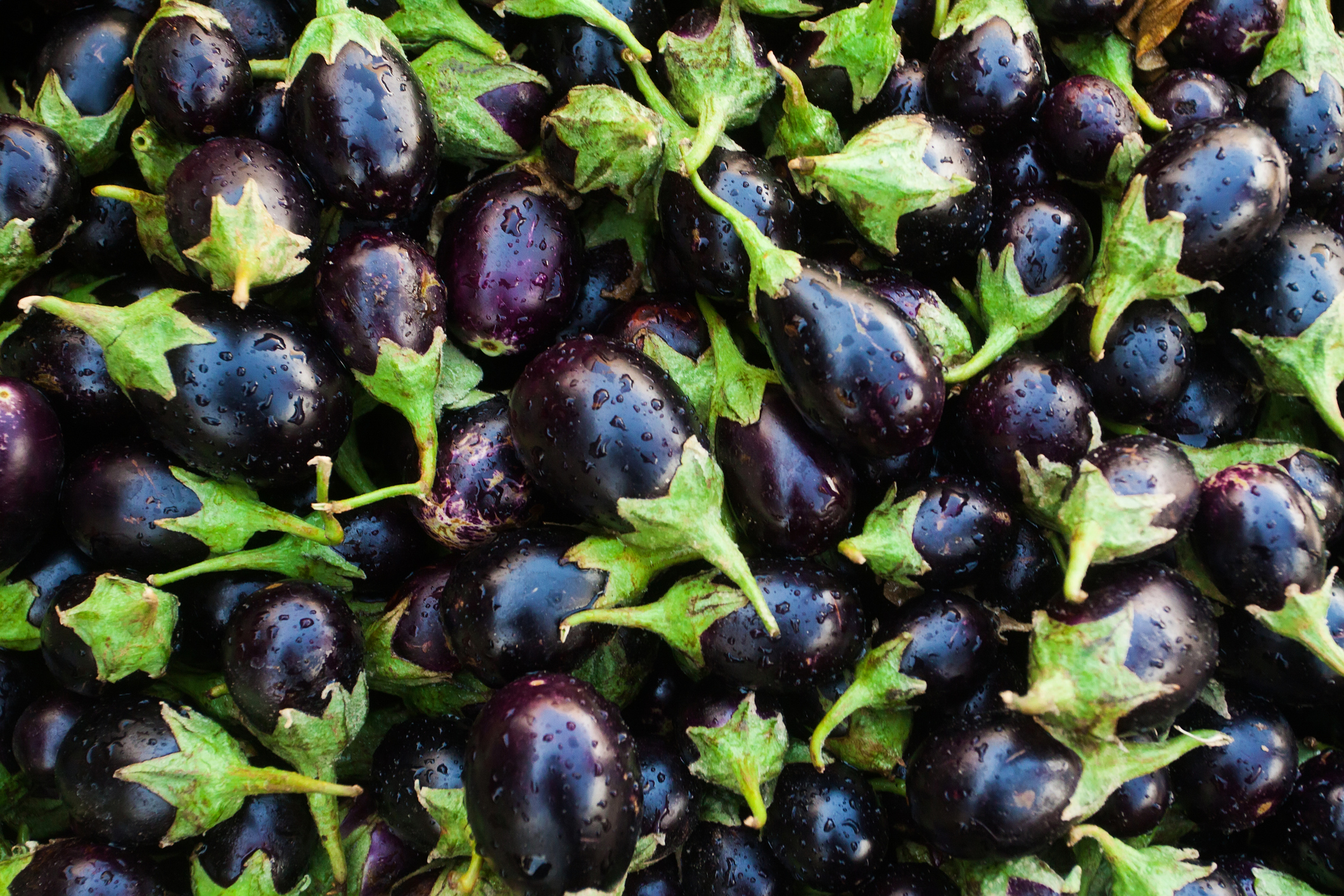 What are the different types of eggplant?
If ever there was a cross-cultural vegetable (or technically speaking–a fruit–but I'm not here to upset you,) it would have to be eggplant. While most countries have a beloved recipe featuring eggplant, they also have a variation on the vegetable itself.
The more common types of eggplant
Let's begin with the American eggplant, also known as the Globe eggplant. This is the most typical eggplant in appearance with its rounded but elongated shape, dark purple hue, and an average seed-to-skin ratio.
Italian eggplant look quite similar to the American eggplant in color and shape. Their size is usually a bit more medium.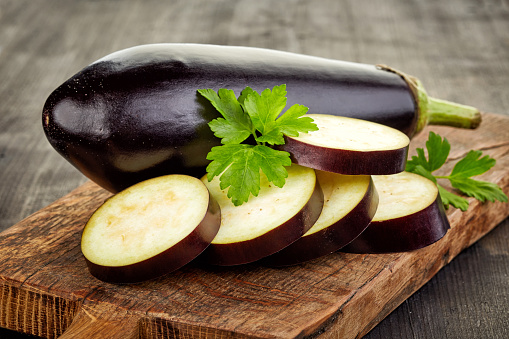 How do you use it?
Eggplant takes well to many cooking applications, including breading & frying, roasting whole to soften the insides for use in purees and soups, grilling, broiling, or sautéing.
Like most vegetables, they have a high water content. With this in mind, after roasting, I like to scrape out the softened flesh and pass it through a food mill. This leaves behind the lion's share of the seeds and gentle fiber. I then tie it up in a beggar's purse of cheese cloth and suspend it in the cooler over a bowl to catch the excess water. After letting it drain overnight, the resulting puree is tighter and more concentrated in flavor. This allows its contribution to recipes such as baba ghanoush (hard to say—easy to eat!) to be much more pronounced and delicious.
Or even more so my favorite: eggplant as a filling for homemade ravioli. Maybe with goat cheese! Maybe with chives! Stop-stop-we're still just on the first variety of eggplant and I'm hungry already!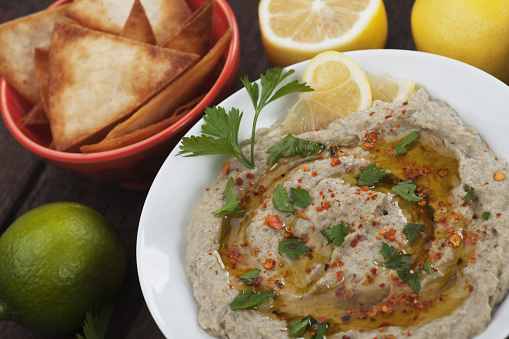 The more specialty types of eggplant
Sicilian eggplant are big and round, about the size of a grapefruit, and lighter purple in color.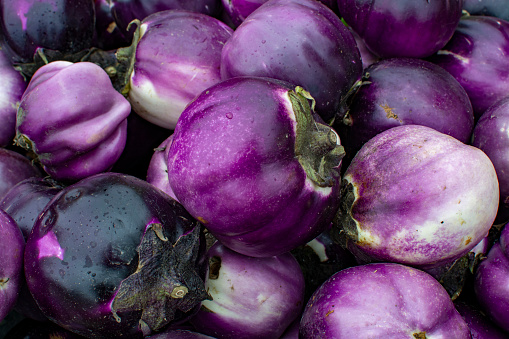 The ever-elusive Fairytale eggplant and the Graffiti eggplant are teenager sized, and variegated in violet and white, with a delicate flavor and a creamy bite. These different types of eggplant fall into the heirloom specialty category of produce.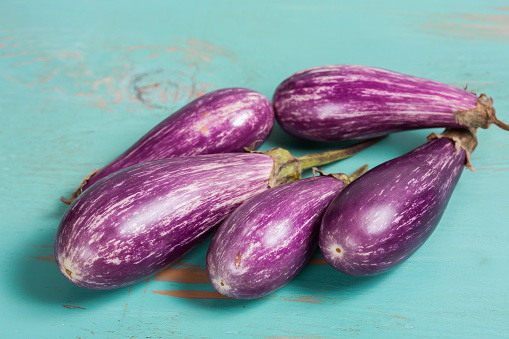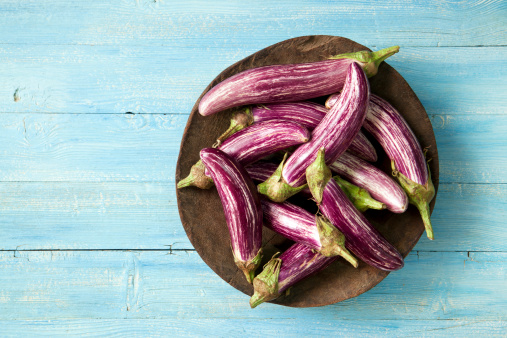 Chinese and Japanese eggplant are similar to each other in size and shape, which is to say that they are long and slender. The difference is that Chinese are lighter purple, and Japanese are a dark purple like the American eggplant. These are fun to slice into cross sections, bread and fry to create crispy little bases for your favorite canape toppings.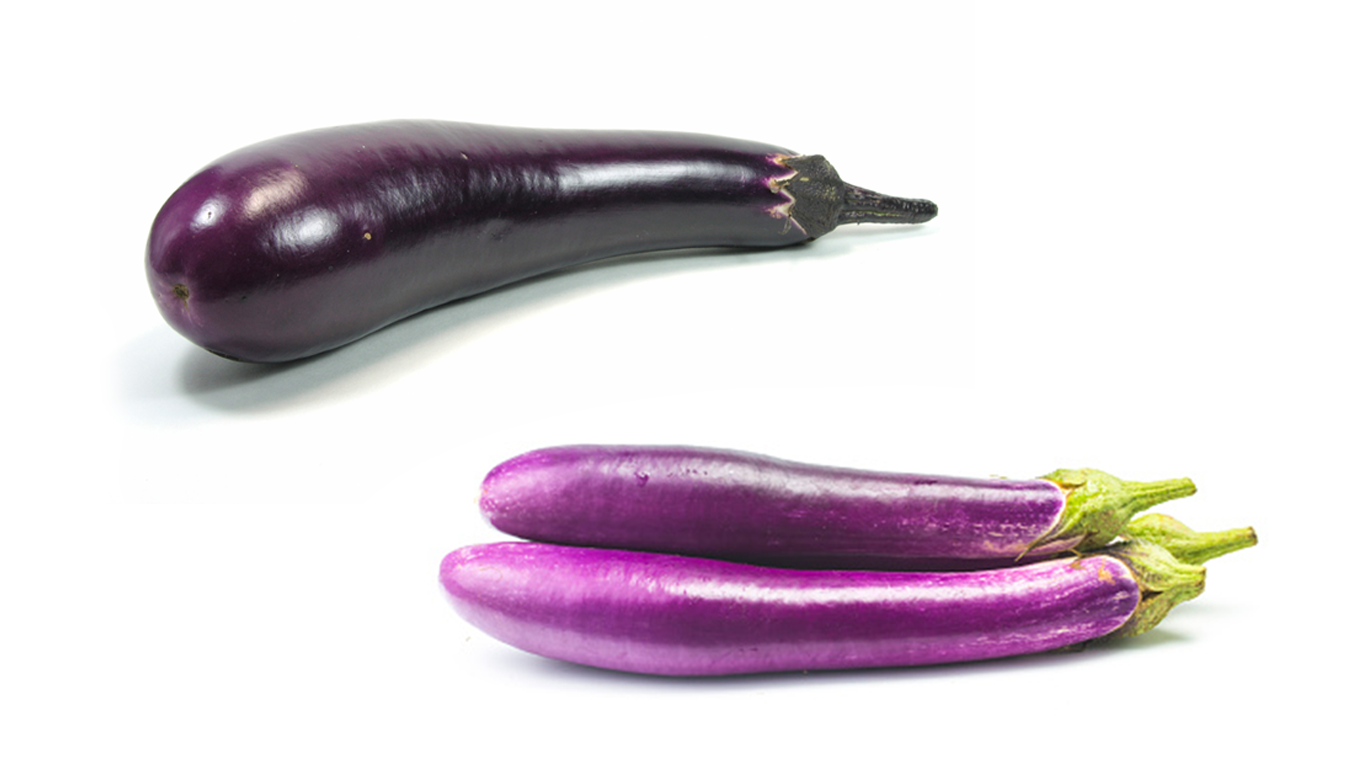 And doesn't it seem like things are so much cuter when they're small? The baby eggplant, also known as Indian eggplant, fits into the palm of your hand and is an exciting single serve eggplant with a little menu creativity.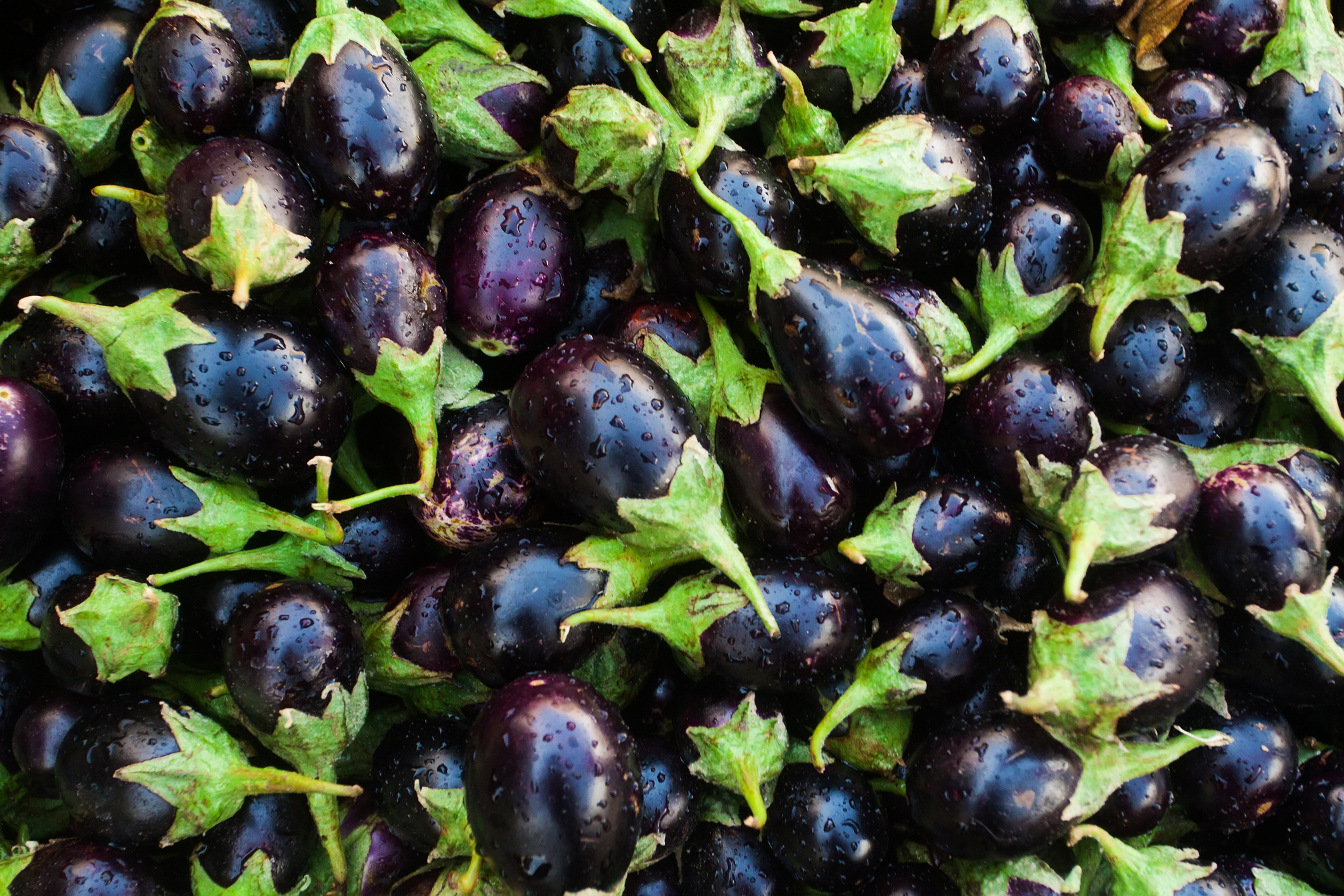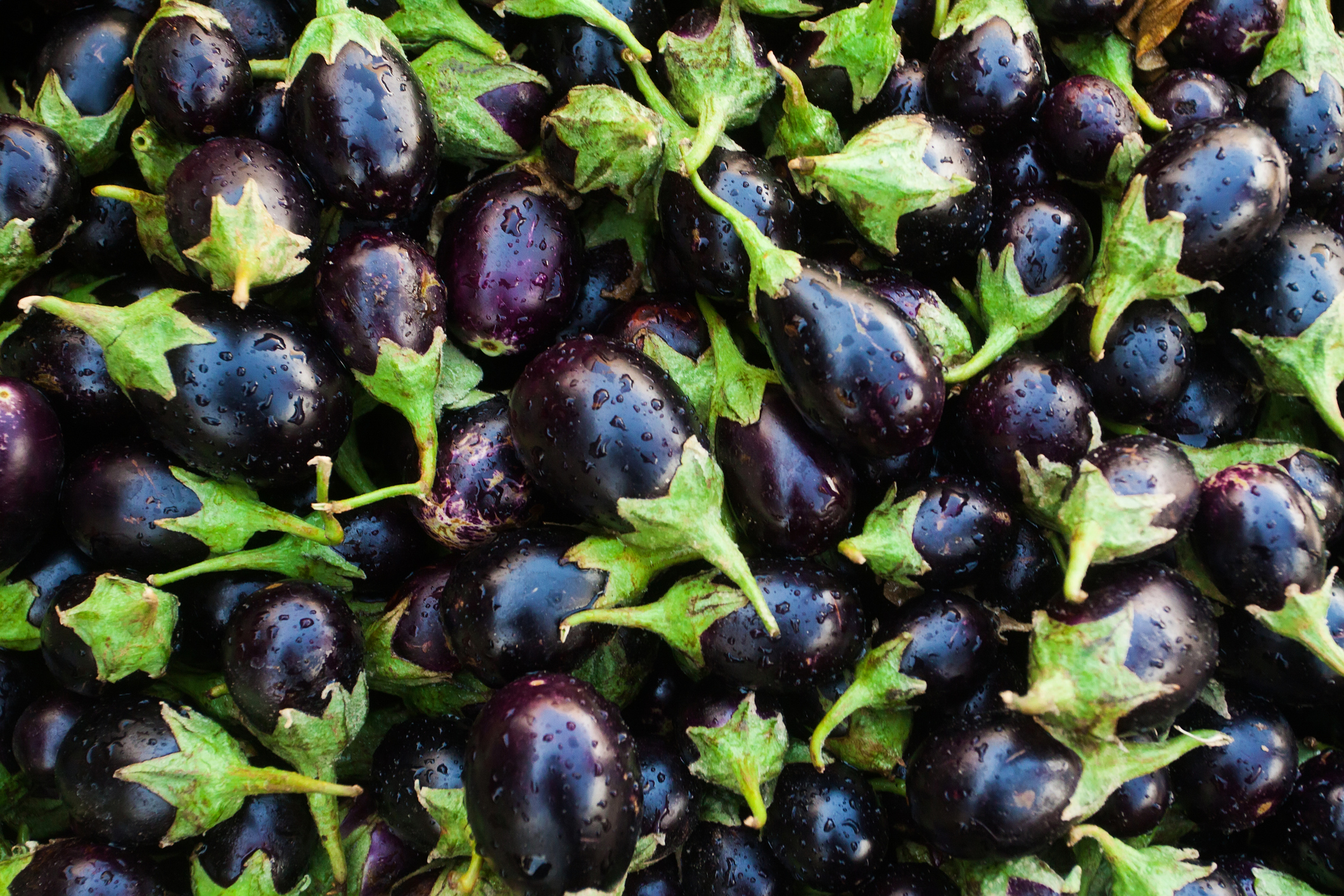 Thai eggplant is very unique from the others in that it is very small and very green, even when mature. It sometimes has some decorative white variegations. The texture on this eggplant is also differentiated from other varieties in that it is firm and seedy on the inside. This firm texture lends itself to long slow cooking techniques such as currying wherein it will withstand the flavor absorption without disintegrating. And if it's too hard to remember which eggplant is green, you can always refer to it as the Kermit Eggplant as some of our associates here at FreshPoint do. (Editor's note: this is true. 😊 )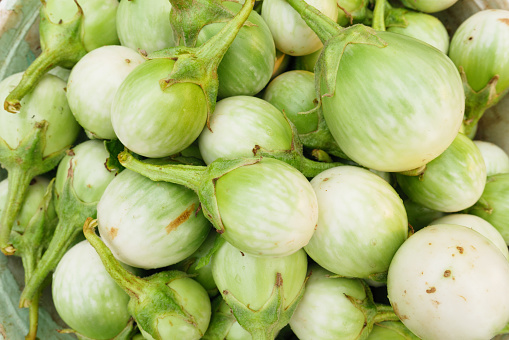 Here's your fun fact
And in case EGGPLANT ever comes up on Jeopardy, you may be interested to know that hundreds of years ago, most eggplant grown were white and egg-shaped. Hence the name. White eggplant are still available, but as more of a specialty heirloom variety. As with many other widely grown vegetables, the varieties that earn the most ground space are those that are most resistant to invasive insects, drought and inclement weather, which is why the Globe eggplant is the most widely recognized.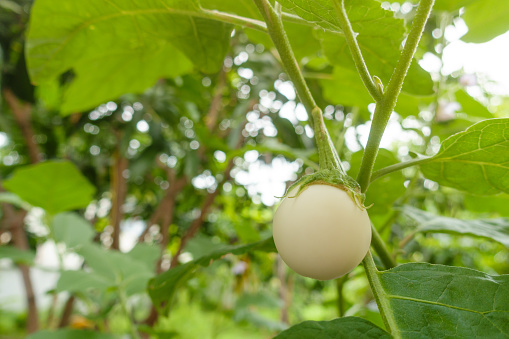 Globe eggplant are available more or less year-round barring any major weather patterns. Summer is their strongest season, where it can be found in the garden growing next to its good friends: zucchini, squash, tomatoes, and peppers. Et voila… ratatouille is served with a cool rosé for dejeuner in the French countryside. Another stunningly beautiful cultural culinary creation featuring the humble eggplant.
Contact your Marketing Associate about adding eggplant to your next order. For availability and ordering information on any of the specialty eggplants mentioned, please contact your marketing assoiate: some require special handling and can also be quite seasonal. If you are not a customer, find out how to become one today!
Article provided by Francy Deskin. Follow FreshPoint South Florida on Facebook and Instagram.
---
Some tools you can use:
Visit freshpoint.com for our seasonal availability guides—and while you are there, check out the FreshPress, our latest market report. Place your orders online with ease at myfreshpoint.com. Did you know you can receive real-time reliable delivery alerts on the day of your delivery? Activate and subscribe at FreshPoint.com/mydelivery
Download our app and take your produce management on the go. Place orders, review flyers, watch videos…all in one spot!
Find out more details about our UBU program, and how we are shining a spotlight on food waste while making value and food safety a priority.
We buy local to strengthen regional economies, support family farms, preserve the local landscape, and to provide fresh-from-the-farm food to our customers. Local.freshpoint.com connects you to your local farmers like never before! Customize your search by zip, city, state, radius…even by crops and growing methods. Pop in your zip code and learn about our local farmers.
Socialize with us!
Did you know we are on YouTube? Head over to our page and check out our 75+ videos. Don't forget to subscribe, and also be a part of our Bell Team—hit the little bell icon to get notifications when we upload new videos.
Follow FreshPoint, Inc. on Facebook, Twitter, Instagram, and LinkedIn…and follow The Produce Hunter on Instagram as she finds the best specialty produce at the Santa Monica Farmers Market.