Share this post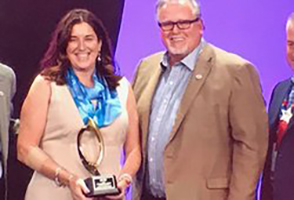 Wendy's Honors Sysco/FreshPoint with Produce Supplier of the Year Award
HOUSTON –Sysco/FreshPoint was recently recognized as Wendy's Produce Supplier of the Year in the United States, for the first time. Nancy Johnston, Sysco Senior Manager of Produce Sales, and Dan Martin, Sysco Senior Director of Produce, accepted the award.
Sysco/FreshPoint supplies Wendy's with numerous produce items including tomatoes, strawberries, mangos, peppers, cucumbers, lettuce, spring mix and romaine.
"We are honored to have received this award as we went above and beyond to be Wendy's most valued and trusted business partner," Nancy said. "It was a special evening for us to celebrate with such a great customer."
During the awards ceremony, a Wendy's representative lavished praise on Sysco/FreshPoint, calling the organization an "emergency lifeline." In fact, Sysco/FreshPoint opened the doors for Wendy's U.S. blackberry supply. Without Sysco/FreshPoint, Wendy's would not have had the necessary value for the 2016 Summer Berry Chicken Salad.
Congratulations to all!
---
Content provided by:  thedish.sysco.com/news
Follow FreshPoint, Inc. on Facebook, Twitter, Instagram, and LinkedIn.