Share this post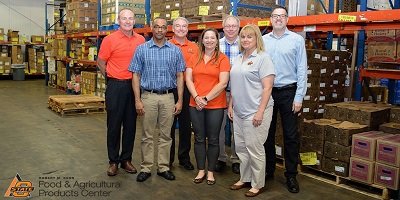 FreshPoint Oklahoma Tour: Eye on Strengthening Regional Economy
August 19, 2019
FreshPoint Oklahoma recently hosted six members of the Oklahoma State University Robert M. Kerr Food & Agriculture Products Center (FAPC) staff for a tour of FreshPoint's produce distribution warehouse. The discussion included details on the history of FreshPoint Oklahoma's local produce program, food safety information, details around third-party audits and success stories, including how FreshPoint Oklahoma has assisted an individual farmer with growth and distribution.
On the tour of our 40,000 square foot distribution center – which receives approximately 60,000 cases of produce a week – the FAPC staff viewed the receiving and storage areas, as well as an example of shipping a multitude of perishable products. They also had a chance to see the five temperature-zoned sections of the distribution facility where produce is stored at the most optimal temperature for safety, freshness and quality for the 1,032 different products stocked.
Additionally, the attendees learned how the pallet tags and bar code lasers track the produce from the farm to the distribution center and on to the individual customer location. This is extremely important, not only for food safety reasons, but also because most crops move around the country and continent to increase their availability.
"Overall, this meeting was a huge success, and I'm very thankful that we were able to develop and foster a relationship between the FAPC and FreshPoint Oklahoma," said Michael Ayers, President, FreshPoint Oklahoma. "By partnering and leveraging our combined resources, hopefully we can strengthen regional economies, support family farms, preserve the local landscape and provide delicious fresh-from-the-farm foods for our customers."
The FAPC has programs, projects, and activities that support innovation and growth of the food and agricultural business sectors of Oklahoma, increase food safety for consumers, assist in the development of students for careers in the Oklahoma food industry, and support and enhance the impact of the Center on the state, region, and nation.
---
Content courtesy of Sysco's The Dish. ​Submitted by: Kelly Ely; Written by: Stephanie Braun
Follow FreshPoint, Inc. on Facebook, Twitter, Instagram, and LinkedIn. Did you know we are on YouTube? Head over to our page and check out our videos. Don't forget to subscribe, and also be a part of our Bell Team—hit the little bell icon to get notifications when we upload new videos.