Share this post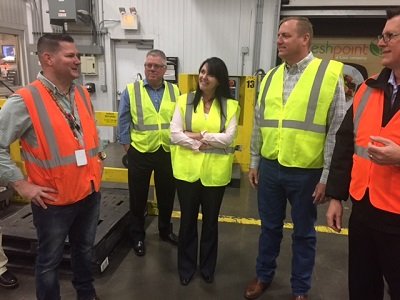 FreshPoint Central California Hosts Congressional Roundtable
TURLOCK, Calif. —  FreshPoint Central California recently hosted a food service industry roundtable with U.S. Congressman Jeff Denham (R-CA), who serves on the House Transportation and Infrastructure Committee. Representatives from FreshPoint, Sysco, Dot Foods, Vistar, Foster Farms, and McLane participated in the event, which covered a wide range of topics including infrastructure investment, shortage of qualified drivers, health care, and tax reform.
Entering his fourth term in the U.S. House of Representatives, Congressman Denham has been actively involved in several important transportation issues.
Last year, he played a key role in fixing a problem with a federal Hours of Service requirement, known as the 34-hour restart rule, which imposed certain restrictions on commercial drivers.  For Sysco, the change disrupted our ability to make deliveries between 1 a.m. and 5 a.m. With Congressman Denham's leadership, Congress eliminated the burdensome requirement in December 2016.
Following the roundtable discussion, Steve Buer, President of FreshPoint Central California, provided a tour of the facility.
"We were honored to host Congressman Denham to discuss some of the transportation challenges we face, such as the need for more qualified drivers," said Buer. "We also got the chance to thank him for his leadership in fixing the 34-hour restart rule, which was critical for distributors like us."
Sysco operates two facilities in Congressman Denham's congressional district. He toured Sysco Central California in Modesto in October 2015.
---
To learn more about Sysco's government relations outreach program or to host a tour for your Member of Congress, please contact Chip Kunde at kunde.chip@corp.sysco.com.