By FreshPoint

Share this post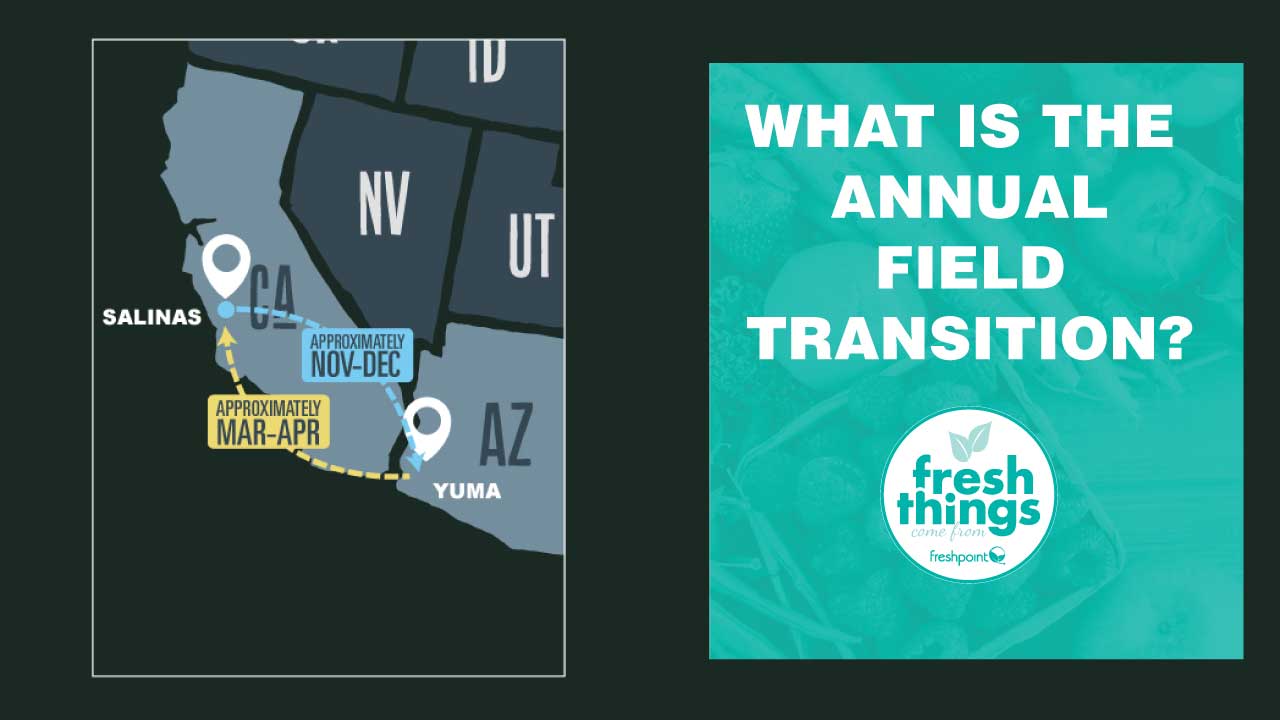 What is the annual produce field transition?
Around November and April, the major growing areas in Yuma and Salinas alternate, and it's a big deal in the produce industry.
Entire harvesting and processing operations pick up and move–from the equipment to the hard working harvesters. It's a monumental operational and logistical feat, but don't worry, our growers have got it down to a science.
We have two major annual produce field transition time frames.
That's November and April. That's needed because of the climatic conditions that our industry needs to grow the optimum, beautiful leafy green vegetables that are out there in our industry. Some of the items that are involved during that transitional period are:
There are a few things to consider before ordering to make sure you pick the best available product while reducing your carbon footprint. Knowing what grows in your region in every season is important. In order to get the optimal growing conditions production must transition from one area to another.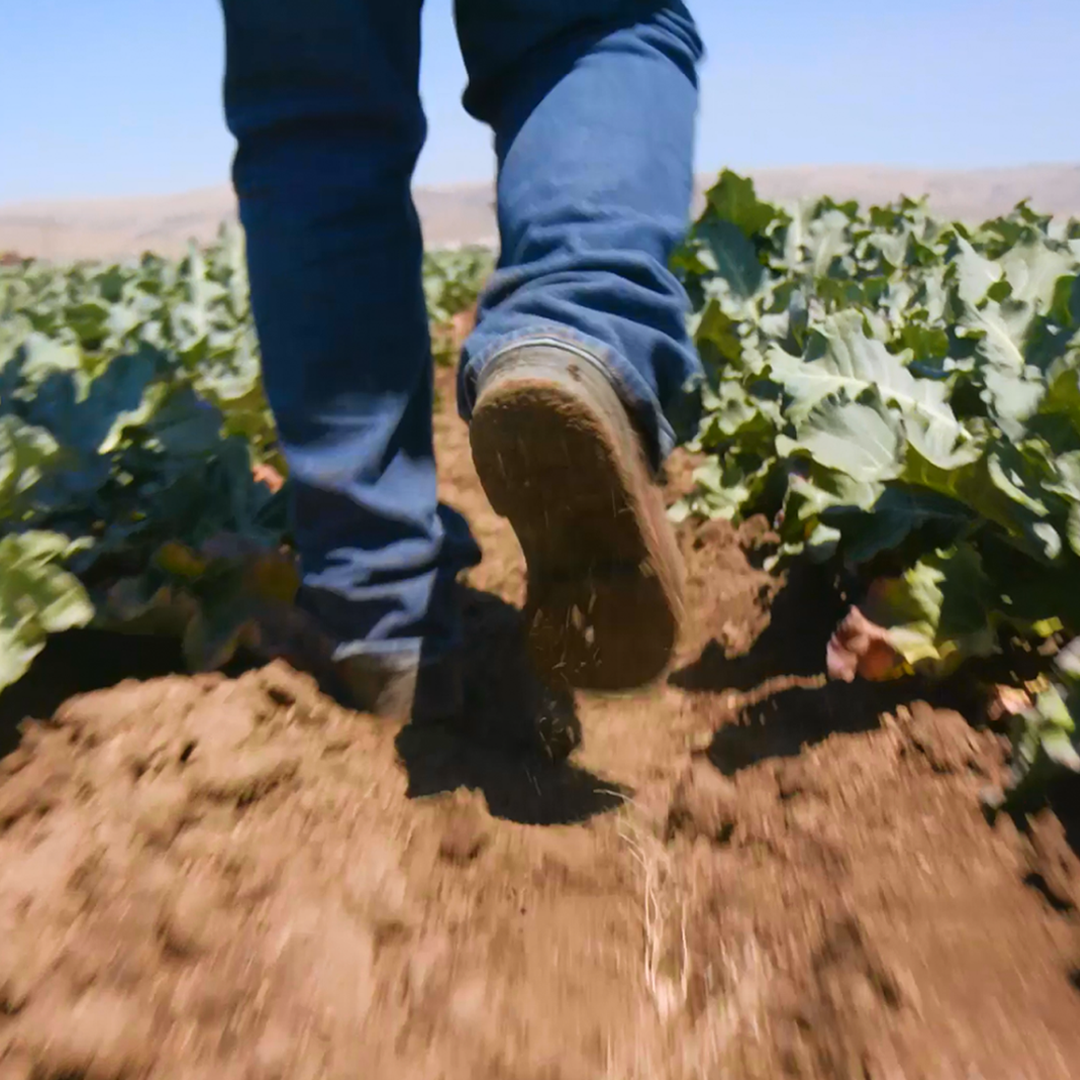 The annual produce field transition has many benefits
Using this concept decreases fuel emission, helping the environment, supports smaller farms that plant seasonally, and ensures we get the freshest product year round. For instance, lettuce plants are very delicate. These tender leafy vegetables don't grow just anywhere. They grow best in a climate with moderate temperatures, not too hot or too cold.
By carefully selecting each seasonal growing region, your favorite lettuces can grow to their maximum potential, year round.
In the spring, green onions and fresh herbs are plentiful in the north. In the summer, tomatoes and peaches are at their peak in the south, while berries flourish in the north.
Let's take a closer look at the regions
West Coast:
In spring, produce production is greater in the Salinas area.
As we move through the summer more products are at the peak of freshness.
In winter, production moves south to Yuma and other areas with ideal climates. As this shift happens product quality, supply, and freight may fluctuate from one area to the other.
East Coast:
In summer, the northern areas lead production taking advantage of the mild climate.
As we move through fall, production moves south as the northern area climate becomes colder.
In winter, production transitions south to Florida. This trend happens every year providing you the freshest produce year round.
At FreshPoint, we have a team of experts that follow these annual produce field transitions when selecting your produce. Like Dave.
In this quick video, he talks a little more about what happens and why it's so pivotal for our industry.
Keep tabs on what is going on by downloading the FreshPress Market report weekly, our real-time look at what is going on in the fields.
Download the FreshPress HERE. 
If you are not a customer, find out how to become one today!
Thank you to Dave Podesta, our Quality Assurance Director, for his expertise in this video. He could talk all day about produce and quality assurance! 
---
Some tools you can use:
Visit freshpoint.com for our seasonal availability guides—and while you are there, check out the FreshPress, our latest market report. Place your orders online with ease at myfreshpoint.com. Did you know you can receive real-time reliable delivery alerts on the day of your delivery? Activate and subscribe at FreshPoint.com/mydelivery
Download our app and take your produce management on the go. Place orders, review flyers, watch videos…all in one spot!
Find out more details about our UBU program, and how we are shining a spotlight on food waste while making value and food safety a priority.
We buy local to strengthen regional economies, support family farms, preserve the local landscape, and to provide fresh-from-the-farm food to our customers. Local.freshpoint.com connects you to your local farmers like never before! Customize your search by zip, city, state, radius…even by crops and growing methods. Pop in your zip code and learn about our local farmers.
Socialize with us!
Did you know we are on YouTube? Head over to our page and check out our 75+ videos. Don't forget to subscribe, and also be a part of our Bell Team—hit the little bell icon to get notifications when we upload new videos.
Follow FreshPoint, Inc. on Facebook, Twitter, Instagram, and LinkedIn…and follow The Produce Hunter on Instagram as she finds the best specialty produce at the Santa Monica Farmers Market.