Baby Zucchini with Flowers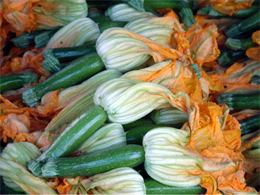 Shipping:
Air freight only
Yield:
1 to 3 pieces per serving
Notice:
One day prior to shipment
Description:
Baby Zucchini with Flowers are one of the most impressive and readily available specialty items. These female blossoms are larger than the male blossoms, which do not have the 8 attached. The male flowers are usually pan-fried or deep-fried, while these are best suited to stuffing and they create a lovely splash of color in salads.