Baby Yellow Summer Squash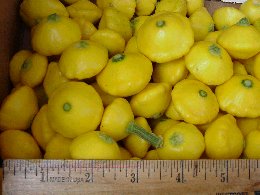 Pack:
5lb cartons 10 lb cartons
Shipping:
Truck or Airfrieght
Description:
Specific scallop-edged BABY YELLOW SUMMER SQUASH varieties have been around since before 1860. This species, probably developed from a cross between a cucumber and a squash, was actually cultivated by Native Americans in pre-Columbian times, and is still a widely grown, highly-esteemed vegetable in the United States. It is excellent simply served with butter, but can also be braised with onions and tomatoes or hollowed out, filled with cheese or puree fillings, and served au gratin.