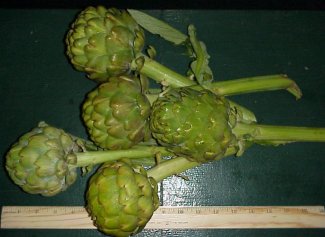 Availability:
Feb into May, Oct into Dec
Shipping:
Truck or Airfreight
Notice:
Order Tuesday before noon for Wednesday loading
Description:
LONG STEM ARTICHOKES are all about presentation. Picture, if you will, a large, warmed, Italian stoneware platter. Now picture these long stem artichokes after they've been halved lengthwise and grilled. Pile the grilled artichokes on the platter, drizzle with olive oil that's been warmed with garlic, thyme and lemon zest, and garnish with freshly milled pepper and thyme. We would like to thank the entire country of Italy for this wonderful vegetable.